California
Sand and Sea: You'll Love these SoCal Beaches
Best Beaches to Spend a Day at in Southern California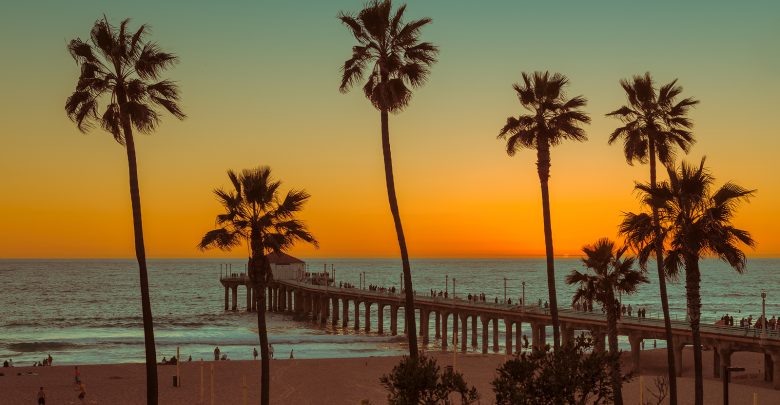 What's one of the best things about southern California? Aside from being home to the beautiful cities of San Diego, San Bernardino and Santa Barbara, arguably the best thing about the southernmost part of the Golden State is that its many beautiful beaches are open to residents and visitors year-round. Is there any more natural duo than California and beaches? Probably not, but if you're looking to visit and spend an entire day enjoying the surf and basking in the sun, you want to do so at the most beautiful spots. Here are the best beaches to visit and spend the whole day—depending on what you're looking for.
Best Beaches for Couples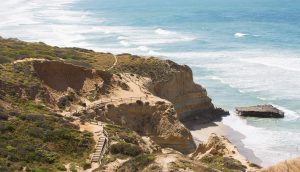 Torrey Pines State Beach – San Diego
This beach is one of the best places to catch some beautiful views of the San Diego coastline, and everyone knows that beautiful views equal romantic settings. Torrey Pines State Beach is one of the best beaches for couples looking to get away from it all without going too far. Next door to the beach is the Torrey Pines State Reserve, which offers a number of beautiful walking trails that lead to the shore, so if you're up for it, the views are absolutely worth the walk. Who said romance isn't an adventure?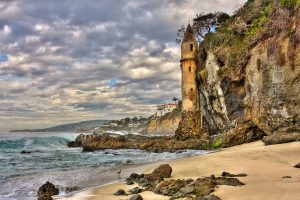 Victoria Beach – Orange County
This beach gets bonus romantic points for boasting something straight out of a fairy tale—a beautiful castle-inspired tower called "La Tour" that stands 60 feet tall. It was built in 1926 and offered beach access for a house on the cliff just above it. Bring a picnic and your love and spend the afternoon enjoying the views. It's easy to get to—head to the north end of Victoria Beach in Laguna Beach and then just around the bluff and you're there!
Best Beaches for Families with Kids
Mother's Beach at Marina del Rey
This beach is a great choice for families with younger kids. You won't find huge waves or deep water here. That's because the beach lies in a sheltered spot in the marina. There's a roped-off shallow swimming area watched over by lifeguards during select times during the year. On the north end of the beach, Mom and Dad can rent kayaks or paddle boards and take the kids out for a fun family beach adventure.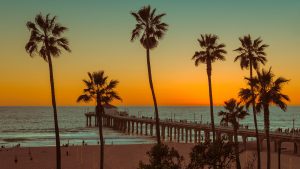 Manhattan Beach
This area of Southern California is known for its luxurious beachfront homes, but it's also hallowed as one of the most picturesque beaches in the Golden State. Manhattan Beach is another great place to spend the day with the kids. If yours is a family of surfers, head to the south side of the pier, which is reserved strictly for surfing. On the north end of the pier, the whole family can go body surfing and swimming. Shallow waters tickle the sand, making Manhattan Beach a great choice for families with kids who want to enjoy the warm California sun.
Best Beaches for Families with Teens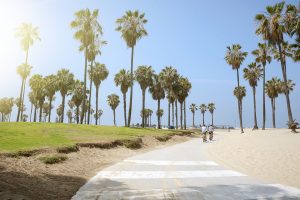 Venice Beach – Los Angeles
While there are lots of beaches in the City of Angels, Venice Beach is one of the very best for families who have teenagers. Not only is it a beautiful place, but Venice Beach also offers something for everyone (yes, even those teenagers). The Venice Beach Boardwalk is full of souvenir shops and snack bars. Artists, musicians and street performers line the beach, and there are bikes available to rent for the day. On the south end of the boardwalk, you'll find the famous Muscle Beach outdoor gym and even a concrete skateboard park. Grab your kids and their skateboards and head out to Venice Beach for an amazing day of fun in the sun!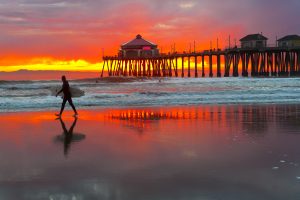 Huntington Beach – Orange County
This beautiful beach is also known as "Surf City U.S.A." It is well known for hosting the Annual World Surfing Championships. But it's also known for its consistent surf breaks. This is the beach to visit if your teens are surfers. Huntington Beach naturally offers waves between three feet and twelve feet high. Surfers can enjoy both sides of the pier at this beach, and because of the breaks, you'll never go home without catching some waves. If your teens are looking for a sure thing when it comes to spending a day surfing, this is the beach for your family.
Best Hidden and Quiet Beaches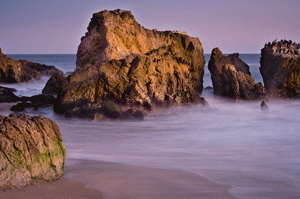 Leo Carillo State Beach – Malibu
This beautiful beach lies at the foot of the Santa Monica Mountains, and it's a great place to visit if you're looking for a less crowded beach. There are 1.5 miles of beach along which to beachcomb. You'll find caves for exploring and tide pools where—if you're lucky—you can catch some of the native sea life, such as starfish, sea anemones and crabs. Leo Carillo State Beach is also a great place for surf fishing, and boasts several amenities like restrooms, showers and even a small convenience store that make it easy to spend the entire day here. If the mood hits you, and you just can't leave this beautiful place, there are even campgrounds right next door, meaning you can make a day, a night and another day of it!
La Piedra State Beach – Malibu
This beach is another good choice if you're not into huge crowds of swimmers and surfers storming the water's edges. It's the perfect place to enjoy a sunset walk, thanks to the long flat stretch of sand that lines the beach. On weekdays, the crowds are so light that you might even mistake La Piedra for a private beach. From the parking areas, there is a fairly steep trail leading to the water, but the views along the way—as well as once you get there—are well worth the effort.
Southern California offers a myriad of beautiful, picturesque and adventure-filled beaches. And since there's no such thing as the wrong beach in SoCal, you're privy to a proverbial buffet of sand and sea destinations. Choosing the best one for your family might just be the toughest decision you'll have to make!