Alabama
Great Food and Amazing Sights Await in Mobile
10 ideas for the perfect weekend in 'The Azalea City'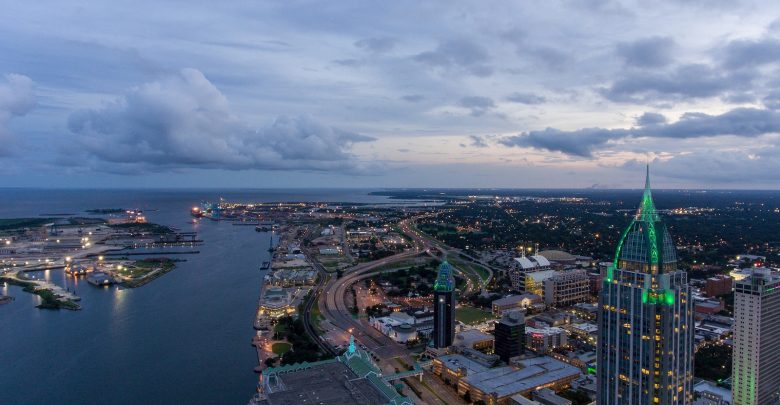 Planning to spend a weekend exploring somewhere in Alabama? If so, Mobile might just be the place for you. This amazing little city is full of fun things to see and do, as well as plenty of good food.
Of course, deciding exactly what to do once you get to Mobile can be a bit of an ordeal. After all, how can you choose from dozens of excellent options? Lucky for you, we've done the research and we are here to help you pick and choose the very best things to do during your long weekend in Mobile.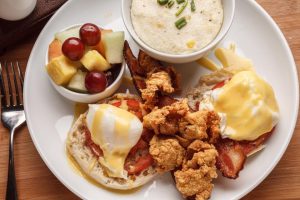 #1: Begin with Breakfast at Brick & Spoon
Every great adventure begins with a hearty and delicious breakfast. That is why we recommend starting your first day in Mobile with an amazing meal at Brick & Spoon.
This local eatery has an absolutely incredible breakfast menu which includes such favorites as Bananas Foster French Toast, the Killer Creole Omelet, and Breakfast Tacos. No matter what you order, be sure to start with some of their yummy biscuits with honey butter.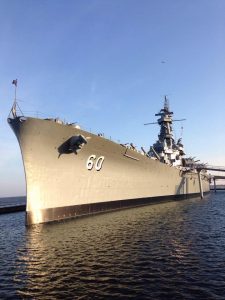 #2: Dive Into History at the USS Alabama
Once your belly is full, you can now think about having fun. For the history buffs and military fanatics out there, we highly recommend visiting the USS Alabama.
This WWII battleship has an awesome story to tell, and you can hear it for yourself by going on a self-guided tour of the ship any day of the week. For an extra special time, consider planning your visit during one of the attraction's many special events.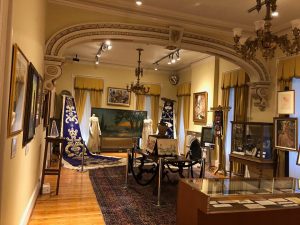 #3: Get Colorful at the Mobile Carnival Museum
New Orleans may be the main hub when it comes to Mardi Gras, but the celebration stems out from there. This means Mobile gets a heaping helping of Mardi Gras each year and hosts plenty of celebrations of their own.
Learn about these celebrations and the history of Mardi Gras in general at the Mobile Carnival Museum. The museum is housed in the Bernstein-Bush mansion in downtown Mobile, meaning you'll get to tour a beautiful historic home while also learning a bit along the way.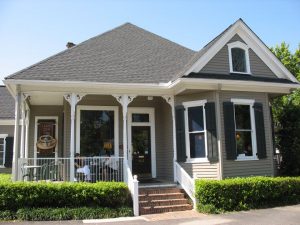 #4: Grab Coffee at Carpe Diem Coffee and Tea Co.
At some point, you are likely going to want to stop for coffee or tea. When the time comes, Carpe Diem Coffee and Tea Co. is the place you want to go. A charming local coffee shop, this place couldn't be any more welcoming. On top of that, the coffee, tea, and pastries are all simply phenomenal, making this the ideal place for a mid-morning or late-afternoon break.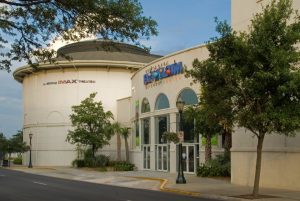 #5: Learn Something New at the Gulf Coast Exploreum Science Center
Whether you have kids to entertain or just want to learn about science in a fun, interactive way, Gulf Coast Exploreum Science Center is a great place to spend some of your day.
This place has everything from playgrounds and giant building blocks to exhibits on the human body and dinosaurs. There is something for every age, and a family could easily spend hours on end exploring the space.
Be sure to catch a movie in the IMAX theater for the ultimate "edutainment" experience before you head out.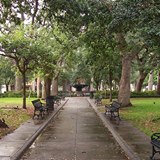 #6: Spend Time Outdoors at Bienville Square
Looking for a relaxing way to spend a couple of hours? Bienville Square offers just that.
This city park is full of manicured lawns, shaded walking paths, and even a few works of art. Benches line the sidewalks—offering pedestrians a place to rest—and the gorgeous fountain featured in this park is lovely to gaze at. Of course, the various special events that take place in this park throughout the year are also quite fun to see.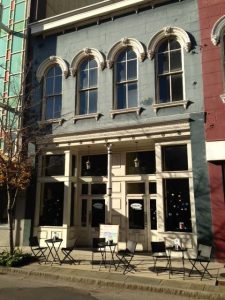 #7: Enjoy Lunch at Panini Pete's
When lunchtime rolls around you'll want to head over to Panini Pete's. This restaurant is a small chain with only four locations, and really lives up to their slogan: "We put real food in our food!"
They serve up panini sandwiches (of course) as well as burgers and salads, and all entrées are served with their hand-cut chips, fries, or a side of the day. Whatever you choose, you can rest assured it'll be fresh, real, and absolutely delicious.
#8: Step Back in Time at the Fort of Colonial Mobile
In addition to the historical attractions mentioned above, The Fort of Colonial Mobile is another great place to learn about history. A partially reconstructed 18th-century fort, this awesome attraction features a variety of exhibits for those who are curious about the history of the area.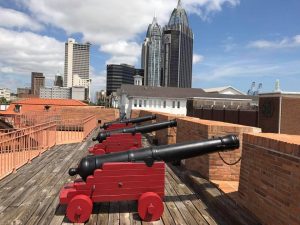 There is a colonial escape room, a colonial photo room, a full-fledged museum, and an armory within the fort walls. Each and every space is worth checking out, so be sure to allow plenty of time!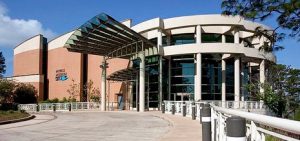 #9: Gaze in Awe at the Mobile Museum of Art
The Mobile Museum of Art is a surprising gem that hundreds of guests have thoroughly enjoyed. The museum features a wide variety of art, including pieces from the United States, the Americas, Europe, and even some non-western art.

There is a children's area that is just perfect for young art enthusiasts, and the many programs, classes, and tours offered by the museum are great for expanding upon your art education. This place is perfect for art lovers, but can offer a fun time to absolutely anyone who walks through the doors.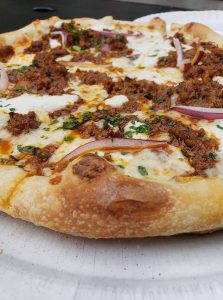 #10: Finish with Dinner at Pizzeria Delphina
Last but not least, you absolutely must enjoy dinner at Pizzeria Delphina. This hole-in-the-wall eatery serves up pizza, but it certainly isn't your average pizza place. The people here are fantastic to be around, making the whole place feel inviting and cozy.
Best of all, the pizza, pasta, and salad served up in this restaurant are outstanding. This fact, coupled with the friendly staff, large portion sizes, and excellent prices will make this a meal you won't soon forget. You may even find yourself returning to Pizzeria Delphina on your next trip to Mobile!