Florida
Pirate for a Day: The History and Beauty of Dry Tortugas
You Won't Find a More Unique Place on the Map
One of the most unique national parks in the United States is known as the Dry Tortugas. This is a series of seven small islands that are located in the Florida Keys. The Dry Tortugas is in the Gulf of Mexico, about 70 miles from Key West. Although the Dry Tortugas is about 100 square miles in area, much of that is underwater. The face of the area changes from time to time because of hurricanes and other storms. If you plan a visit to the Dry Tortugas, you won't be disappointed.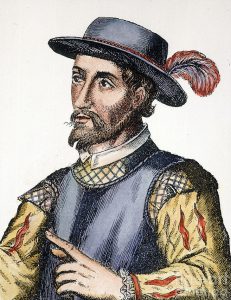 Background
The Dry Tortugas were discovered by Ponce de Leon in 1513. The islands are known for the number of sea turtles, hence the second part of the name. Dry was later added because of the lack of fresh water. The islands were once a haven for pirates, who used them as a base from which to attack. The largest island is Loggerhead Key. The others are Garden Key, Bush Key, Long Key, Hospital Key, Middle Key, and East Key. In 1825, construction on Fort Jefferson began. It was envisioned as a military facility, and the six-sided structure still stands on Garden Key. Fort Jefferson was never totally finished. During the Civil War it was used as a prison camp.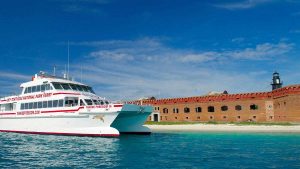 Getting There
If you would like to visit the Dry Tortugas, you have to plan. The islands are accessible only by ferry, private boat, or seaplane. Possibly the most popular ferry is the Yankee Freedom III. Trips take place daily, except on Christmas Day. The ferry leaves Key West at 8:00 each morning, and the voyage to Garden Key lasts a little over two hours. Breakfast and lunch are included. The Yankee Freedom III returns to Key West at approximately 5:15 in the evening.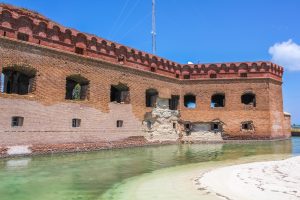 Activities
You might wonder what there is to do when you visit the Dry Tortugas. The answer is plenty! A tour of Fort Jefferson is offered and it is included if you are visiting through the Yankee Freedom III. The tour lasts about 40 minutes, and it is led by an expert. After that, you can enjoy the beautiful beaches, go snorkeling (scuba diving is not allowed) or try your hand at fishing in certain areas. Another activity that is popular during certain seasons is bird watching. Many birds that migrate between North and South America stop at the Dry Tortugas, making it a different type of birding experience.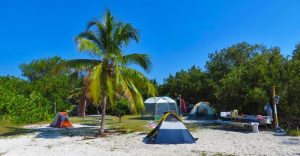 Camping
Camping on Garden Key for a fee is possible, but there are some regulations that you will need to keep in mind. Only tent camping is allowed, and there must be a tent on each site. No "under the stars" camping is allowed. Most fires are not allowed, you can use a portable gas stove or make a charcoal fire to cook on. Remember to bring your own food because there are no restaurants, and no places to buy food after the ferries are gone. Interestingly, you will not have to worry about mosquitoes while you camp. Because there is no standing water on the Dry Tortugas, there are no mosquitoes.
Modern Conveniences
Don't expect to spend your time at the Dry Tortugas updating your friends on social media, because there is no cell phone service. Electricity to Fort Jefferson is provided by a diesel generator. There are no restrooms available to the public, visitors are expected to use the facilities on the ferry. After 2:30 composting toilets are available for those who are camping. Guests are asked to not throw trash into the toilets.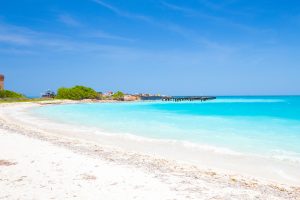 A Few Rules
The Dry Tortugas is considered a "pack in, pack out park". This means that anything that you bring with you needs to return with you. There are no trash cans and no recycling bins. You are also asked to not bring back souvenirs such as seashells and coral. Sometimes an artifact of some type will wash up or become visible. If you see such an object, you're asked to report it to a member of the staff. Dogs are allowed in certain areas, but they need to be leashed. Pet owners are required to clean up after their animals. If you are traveling on the Yankee Freedom III, keep in mind that dogs are not allowed on the ferry. The only exception is service dogs.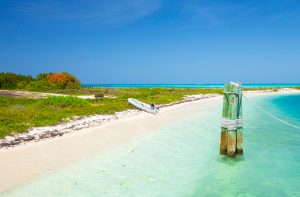 What to Bring
There are some items that are recommended for your visit to the Dry Tortugas. You will want to have sunscreen because there is not a lot of shade outside of Fort Jefferson. You'll want a bathing suit, beach towel, and sunglasses. A hat is not a bad idea. Bring binoculars, they'll come in handy for bird watching. You might also want to have some cash. There is a small gift shop at Fort Jefferson but it does not accept credit or debit cards. If you're traveling on the  Yankee Freedom III, make sure you have a change of clothes for your trip back. If you're camping, bring a cooler that's filled with ice. Ice isn't available once you leave Key West.
Prohibited Items
There are a few things that you will want to leave behind if you plan to visit the Dry Tortugas. Scuba diving is not allowed, so don't pack your scuba gear. If you're camping, you are not allowed to use lighter fluid or another flammable liquid. Jet skis and similar watercraft aren't allowed, but kayaks and canoes are fine. There are also regulations for firearms.
Weather
The Dry Tortugas has a subtropical climate. That means that it could very well be hot and humid while you are there. If you're planning an excursion make sure that you keep an eye on the weather. The Yankee Freedom III will run during rain, but they reserve the right to not operate if the captain feels that the seas are too rough or if there is a severe weather warning.
Park Rangers and Others
There are a dozen or so National Park Service employees who live at Fort Jefferson. They use the diesel generator for electricity, and water is either rainwater or saltwater converted through osmosis. While they spend most of their time on Garden Key, about once a month or so they will leave to pick up supplies, shop, and do whatever else they feel like doing that isn't possible at Fort Jefferson.