Tennessee
5 Steps to Loving Your Next Weekend in Chattanooga
Natural and fun activities abound in this part of Tennessee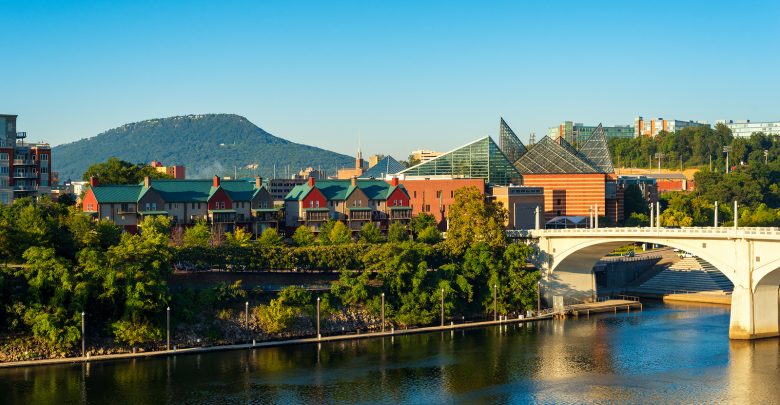 Chattanooga may have a funny name, but a visit to this exciting city is serious business. No, we don't mean you won't have any fun here, but you will need to be pretty serious about getting out and about if you're going to have any chance at all of seeing a fraction of the amazing things this Tennessee city offers.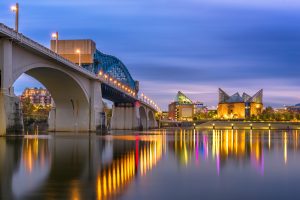 Clearly, with so much to see and do, you'll want to stick around as long as possible. However, even if you only have a weekend to spend here, you can still have a super amazing time. The trick is to make a plan beforehand and head into your trip with plenty of energy and motivation to go, go, go.
Wondering what to put on that plan? Here are five things you must do while in Chattanooga, and a few of the best places you can accomplish these to-dos.
#1: Explore the Outdoors
Tennessee is a truly beautiful state. The mountains and lush trees give visitors and locals alike plenty to look at and "ooh" and "ahh" over. This is why, when visiting Chattanooga, you'll probably want to spend some of your time outdoors.
There are a number of great outdoor sights and activities available in this area of the state. One of our favorites is Raccoon Mountain Caverns. These caverns offer guided tours in which visitors have a chance to see amazing rock formations, beautiful clear pools, and some adorable salamanders, among other things.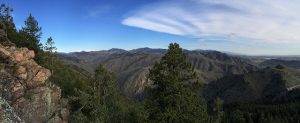 Another great thing to do is hiking, especially if you have a chance to hike up Lookout Mountain. The hike up is easy enough for little ones and is decorated with gnomes and other fantastical things, making it feel enchanted. Once you arrive at the top, you are treated to incredible views which allow you to see as many as seven states!
Ruby Falls is another great outdoor attraction, and combo tickets can be purchased that include both Lookout Mountain and Ruby Falls.
#2: Visit a Museum
Chattanooga is full of awesome museums, and many of them are quite unique. Therefore, taking the time to visit at least one is something every visitor should do.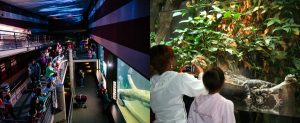 Some of these museums are included with various reciprocal programs. If you're looking to save money and already have a membership to a museum, see if any Chattanooga museums offer free admission to members of your home museum. You might be surprised!
Some of the best Chattanooga museums include:
Hunter Museum of American Art
Songbirds Vintage Guitar Museum
Coker Tire Museum
Creative Discovery Museum
Tennessee Aquarium
International Towing and Recovery Museum
Chattanooga Zoo
Of note, the Tennessee Aquarium is hailed by aquarium lovers (you know who you are) as one of the very best in all of America.
#3: Go for a Walk
We know it sounds silly, but Chattanooga is actually a great place to get in a walk as well. Yes, we're suggesting that you go for a walk on vacation, but hear us out.
You see, this little city is home to some seriously awesome parks, as well as a super cool riverwalk and an arts district with some great walking paths. These places are awesome, relaxing attractions that don't cost money, and are a great way to ensure you get in some exercise even while away from home.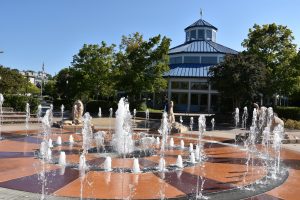 The Chattanooga Riverwalk is currently about 8 miles long. It offers multiple parking locations and entrance points, but all of them take you onto the same beautiful path through lush, green trees. This is the ideal walk for those who love nature.
If you prefer art, the Bluff View Arts District may be the better walking area for you. Here you can view stunning works of art, horticulture, and architecture as you stroll along walking paths. When you get hungry, be sure to try one of the many local restaurants located in the area. You won't be disappointed!
Finally, we must mention Coolidge Park where visitors can stroll through well-manicured areas filled with gorgeous fountains. The park also features a hand-carved carousel and an interactive play fountain, making it super kid-friendly.
#4: Hop on a Train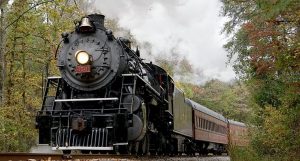 Trains are a truly fascinating thing. Perhaps that's why the Tennessee Valley Railroad is such a popular Chattanooga attraction. This awesome moving museum gives guests a chance to experience what it might have been like to ride a steam train in times gone by.
The company offers a variety of different train rides including an hour-long "local" tour, a Halloween spooky ride, and a Christmas-themed experience. Any of these are awesome to do with kids, and train-loving adults will adore the longer tours, especially in the fall when the leaves are changing colors.
#5: Be Entertained
All of the things mentioned above are plenty entertaining. However for those who like to sit back, relax, and let the entertainment come to them, there are a few more relaxing choices.
The IMAX theater in town is an incredible, immersive experience that leaves you feeling as though you've stepped into another world entirely. The gigantic screen surrounds the audience with amazing sights, and the sound system is top of the line, delivering superior sound to go with those sights.
Technically, the theater is run by the aquarium located across the street. That said, you can choose to do the theater without ever stepping foot into the aquarium, and vice versa.
Another great entertainment venue is the historic Tivoli Theater. This theater has been around for decades but is still as gorgeous as ever. Playing host to Broadway-style shows, concerts, and more, there's almost always something awesome to see at this beautiful venue, so be sure to check the schedule when you visit.
This is only a handful of all the awesome things there are to do in Chattanooga, but we believe they're the best of the best. That said, if you have the opportunity to stay for more than a weekend, be sure to try some things that aren't listed here, and come back to let us know what you thought.
Most importantly however, be sure to have a blast!