Wyoming
Eat, Drink, and Be Blown Away by the Scenery!
Jackson Hole's best dining options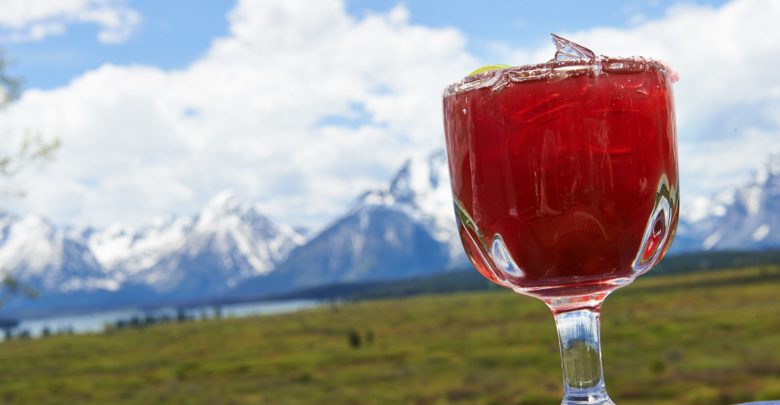 If you're not from Wyoming, you may not know that Jackson Hole isn't even a town, but the valley where Grand Teton National Park and the town of Jackson is nestled. Now that you know, let's take a look at some of best eats – from gourmet to down home – you can find in Jackson Hole.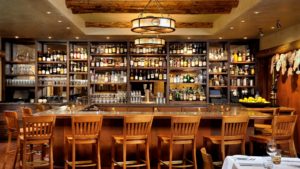 Downtown Jackson
Snake River Grill (84 E. Broadway) is a favorite of locals and visitors alike. The restaurant is the epitome of rustic elegance with its extensive wine selection and signature cocktails. The restaurant, which has been nationally featured and reviewed, has an elevated menu that tips its hat to Jackson and its western heritage.
The Kitchen (155 N. Glenwood) is a unique Jackson establishment with its modern, yet cozy, ambience. It offers a menu of Asia-inspired meals with only the freshest seasonal vegetables. It's a great place to relax with friends during a dining adventure.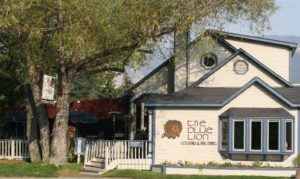 If you are in the mood for lamb, elk or fresh fish, The Blue Lion (160 N. Millward St.) is the spot. The mud pie is said to be worth every calorie. You be the judge. The restaurant's quaint surroundings is, in part, due to it being inside a 1930s home. With live acoustic music most nights, your dining experience will be one to remember.
The White Buffalo Club (160 W. Gill Ave.) is yet another restaurant where the atmosphere heightens the dining experience. An intimate steakhouse with a subterranean speakeasy feel allows you to fully explore its menu of local Wagyu and USDA Prime steaks along with its family-style sides. For the adventurous diner, The White Buffalo Club offers bone marrow served with sherry to luge down the bone.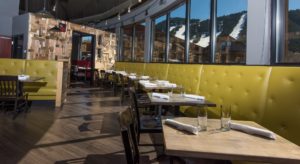 Gather (72 S. Glenwood St.), just as the name suggests, is a great place to get together with friends and family. It boasts a casual dining experience with great local food. Enjoy pork shank, fried chick, lamb rack, and even elk bolognese. Or go all-in with some of the favorite sides, truffle pasta or roasted brussel sprouts with white balsamic vinaigrette, dried cranberries, and pecorino.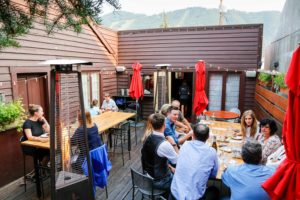 Bin 22 (200 W. Broadway) offers something a bit unique to the Jackson culinary scene as a wine shop, small grocer and tapas bar. Here you'll find a nice, intimate tapas bar in the back of a large bottle shop. You can have a personal tasting with an in-house sommelier or just enjoy small plates with your friends.
Bubba's Bar-B-Que Restaurant (100 Flat Creek Dr.) fits the bill for something hearty after a long day hiking, fishing or skiing. All its meats are smoked in house and they are plentiful. Plus, you don't want to miss the pie.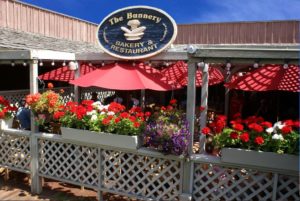 The Bunnery Bakery & Restaurant (130 N. Cache) is the Pied Piper of aromas. With its homemade baked goods, pastries and desserts, follow your nose from the Square. You'll find it. Beyond the bakery, The Bunnery is a local favorite with a menu to suit all tastes. And while you're there, grab a bag of the packaged granola to go.
Sometimes pizza is the only thing that will hit the spot. Go to Hand Fire Pizza (120 N. Cache) in the old Teton Theater where they make all their pizzas with a wood-fired oven. The Teton Theater was operational from 1941 to 2012. As the theater was a Jackson landmark, the restaurateur decided to refurbish the building to house one of Jackson's newest pizza joints.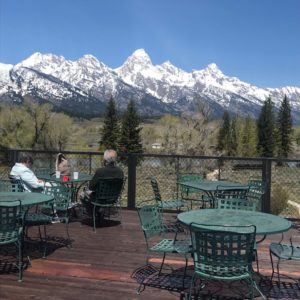 Near Grand Teton National Park
Moose Junction is a popular pull out for rafters, a place to spot moose and you can drop by the Grand Teton National Park Visitor's Center. It's also where you will find Dornan's (12170 Dornans Rd.). Here you have a few choices to fuel yourself before or after your adventures, including The Chuckwagon, which is open for breakfast, lunch, and dinner. They also serve sloshies, an adult slushy. The Pizza & Pasta Company serves up, you guessed it, pizza and pasta, but also has hardy soups, salads, and sandwiches. Finally, The Trading Post/Deli offers gourmet sandwiches you can enjoy on the porch or take away. Be sure to check online for seasonal hours.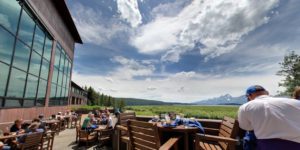 The Blue Heron Lounge (101 Jackson Lake Lodge Rd.) offers the most inspiring views you'll ever experience while dining. Perched above Willow Flats, you have a panoramic view of the Grand Tetons, in all their glory, while sipping on a huckleberry margarita or chowing down an adult grilled cheese. Even if you've been hiking, you have to make it to Jackson Lake Lodge to admire the views, the wildlife on display and possibly a bite or two.