New York
7 Great Tips for Making the Most Out of Your Visit to Niagara Falls
If you haven't seen it, you should -- here's how
Niagara Falls is a wonderful, magical place that everyone should see at least once. These falls are massive, and the views are spectacular. Photos simply cannot compare, and even videos don't do it justice. The majesty of these falls is absolutely unbelievable.
If you're planning a trip to Niagara Falls, get excited because you're in for the epic experience of a lifetime. That said, there are some things you should know before you go. Therefore, we've compiled a list of tips for making the most of your trip to Niagara Falls.
Going in well prepared with these tips and facts in mind will help make your trip even more amazing than it would be otherwise, and that's really saying something.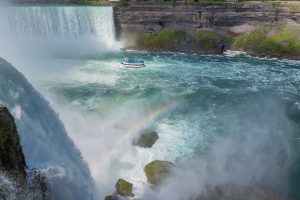 Go to Canada
There is constant debate among Niagara Falls-goers about which side is best: New York or Canada?
Honestly, we even debate with ourselves about this. However, we've come to the conclusion that (for now) the Canada side wins. The views from the Canada side of the falls are superior without a doubt, and there are more things to see and do in this particular area. Besides, we actually prefer the tour boats on the Canada side.
That said, the New York side does have some fantastic things to offer, such as the awesome Cave of the Winds tour. This means that if you've seen the Canada side before, you may want to switch things up. Alternatively, you might even choose to see both sides in one trip.
Allow Yourself Time
As mentioned earlier, there are tons of things to see and do in the area surrounding the falls. For this reason, you'll want to allow yourself as much time as possible. Honestly, even a week wouldn't be enough time to do everything, but it should be sufficient for most people.
While there, be sure to go on the Hornblower boat tour (Maid of the Mist if you're on the NY side). You'll also want to make a point of seeing a few of the wineries in the surrounding towns. Other things to do include animal attractions, museums, mini-golf, and tons of amazing dining options.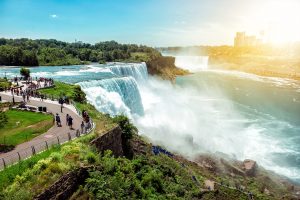 Visit During Off-Season
Here's the thing, Niagara Falls is a super famous and incredibly popular tourist destination. While we don't blame anybody for wanting to see this natural beauty, we don't love dealing with the crowds that accumulate at the natural attractions.
Luckily, you can avoid the vast majority of the crowds by choosing to visit during off-season. While summer might be the most comfortable time to visit due to the warmer temperatures, late spring and early fall are nearly as warm with significantly smaller crowds. Choosing this time of year may also save you a bit of money on lodging since hotels will be looking to fill empty rooms.
Dress in Layers
On the days you plan to get up close and personal with the falls, dress in layers. Those enormous waterfalls give off a lot of mist, and that means you're definitely going to get wet. Our recommendation? Wear two layers of clothes as well as a raincoat and rubber boots during your visit. Pack an extra jacket in a waterproof bag in order to keep warm after your adventure. Trust us when we say you'll be glad you did!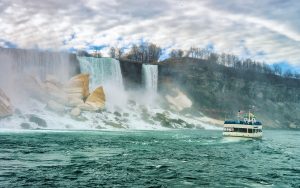 Take the Boat Last
Of course, there is something else you can do to combat the wet clothes problem. In addition to wearing the rain gear and packing a jacket, schedule any boat tours for the end of the day when you'll be finished playing and are ready to return to your room. By doing this, you can ensure you'll stay dry and comfortable for the majority of the day.
Park Up the Hill
Parking at Niagara Falls can be incredibly expensive. This comes as no surprise really; after all, it is a tourist attraction, and a very popular one at that. Still, paying large parking fees can really eat up a budget quickly.
Obviously, walking or taking public transportation are both options that will allow you to avoid those big fees. However, while you can't avoid the fees entirely at Niagara Falls, there is another option that could save you a pretty penny.
When you arrive at the Falls, avoid the super close parking. Instead, head up Clifton Hill and look for a private lot with a reasonable fee. While the fees do fluctuate depending on the season, you'll almost certainly be able to find something quite a bit cheaper up on the hill than you would've closer to the falls.
Find Discounts
Another great money-saving tip is to check out Groupon before you go. There are almost always awesome deals on hotels, attractions, and food in the area, meaning you can save on things you would've been buying anyway. If possible, purchase any Groupons you pick out with a promo code to save even more.
Travelzoo may also have some awesome deals for you. Therefore, you'll want to hop on their site and give it a look before booking anything. This site usually has hotels and tours at a decent discount. Who wouldn't want that?
These websites are an excellent way to save a good amount of money, making this a great tip for those on a strict budget who'd still like to have a good time.
These are our top tips for visiting the amazing Niagara Falls. Of course, these are far from the only tips out there. We recommend you continue digging in order to build your collection of great ideas. This will only better your trip, leaving you with incredible memories you will never ever forget.
Have another tip to add? We'd love to hear it. Please share in the comment section below so everyone can benefit from your awesome knowledge.