New York
NYC's Lexington Candy Shop Is One of America's Great Retro Diners
Great food, great people, great location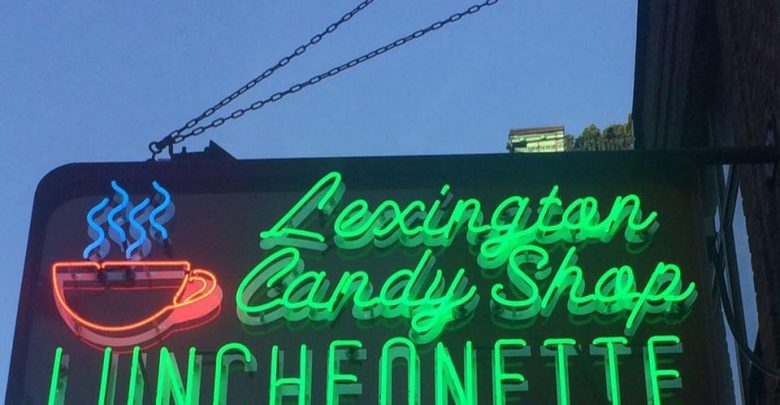 If a trip back in time is what sounds good for lunch, you'll adore Lexington Candy Shop on the corner of 83rd and Lexington in NYC. Despite its name, this place is not a candy shop—though it did sell the sweet stuff at one point in time many years ago. Now, however, it's an old-fashioned soda shop and luncheonette. The place opened its doors in 1925, has changed little since, and is quite possibly the only surviving authentic luncheonette in the Big Apple.
The fact that Lexington Candy Shop is probably the last of its kind is really saying something, considering luncheonettes were once a staple in every New York City neighborhood. What that means is that this is the only place in all of NYC where you can duck in and experience the cozy feeling of a neighborly hangout that so many New York residents once experienced on a regular basis.
Of course, the awesome nostalgia found inside this tiny eatery is certainly not the only reason to visit. Here are our favorite things about Lexington Candy Shop.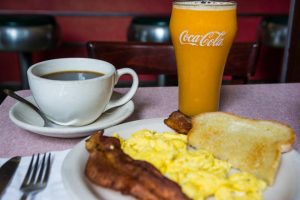 Delicious Breakfast
Let's begin with their breakfast. Considering it's the first meal of the day, it only makes sense, right?
This is the meal many of the locals rave about, and once you've tasted it you'll understand why. The pancakes are huge, light, and fluffy. Meanwhile, the eggs are always cooked to order and everything comes out piping hot, a wonderful thing on those super cold NYC winter mornings.
Of course, it also helps that they keep the coffee flowing, meaning you can warm up from the inside out and stay that way for quite some time.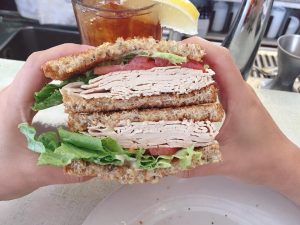 Enormous Sandwiches
While the prices at this diner may seem a bit high to people visiting from out of town, the truth of the matter is that they are actually on par for the area. Besides, the size of the sandwiches they serve more than makes up for the slightly higher price tag.
Seriously, from amazing tuna melts to delicious burgers, these sandwiches are plenty big enough to fill a person up with some to spare. Therefore, if you're looking for a filling and tasty meal, Lexington Candy Shop in the place to be. Just make sure to bring a big appetite or be prepared to take a to-go box.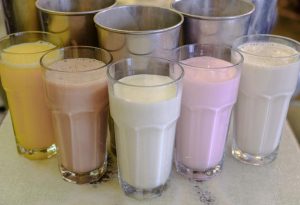 Tasty Milkshakes
The thing that all soda shops should have down pat is the classic milkshake. Unfortunately, this isn't always the case. Many make their shakes too thin, while other establishments try to fancy things up a bit too much with various mix-ins.
Lexington Candy Shop doesn't do any of this. They stick to the basics, but they do them really well, serving perfectly thick milkshakes with Bassetts "Super Premium" Ice Cream that can put a smile on anyone's face. This is why everyone who dines at this establishment should order dessert.
Dedicated Staff
One might think that working at a luncheonette would be a short-term gig. Not so for the staff at Lexington Candy shop. Some of the employees at this eatery have spent decades making sure their guests are well taken care of. They are attentive and full of personality, two things you don't always find when dining out.
In fact, the combo of the awesome staff and tasty food should be enough reason to visit, even when taking the history of the place out of the equation.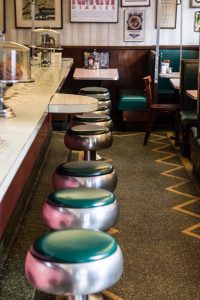 Old-School Decor
Still, the history is pretty cool. Not only is this building the original one that welcomed the restaurant's first guests in 1925, the interior decor hasn't been changed since 1948.
Yes, you read that right: When you eat at Lexington Candy Shop, you are dining surrounded by actual antique furniture and decorations. There's even an authentic D-Day newspaper hanging on the wall!
Of course, this decor makes waiting for your food a much more interesting experience, and many items are certain to start some wonderful conversations.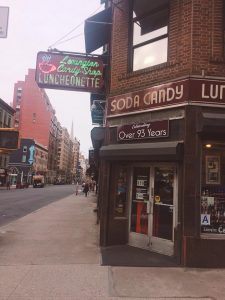 Awesome Location
Another great thing about this luncheonette is its location. Located in Upper East Side Manhattan, this little eatery is a short walk from the Museum Mile where visitors will find such famous attractions as the Metropolitan Museum of Art. Additionally, Central Park can be accessed on foot from Lexington Candy Shop, meaning guests can use the multiple walking paths in order to walk off some of what they enjoy during their meal.
Claims to Fame
Finally, we must mention the fact that Lexington Candy Shop is actually a movie star. Believe it or not, the tiny luncheonette has been featured in a wide variety of movies. These include Three Days of the Condor, The Nanny Diaries, and Fading Gigolo, among others. As you might imagine, this has increased the small business' popularity. This is super lucky, as it means folks like you and me can continue to enjoy the nostalgia that's been kept here for so many years.
Obviously, there are more than enough great reasons to visit Lexington Candy Shop the next time you find yourself hanging out in Manhattan. Of course, you'll want to take plenty of pictures while you're there, and make sure to try a milkshake.
Enjoy every minute of it and leave with a smile knowing you've experienced true old New York, and we're betting you'll love it as much as we do!