California
Ski California! Our Top 7 Resorts
The best places to hit the slopes in the Golden State.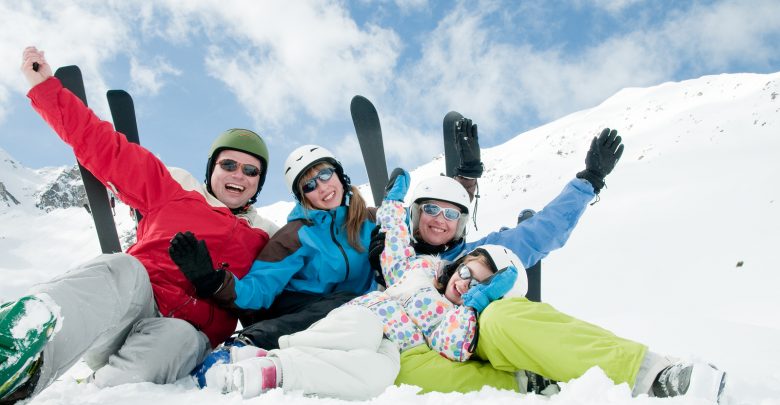 California is one of the most beautiful states for visitors to spend time in thanks to the many different beautiful natural environments that there are to explore. Guests can experience everything from beautiful beaches to deserts and everything in between, but there is one activity that is sure to thrill all visitors. Skiing and snowboarding are huge activities that are enjoyed in California during the colder months, and there are some amazing mountains and trails that range from bunny slopes to black diamonds. With so many mountains to choose from, visitors to California might not know which location to visit or, more specifically, where to stay. Thankfully there are plenty of options that are everything from family-friendly to upscale and indulgent. Here are the top ten California ski resorts to enjoy!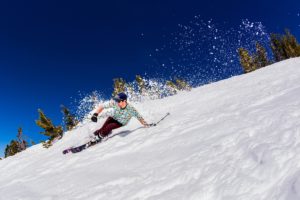 1. Mammoth Mountain Inn
Yosemite National Park takes up a massive amount of space in California and is home to some popular mountains and lodging for guests looking to enjoy the slopes. Mammoth Mountain Inn is located in Mammoth Lakes and has been the recipient of the AAA Three Diamond Award. The hotel features over two hundred rooms with rustic charm and hints of alpine design. Close to the mountain itself, guests can enjoy skiing, snowboarding, tubing, snowmobiling, cross-country skiing, and gondola rides that show off the beautiful snow below. Mammoth Mountain Inn is the perfect destination for visitors of all kinds as they offer rooms ranging from one to three bedrooms at different price rates that are all close to the mountain and activities.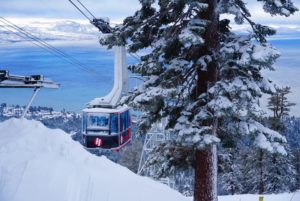 2. Lakeland Village Resort at Heavenly
One of the most popular destinations in California for those who love the snow and all the activities that go with it is beautiful Lake Tahoe. The massive lake borders both California and Nevada and features countless ski trails and lots of nightlife and entertainment that is fun for the whole family. Heavenly Ski Resort in Lake Tahoe is unique in that guests can choose the base area that they would like to stay in based on access to different trails and areas of the mountain and a popular lodge to stay in is the Lakeland Village Resort at Heavenly. Found right on the shores of Lake Tahoe, this ski resort features townhouse like accommodations that leave guests right in the middle of the mountain action.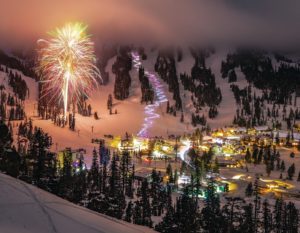 3. Kirkwood Lodging
Found just south of Lake Tahoe is another ski resort that combines the best of outdoor activities with great accommodations. Kirkwood Ski Resort prides itself in being smaller and more isolated than Lake Tahoe and visitors will love staying at the Kirkwood Ski Resort in one of the several Kirkwood Lodging options. The Sentinels are luxury two bedroom townhomes that place guests right near the shuttle and village and Timber Ridge features three bedroom townhomes better for larger groups. Those looking for more choices in room size can stay in The Mountain Club where they can also enjoy access to amenities such as a sauna and hot tub.

4. Juniper Springs Resort
Mammoth Mountain in Yosemite National Park has an additional ski lodge that keeps guests close to the mountain and trails while being perfect for families. Juniper Springs Resort offers ski-in, ski-out accommodations located right next door to Eagle Lodge where guests can gear up and hit the trails. Rooms at Juniper Springs Resort feature everything from a studio to one, two, and three bedroom condos and two and three bedroom townhouses. With plenty of nearby activities that kids and adults can enjoy plus rustic charm and cozy elements like fireplaces and warm wood accents, this is a great location to enjoy in California.

5. Sierra Nevada Resort & Spa
Those looking to enjoy Mammoth Mountain with a mix of outdoor adventure and indoor relaxation have a wonderful resort that is perfect for them. Sierra Nevada Resort & Spa is close to the mountain while also offering up luxurious touches such as heated bathroom floors, waterfall showers, and fireplaces. Guests can also indulge in the spa where specialty treatments such as a Mountain High Deep Tissue Massage, Mammoth Hot Stone Massage, and Sports Massage are available. Sierra Nevada Resort & Spa is also home to several dining locations that offer everything from laid-back meals to fine dining.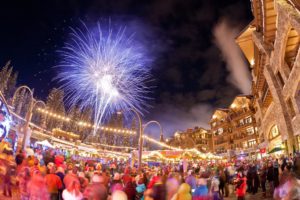 6. Timber Creek Lodge
Just northwest of Lake Tahoe is the Northstar California Resort in the town of Truckee. With several locations to choose from, guests who want to experience convenience to both the village and mountain trails should opt to stay at the Timber Creek Lodge. The location is steps away from the restaurants and activities in the village and guests can choose accommodations that meet their needs featuring one or two beds. Those visiting Northstar California Resort can be close to all of the action at Timber Creek Lodge!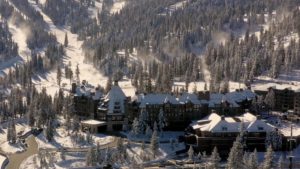 7. Ritz-Carlton, Lake Tahoe
One of the most popular and beautiful ski resorts that guests can stay at in California is also located at the Northstar California Resort. The Ritz-Carlton, Lake Tahoe is located mid-mountain on the "Big Easy" run and offers guests the convenience of ski-in/ski-out access. With valets to help guests assemble and don gear and nearby access to the village, this is a great option to enjoy. Accommodations also include a decadent spa, fine dining, the Slopeside Backyard Bar and BBQ, and a marshmology experience at the fire pit each night. Combining indulgent accommodations and easy access to the mountain and its trails, the Ritz-Carlton, Lake Tahoe is an amazing ski resort to enjoy in California.