Minnesota
You'll Find Plenty of Snow and Plenty of Fun at These Ski Areas
The best snow skiing and snow boarding in Minnesota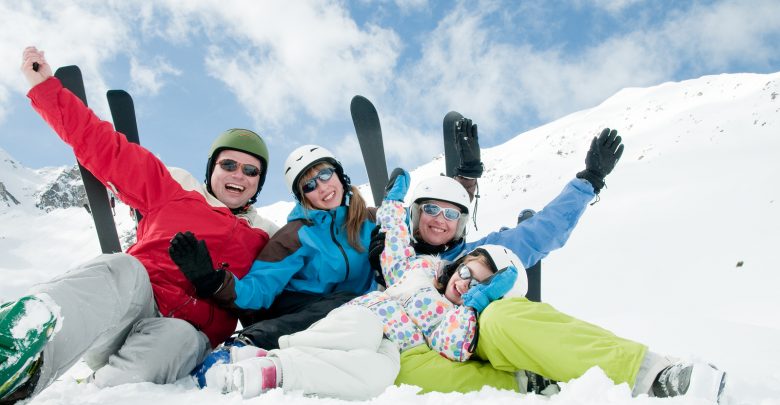 Winter in Minnesota is the perfect time to enjoy outdoor sports and recreation. And what better place with all of the snow and cold than the ski hills of Minnesota? A day trip or weekend at the ski hill is an ideal getaway for the chance to carve up the slopes and to enjoy scenic views from the top. Many ski resorts in Minnesota are winter destinations with much more than skiing – you'll find things like snow tubing, terrain parks and of course, groomed cross-country ski trails. With everything they have available, you're sure to keep busy all weekend long.
Here are our picks for the best ski areas in Minnesota: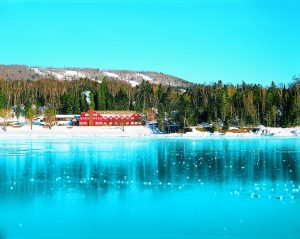 Lutsen
On the north shore of Lake Superior, Lutsen is the biggest – and highest – ski area in the Midwest. With four mountains and 95 runs, you won't run short of things to do here. One of the highlights of your day will be riding the enclosed Gondola to the top and once you're there, you'll enjoy scenic views of Lake Superior and the surrounding hills and natural landscape.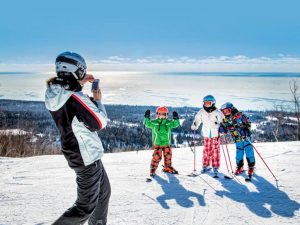 You can even stay the weekend right on the mountain with hillside lodging. This part of Minnesota is known for pristine beauty so while you're visiting, take the chance to explore the surrounding arrowhead area and northern Minnesota.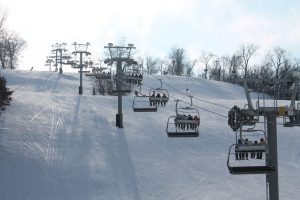 Welch Village
Located southeast of the Twin Cities near Red Wing in the town of Welch, Welch Village is your go-to place for a day of winter fun. Welch offers 60 runs and nine chair lifts on both the front and back sides of the mountain to keep you skiing all day long.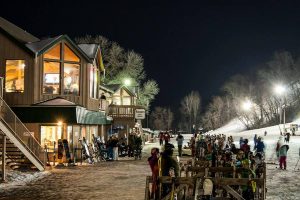 Their amenities include a main chalet with food, snacks and drinks, a second warming house, a rental shop, and an on-site store. Plus, check out their terrain park to practice and show off your snowboarding tricks.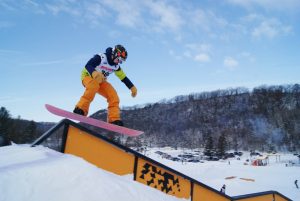 Afton Alps
Located in Hastings near the Twin Cities in the St. Croix River Valley, Afton Alps appeals to skiers of all levels with 52 trails and 17 chairlifts. They offer four terrain parks for snowboarders to enjoy and for your ski gear needs, they feature a high-performance rental shop. Enjoy a meal at one of seven different restaurants while you're here and try Vali's famous Epic burger – it's the best. In the last several years, the resort was remodeled to enhance the user experience, update the snowmaking capability and improve their facilities overall.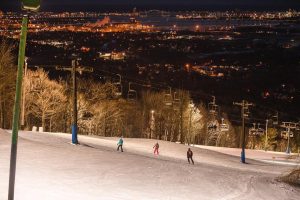 Spirit Mountain Recreation Center
Spirit Mountain is just south of Duluth in the northern part of the state and has 22 runs and five lifts to get you going. This ski area is downhill skiing and so much more since you can enjoy an Alpine coaster, fat biking in the snow and miles of groomed cross-country trails. At their Adventure Park, get a lift to the top and enjoy snow tubing in tracked lanes – you can even tube at night with something they call Glow Tubing. They offer three terrain parks for snowboarding and you can enjoy a break from skiing at one of their two chalets.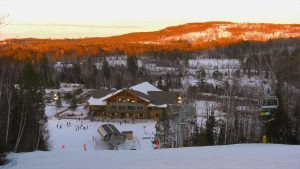 Giants Ridge
Located north of Duluth on the Mesabi Range, Giants Ridge is a four-season destination. In the winter, enjoy 35 downhill ski runs and miles of Nordic trails to cross-country ski. If you like to snowboard, be sure to check out their terrain park.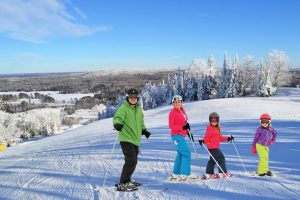 The highlight here is the beautiful and stately lodge where you can ski-in and ski-out right from your room. They accommodate groups of all sizes and have an "up north", but luxurious, log cabin feel. While you're there, you can also enjoy easy access to nearby snowmobile and ATV trails.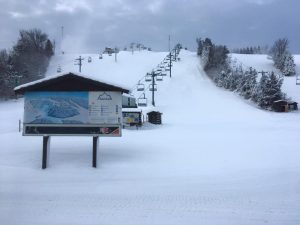 Mount Kato
You'll find Mount Kato just outside of Mankato in the Minnesota River Valley. This area creates the perfect snow for all things great on the hill. They feature 19 trails with eight chairlifts and two conveyor lifts for the snow tubers. Enjoy three terrain parks to show off your snowboarding skills and when you need a break, check out the onsite Lift Bar and Grill located in their chalet. They also have a full-service rental and gear store.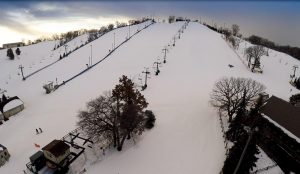 Buck Hill
Buck Hill is on the south side of the Twin Cities in Burnsville. The ski hill itself is on the smaller side, but don't let that fool you – Buck Hill is where famous Olympian Lindsay Vonn got her start. They offer 16 runs of all levels and ten lifts and tow ropes to get you to the top. You can also enjoy a terrain park, snow tubing in the tube tracks or a break in their onsite restaurant and bar. Buck Hill appeals to all types of skiers and is a great place for a local day on the slopes. While you're up at the top, enjoy great views of the city.
Hyland Hills
Found in the Hyland Lake Park Reserve in Bloomington, this ski area offers 14 trails with eight chairlifts for a full day of skiing. They have a terrain park for the snowboarders and lessons and rentals for the newbies. This area is local for those in the Twin Cities area, so it's perfect for a day trip of ski and snow without leaving the city. While you're there, enjoy a meal at the Hyland Grill and watch the skiers come down the hill while you eat.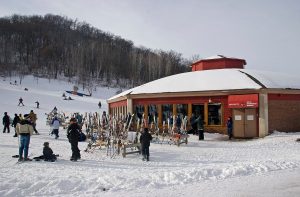 Coffee Mill
Near Wabasha and the Mississippi River, Coffee Mill features a "bowl effect" that offers protection from winds and cold. This hill is on the smaller side with 14 runs and three lifts but the size makes it perfect for families and newer skiers. In addition to skiing, they offer night skiing, snow tubing, and ski racing. Enjoy beautiful views of the river from the hill and then relax and regroup with a meal by the fire in their central chalet.
In Minnesota, it's not unheard of to ski through the spring into April, so with all of these great choices, get out and enjoy that snow all season long!