Connecticut
You'll Find Amazing Beauty and History in Connecticut
Your travel bucket list for the Constitution State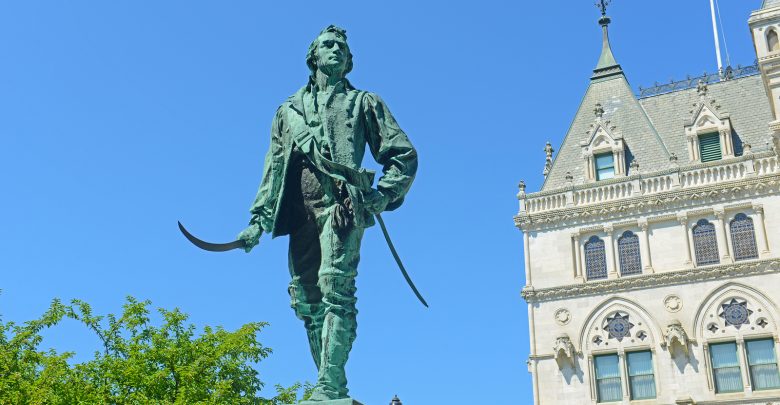 The state of Connecticut was the fifth to join the union on January 9, 1788, and has the highest per capita income of any of the United States. It was one of the original 13 colonies and is the southernmost of the six New England states. The Constitution State is the third smallest of the 50 states by area and home to roughly 3.6 million people. It's also home to Yale University and Wesleyan University. And if you're looking for an amazing—though tiny—place to explore on your next getaway, the Nutmeg State is a great starting point. We'll even help you get going with this bucket list of places to visit when next you hit up this New England gem.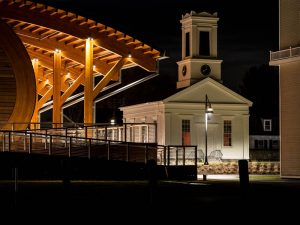 Mystic Seaport Museum – Mystic, CT
Also called the Museum of America and the Sea, the Mystic Seaport Museum is a curated celebration of all things shipping and boating. It was established in 1929 as the Marine Historical Association. It's the largest maritime museum in the United States and sees more than 250,000 visitors each year. The museum highlights a recreated 19th-century seafaring village in Connecticut that features more than 60 historical buildings—most of which are very rare structures that were moved to the 19-acre Seaport Museum site. The village gives patrons a unique look back into the history of America's maritime progress and achievements.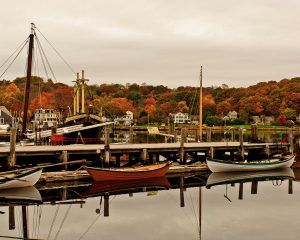 The museum also boasts a large collection of sailing ships and boats. Four of the museum's vessels are recognized as National Historical Landmarks—one of which is the Charles W. Morgan—the last member of an American whaling fleet of ships which sailed the seas for more than 200 years and included over 2,700 different vessels. The Charles W. Morgan was launched in 1841 and is the oldest commercial ship still afloat. Her whaling days ended in 1921, and her place at the museum as a showpiece of a part of American maritime history is one of honor indeed.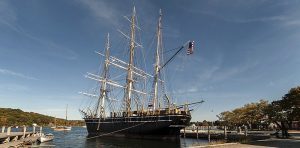 You can visit the Mystic Seaport Museum daily from 9:00 a.m. to 5:00 p.m. There are several dining venues within the museum, including the Latitude 41 Restaurant and Tavern, the Gallery Restaurant, Schaefer's Spouter Tavern, as well as a café and bake shop. Pricing for general admission tickets to the museum is as follows: $26.05 for adults ages 18 to 64, $24.25 for seniors 65 and better, $22.46 for youth ages 13 to 17 and $17.06 for children ages 3 to 12. Little ones ages 2 and under are free. For more information about this spectacular museum, visit www.mysticseaport.org.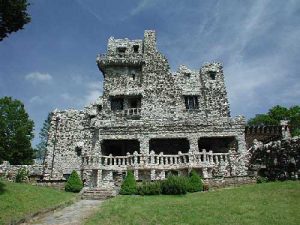 Gillette Castle State Park – East Hadden, CT
Gillette Castle State Park was established on July 31, 1986, and lies on the line between the towns of East Hadden and Lyme, Connecticut—high above the Connecticut River. The "castle"—completed in 1919—was once the private residence of American actor William Gillette.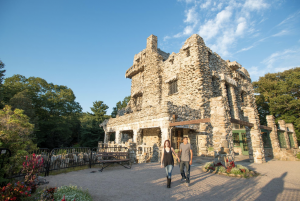 Gillette was most famous for his portrayal of Detective Sherlock Holmes in the silent 1916 film. It was Gillette's portrayal of the brilliant detective that helped to create the modern image of Holmes. But Gillette also worked as a playwright, an inventor, and a stage manager. He was instrumental in creating realistic stage props and sets, as well as sound and lighting effects for the stage.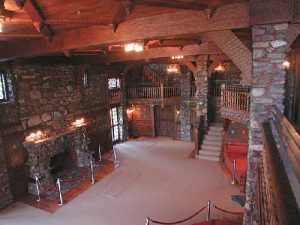 The Gillette home has the appearance of a medieval-style fortress, but when visitors step inside the home, they see intricate wood carvings from southern white oak, a moveable table on tracks and built-in couches. There are almost 50 doors in the home—no two exactly the same. Gillette designed the home and most of its contents. It took 20 men five years to build the main structure of the home, which was built from fieldstone supported by a steel framework. The grounds around the home are as impressive as the home itself. There are woodlands covered in trails along which visitors can enjoy a myriad of scenic vistas, as well as a vegetable cellar, a goldfish pond, and Gillette's railroad station. The trails on the grounds follow Gillette's three-mile-long narrow-gauge railroad.
The state park is open year-round, and camping is available from May 1 to September 30. Other activities available in the park include picnicking and hiking. Park gates open at 8:00 a.m. and close at sunset. There is no fee for parking or for visiting the grounds, but there is a per-person charge for castle tours. For information about planning a trip to the state park, visit www.ct.gov.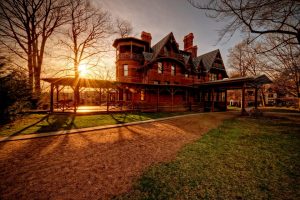 Mark Twain's house – Hartford, CT
Once upon a time, Samuel Clemens—better known by his pen name of Mark Twain—and his wife Olivia decided to build a house on land in Hartford, Connecticut. They were moving to the area to be closer to Clemens' publisher. Their sprawling house was built in 1874 and cost the Clemenses between $40,000 and $45,000. National Geographic has named the Mark Twain house "One of the 10 Best Historic Homes in the World."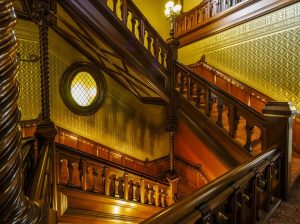 Today, visitors to the Hartford area can see the impressive house that encompasses some 11,500 square feet and includes 25 rooms, 7 bathrooms, and 3 floors. They can also see the adjacent carriage house that was finished in 1874 as well. It was often referred to as "the barn," but as accommodations go, it was nothing like a barn. In fact, Clemens' coachman, Patrick McAleer, and his family lived in the carriage house from 1874 to 1903. The Mark Twain House and Museum is open daily from 9:30 a.m. to 5:30 p.m. Admission is $20 for adults, $18 for seniors 65 and older, $12 for kids ages 6 to 16 and free for kids ages 5 and under. There are also living history tours available, given by actors in period-appropriate costuming who portray Clemens' family, friends and his servants, such as his wife Livy, his daughter Susy, his coachman Patrick McAleer, his butler George Griffin and his best friend Joe Twichell. Living history tours last about 45 minutes and are offered daily. The cost for these tours is $25 for adults and $17 for kids ages 6 to 16. For more information, visit www.marktwainhouse.org.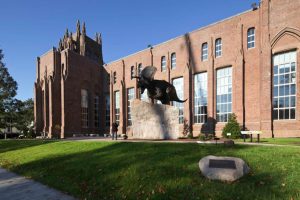 Yale Peabody Museum of Natural History – New Haven, CT
Yale University's Peabody Museum of Natural History offers visitors opportunities to see, touch and learn about natural history with hands-on exhibits, activity tables, exhibits, museum collections, and even a Dino Trail. In the Discovery Room, patrons of the museum can see and touch real natural historical artifacts of all kinds. During the weekends, the Peabody offers hands-on carts, activity tables and other opportunities for kids and kids at heart to experience the museum's offerings first-hand.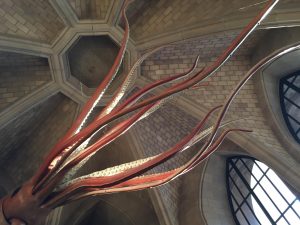 Museum exhibits include "Ancient Mesopotamia Speaks," a group of Mesopotamian art from Yale's Babylonian collection and "On Fly in the Salt," a traveling exhibition created by the American Museum of Fly Fishing, which takes visitors on a journey through the history of fly fishing and shows the evolution of tackle from the improvements made on early equipment to the more elaborate gear used today. Other exhibits include "California Gold," a showcase of 23 pieces of spectacular California gold—some unusually large pieces of gold as well as some smaller ones—and "Mightier Than the Sword: The Allure, Beauty and Enduring Power of Beads," an exhibit focused on the history and beauty of beads. (This exhibit is on view at the Department of Anthropology at 51 Hillhouse Avenue in New Haven, CT.) The Peabody Museum also part of the Connecticut Dinosaur Trail—a collaboration of five of Connecticut's dinosaur-themed tourist attractions.
The Yale Peabody Museum of Natural History is open Tuesday through Saturday from 10:00 a.m. to 5:00 p.m. and on Sundays from noon to 5:00 p.m. Admission is $13 for adults, $9 for seniors 65 and better, $6 for kids ages 3 to 18 and college students with I. D. and free for children ages 2 and under. For information about the museum and its current offerings, visit peabody.yale.edu.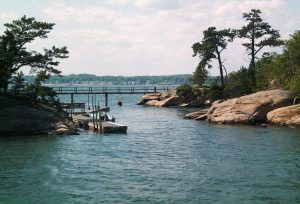 Thimble Islands – Branford, CT
The Thimble Islands are a part of an archipelago in Branford, Connecticut. There are over 100 small islands that make up the Thimbles in Long Island Sound. The islands are located in and around the harbor of Stony Creek in Southeast Branford. They are perhaps best known for their strange names—names like Cut in Two Island, Little Pumpkin Island, Mother-in-Law Island, Potato Island, East Stooping Bush Island and Frisbie Island—among many others. The largest of the Thimbles is Horse Island at 17 acres. Other islands among the Thimbles have houses on them, and one is home to a granite quarry that once exported stone to be used at the Lincoln Memorial, Grant's Tomb and at the base of the Statue of Liberty.
Visitors to the area enjoy cruising the islands aboard a 26-foot port launch called The Islander. Captain Dave's Thimble Island Cruises are open to the public, and each cruise accommodates up to 14 guests. The smaller boat allows the captain to navigate more easily around the islands and to access more of the area. Captain Dave has been giving tours of the islands since 1986 and offers his services from mid-June through mid-September. Tour prices are $13 for adults, $12 for seniors and $8 for kids ages 12 and under. To inquire about the cruises or to book one for your family, call (352) 978-1502.