Utah
Enjoy Spectacular Scenery, Outdoor Fun, and Good Food in this Gem of Southeastern Utah
11 ideas for an absolutely amazing weekend in Moab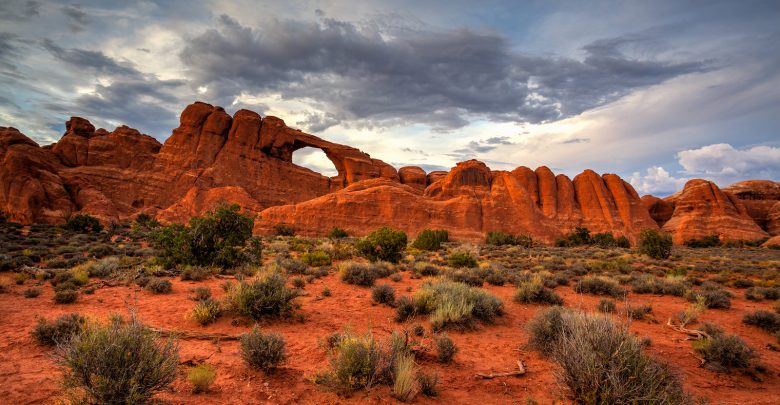 Utah is a truly beautiful state. With numerous amazing national parks and tons of natural beauty even outside of those parks, there is always something new to admire and explore.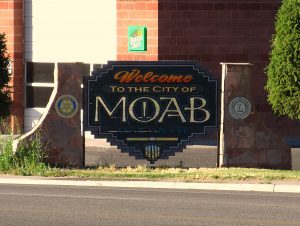 In fact, this is such an amazing state in terms of natural beauty that many outdoorsy people drive long distances just to enjoy all the earth has to offer here. One of the most popular gathering places for these folks is the town of Moab (moh-ab).
Moab may not seem like much when compared to a big city, but that's because comparing them to Moab is like comparing apples to oranges. Instead of flashy lights and nightlife, this amazing little town in the valley offers a completely different set of attractions and entertainment.
If you've never been to Moab, we highly recommend it. Here is what we recommend you do there.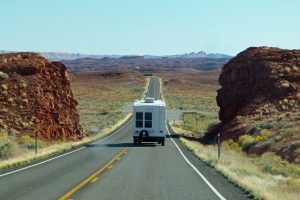 #1: Pack Up an RV
First of all, Moab is the kind of place where camping is almost a must. That said, because the weather can be a bit extreme, and because you will want to be comfortable during your stay, we think RV camping is the way to go.
Obviously, if you already have an RV of your own, this is easy peasy. However, if you don't have an RV, you do always have the option of renting one. This is a decision you won't regret.

#2: Seek Out Boondocking
With your RV all packed up and ready to go, it's time to find a place to park it. You could go to one of the RV parks in town, but we think in order to truly enjoy the natural beauty of the place, it's actually better to take the free route and do a bit of boondocking.
For those who are unfamiliar with the term boondocking, this simply means camping without any electric, water, or sewer hookups. This doesn't mean you have to be uncomfortable, however, and with a tank full of fresh water and a generator, you can be just as comfortable boondocking as you would be in an RV park. This is especially true in Moab because there are free dump stations and potable water at the Maverik gas station in town.
Willow Springs Trail, Klondike Bluff Road, and Dalton Well Road are all great places to stay, and all are under the care of the Bureau of Land Management (BLM).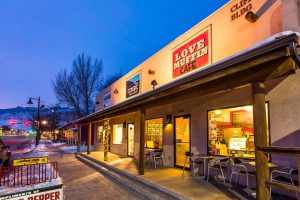 #3: Have Breakfast at Love Muffin Cafe
Love Muffin Cafe is the place to be when it comes to breakfast in Moab. In fact, you'll often find that there is a line out the door. That said, the service is quick and friendly and the food is well worth the wait. The breakfast burritos are incredible, and the fact that they have delicious vegan options makes everything even better.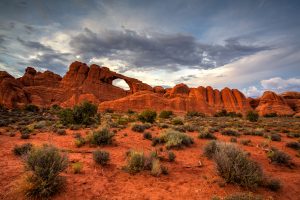 #4: Visit the National Parks
One really cool thing about Moab is that it is only a few minutes away from Arches National Park. Not only that, but it's also less than an hour away from Canyonlands National Park. Both are absolutely stunning places that offer fantastic opportunities for outdoor recreation.
For this reason, you will definitely want to seize the opportunity and make enough time to see both parks.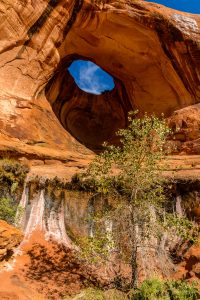 #5: Head Out on a Hike
It goes without saying that there are some amazing trails located in the national parks. That said, there are also several excellent hiking trails outside of the parks. One favorite is Corona and Bowtie Arch Trail. However, beginner hikers might prefer the slightly easier Mill Creek Trail.
No matter where you end up hiking, be sure to take plenty of water and wear sunscreen. The desert is a hot and sunny place, and it's always better to be safe than sorry.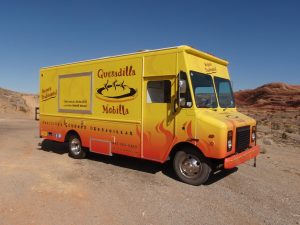 #6: Eat Lunch at Quesadilla Mobilla
There's nothing quite like ordering lunch from a food truck, and the lunch served out of Quesadilla Mobilla simply can't be missed. Huge portions, fair prices, fast and friendly service, and vegan options set this place apart from many other food trucks, making it one of the best places to get a quick meal in Moab.
#7: Go for a Swim
The thing about boondocking is that in order to conserve water, it's best not to shower every day. That said, the local indoor swimming pool offers a fantastic opportunity to get in a good shower without wasting freshwater or filling your wastewater tank.
For just $5 a person, you can go for a swim and enjoy the water slides, diving boards, and more. Once you've finished swimming, head to the showers and get cleaned up before heading back to your campsite.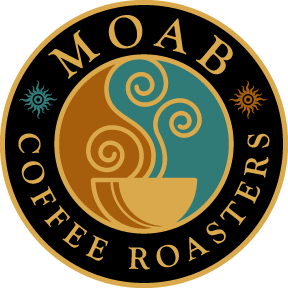 #8: Grab a Coffee
At some point, you're bound to want a caffeine pick-me-up. When this time rolls around, be sure to stop by Moab Coffee Roasters. This place is crowded, but it's for a reason. The coffee is wonderful! It is roasted locally, and great care is taken to ensure all of their beverages come out just right.
Go in prepared to wait your turn, and you won't be disappointed.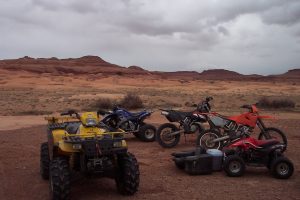 #9: Go Off-road
Moab is a super popular place for off-roading. Of course, this does require that you have the proper equipment. If not, you will want to look into renting a vehicle or even taking a guided tour. Either way, some favorite 4×4 trails in the area include Chicken Corners, Moab Rim Trail, Poison Spider Mesa Trail, and Gemini Bridges.
Be sure to do your research on each one before deciding which best suits you and your experience level!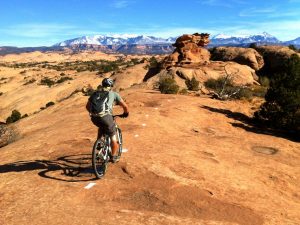 #10: Pull Out Your Bike or Kayak
Some other great things to do in the area include mountain biking and kayaking. Navajo Rocks, Slickrock, and The Whole Enchilada are just a few of the awesome biking trails in Moab. Meanwhile, those looking for great Kayaking opportunities can experience everything from a couple of hours on the water to multi-day trips in the Colorado River, Green River, or Lake Powell.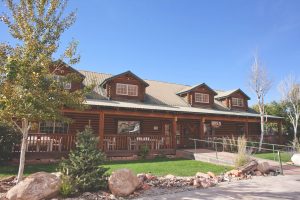 #11: Enjoy Dinner at The Broken Oar
Whether you're craving a sandwich or a steak, The Broken Oar has you covered. This lovely local eatery has a wonderfully diverse menu, and every item on it is made exceptionally well. Besides good food, the restaurant also has a welcoming atmosphere that is just wonderful after a long day spent in the great outdoors.