Maine
Some of the Most Gorgeous Scenery in Maine
Bubble Rock and Acadia National Park are quintessentially Northern New England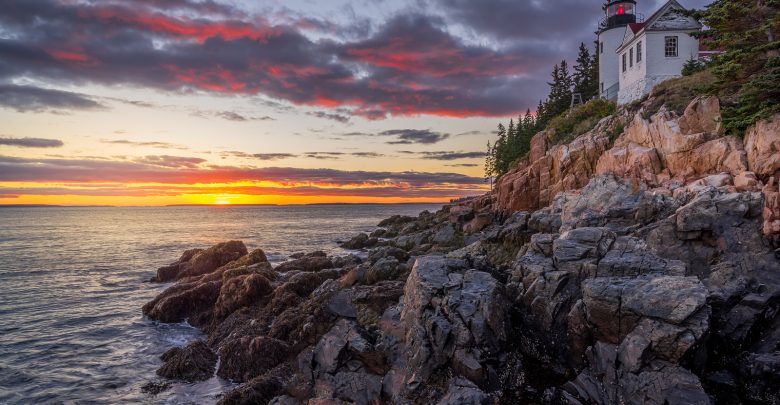 Maine is a beautiful state that is filled with both historic and natural wonders. When planning a visit, you might think about Old Orchard Beach or a stop in the capital city of Augusta. Chances are that your first thought will not be that you need to see a rock. If that rock is Bubble Rock, you will be glad that you decided to add it into your plans. Here is what you need to know about Bubble Rock and Acadia National Park (where it is located). Bubble Rock is a natural wonder, because you can't get much more natural than a rock.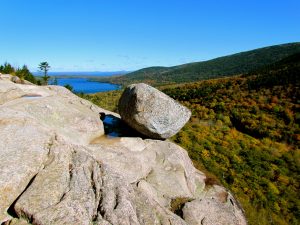 What Is Bubble Rock?
The simple answer to the question "What is Bubble Rock?" is that it is a rock that is perched on top of a rock cliff. It looks like it could fall at any moment. There is more to it than that, though. If you look at Bubble Rock, you will notice that it does not match the other rocks that it sits on. That is because it was not part of the original formation. In scientific terms, Bubble Rock is a "glacial erratic". That means that it was carried to its current location by a glacier, tens of thousands of years ago. It is believed that Bubble Rock originated in the area that is now known as Lucerne, Maine. That means that it traveled close to 40 miles by glacier.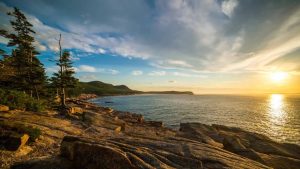 Picture Opportunities
One of the fun things about Bubble Rock is that it makes for great picture opportunities. Since it looks like it is a rock that is going to roll down the mountain at any moment, you will want to take a few pictures of yourself and the others in your party pushing on Bubble Rock, trying to lodge it from its place. Don't worry, it is not going anywhere. Many have tried before you, and there will be another group there not long after you leave, pushing with all of their might.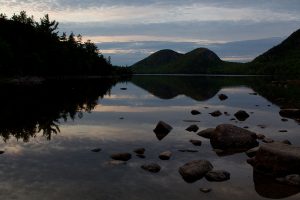 Getting There
Bubble Rock is located in Acadia National Park. You will need to hike on one of the trails in order to see this amazing natural wonder. There are two mountains within the park, known as North Bubble and South Bubble. You will want to hike South Bubble. There is a small parking area that is called Bubbles Parking Lot but be warned that it does fill up fast. Start on the Bubbles Divide Trail. You'll hike until you see the Bubbles Divide sign. The trail then splits into North Bubble and South Bubble.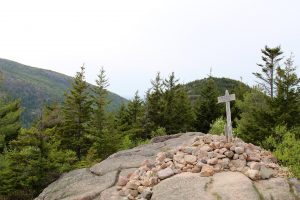 You will want to take the South Bubble Trail to see Bubble Rock. There will be some beautiful scenery along the way, including an incredible view of Jordon Pond. Once you reach the elevation sign you will know that you are almost there. Just continue on the trail until you reach Bubble Rock. The hike is easy to moderate. It is about a mile long. The average grade is about ten percent, and the maximum grade is almost 50 percent. Dogs are allowed on the trail but they need to be leashed.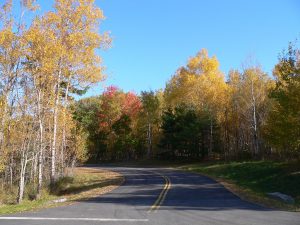 Time of Year
The time of year makes a difference if you plan to visit Bubble Rock. Remember that it is in Northern New England, so a winter visit might not be the best idea for most people. The summer is a totally different story. You will see plenty of plants, and there is a good chance that you will see wildlife as well. If you time your summer visit correctly you might even find wild blueberries along the trail. Another great time to visit is during the fall, especially in the peak fall foliage weeks. It will be a view that you will never forget. During the spring the entire park seems to be coming back to life, but remember that you could have issues with fog during the spring months. Always check the forecast before you leave for your hike, no matter what time of year you plan to visit.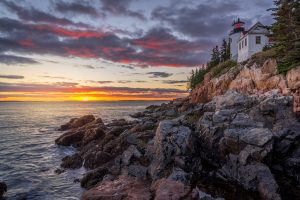 Acadia National Park
Of course, there is much more to see at Acadia National Park than just Bubble Rock. The park hosts over three and a half million people annually. The entire area is close to 50,000 acres. North and South Bubble Mountains are located in the northern part of the park. There is much more hiking than just the hiking path to Bubble Rock. Acadia National Park has about 120 miles worth of hiking trails. They cover all skill levels. If you don't want to hike but would like to still see the beauty of the park, you might instead want to explore the carriage roads and stone bridges. These are for walkers, as well as bikers, horseback riders, and carriages. Cars and other motorized vehicles are not allowed on these 45 miles worth of roads. Snowmobiling is allowed in some places during the winter. Both carriage and hiking trails may close because of weather or mud, so make sure you check before you head to the area.
Visitors Centers and Fees
There are six different Visitor Centers located within Acadia National Park. At the centers you can learn more information, as well as purchase your park pass. The cost is $30 per passenger vehicle for up to 15 people, $25 per motorcycle, and $15 for someone without a car. The pass is good for seven days. An Annual Pass is also sold. It costs $55 per year.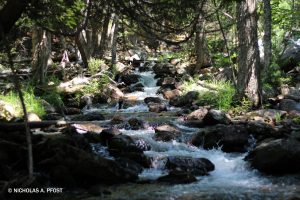 Camping
There are several different campgrounds located within Acadia National Park. They are Blackwoods Campground, Seawall Campground, Schoodic Woods Campground, and Duck Harbor Campground. Reservations are recommended, especially during the summer. The fees vary, depending on the campground and the time of year. Everything from RV sites to primitive sites are available. Blackwoods, Schoodic Woods, and Seawall also have group campsites. These can accommodate up to 20 people each. Campers are asked to not bring firewood with them to the park because of potentially harmful insects. If you would like to camp but cannot get a reservation, there are several campgrounds in the Bar Harbor, Maine area that are near Acadia National Park. You will still be able to easily visit the park and try to topple Bubble Rock.