Maine
The Maine Thing: Cozy, Idyllic, Gorgeous
These are the most charming small towns in the state
Maine is a beautiful – though unmistakably cold in the winter months – part of the United States and well worth the visit. Being that it is so far northeast, not many people make the trek to visit Maine and not many people even live there, but not for any lack of beauty. The natural beauty of Maine is awe-inspiring, and the amount of charm in its small towns is unmatched. These are the most charming small towns in Maine.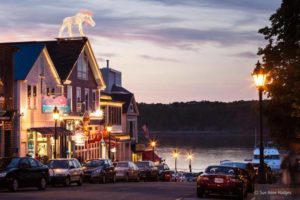 Bar Harbor
Home to the Acadia National Park, Bar Harbor is not just a cute by-the-sea town but also a hot destination for outdoorsy visitors from all over the country. That said, there are plenty of outdoor activities for any visitor including kayaking, hiking, biking, and canoeing in the summertime and early fall. This town is located on an island and was a popular spot for the wealthy in its heyday. A visit today is still quite beautiful, but more historical than it is luxurious.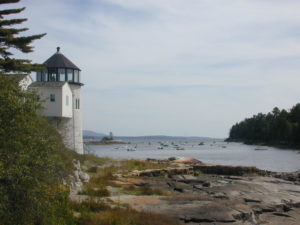 Blue Hill
This town stays true to its 18th-century shipbuilding heritage with plenty of historical architecture – and boats. Similar to other Maine towns, it is quaint and quiet, but surrounded by breathtaking natural beauty. Climb the Blue Hill Mountain for some of the best views in the northeast. Take a stroll down main street and hop in and out of art galleries, cafes, shops, a wine store, and the co-op. If you're traveling with a furry friend, feel free to stay at the pet-friendly Cape House Suite.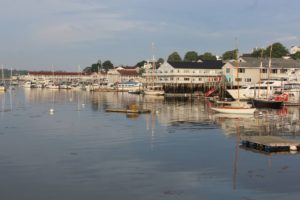 Boothbay Harbor
Boothbay Harbor is located in the middle of Maine's coastline, and filled with plenty of opportunities to explore the maritime lifestyle. During your stay in Boothbay, you can kayak in the ocean, go fishing on a charter, go lobster fishing, or go on a boat tour. You can visit historic lighthouses and explore many different hiking trails as well as enjoy plenty of restaurants, shops, galleries, and wineries. Also in the area are the Maine State Aquarium, the Coastal Maine Botanical Gardens, the Nickels-Sortwell House, the Farnsworth Art Museum, and the Bigelow Laboratory for Ocean Sciences.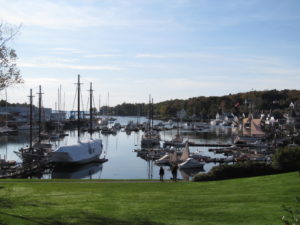 Camden
Known as "The Jewel of the Maine Coast," Camden is one of Maine's most popular towns for tourists. The main street is quite picturesque, taking on the quality of a classically adorable coastal town. Pop in and out of many shops, boutiques, cafes, and restaurants; picnic in the park outside of the library; take a day trip to a nearby island. Because of the town's rich history, you can also find plenty of museums, historical architecture, and cobblestone streets.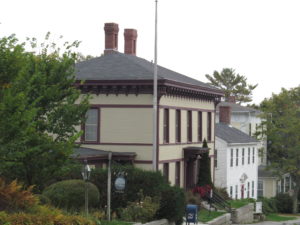 Castine
A town since the 1600s, Castine is one of Maine's oldest towns. It's a little more difficult to get to, but it is well-worth the visit – even if you're not a history buff. It is a seaside town, offering beautiful ocean views as well as cute shops and homes to provide the environment for a perfect afternoon walk. In the summer, daily tours are offered by Castine Kayaks, and there's a 3-day plein air art festival every July. There's plenty of delicious restaurants and cafes for you to enjoy during your stay in Castine.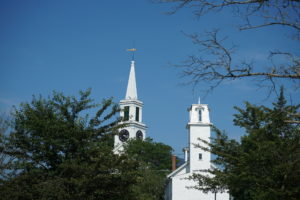 Damariscotta
Bordered by the Damariscotta River to the west and Lake Pemaquid to the east, this town carries a different vibe than most Maine towns. Though still surrounded by water, there is something different about the lake lifestyle. In the summertime, visitors boat on the river, swim in the lake, fish, and bask in the sun. This town is famous for its seafood, specifically Pemquid oysters. Though different from the coastal towns of Maine, it is home to the same beautiful historic buildings and charming cobblestoned sidewalks that characterize every Maine town.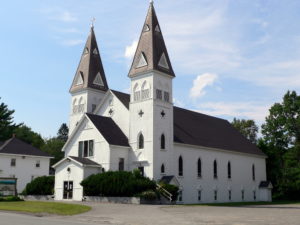 Greenville
Greenville is nestled on the southern shore of Moosehead Lake, the largest lake in Maine. Like in Damariscotta, visitors typically fish, boat, or swim during their stay. You can also hike to the top of Mount Kineo. In the spring, enjoy the Moosemania festival – moose sightings in the hundreds, and in the winter, activities include dog sledding, ice fishing, and cross country skiing. The Wilderness Dog Sled Race starts and ends in Greenville every winter. In terms of restaurants, the Stress Free Moose Pub & Café and Kelly's Landing are two of the top spots.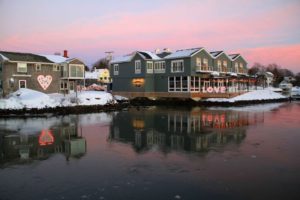 Kennebunkport
After becoming a prosperous town through its shipbuilding industry, tourism began flooding into Kennebunkport. Today, Kennebunkport is still incredibly popular – and for good reason. Its colorful shops and homes are nestled on the coastline with a perfect view of the ocean accompanied by plenty of beaches to rest and play on. During your visit, explore Dock Square for souvenir shops, galleries, and seafood restaurants. If you ever feel overwhelmed during your visit, Kennebunkport borders a tiny village called Cape Porpoise – small and remote, it offers a quiet, peaceful respite.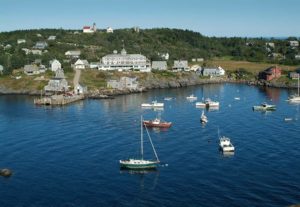 Monhegan
This largely uninhabited area of Maine brings in many artists and tourists during the summertime. Visitors come by ferry to enjoy the natural beauty and sites. The village has a church, some private homes, hotels, art studios, and a few small stores – most importantly, a store that sells fresh seafood. During your visit, most time should be dedicated to enjoying the views and hiking. You can also stop by the Monhegan lighthouse and the adjacent Monhegan Museum which tells the island's history. A testament to its inspiring beauty, Monhegan has been the permanent or temporary residence to many famous and prolific artists.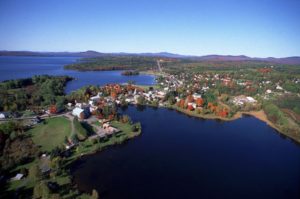 Rangeley
Bordering New Hampshire, Rangeley is a town founded on sawmills and farmland. Tourists began to express interest in the area in the 19th century for its peaceful setting and fishing opportunities. Visiting Rangeley is basically the same today as it was then. During your stay, you can expect to see tons of natural beauty, fish at least once, and swim if it's summertime. An update since the 19th century, Rangeley also has many shops and restaurants for you to enjoy during your visit.