Florida
Thrill Ride Heaven: Top 9 Roller Coasters in Central Florida
Speed, loops, theming and fun -- Welcome to Coaster Central
Central Florida and Orlando are home to some of the most amazing theme parks in all of the United States. While some of the parks might be known for being family friendly and home to attractions for guests of all ages, there are plenty of big thrills to be had in the area. Roller coasters are a favorite of many guests who visit Orlando, and thankfully there are several amazing options that pack thrills of all shapes and sizes. Guests who visit Walt Disney Word, Universal Studios Orlando, and SeaWorld are in for some of the world's most incredible roller coasters that bring them on adventures everywhere from outer space to the ocean. Those looking to enjoy some of the best roller coasters imaginable definitely need to plan a visit to these theme parks to experience the thrills firsthand. Here are the top nine roller coasters in Central Florida to make thrill-seekers feel like they are in heaven!
Rock 'n' Roller Coaster Starring Aerosmith
Disney's Hollywood Studios
One of the most popular thrill rides in Walt Disney World is located on Sunset Boulevard in Disney's Hollywood Studios. The Rock 'n' Roller Coaster Starring Aerosmith invites guests into G Force Records where they find themselves face to face with the band as they wrap up a recording session. After a quick interaction, guests are invited to a show across town, however they need a super stretch limo to fit everyone and have to race to get there on time. After strapping in, the Rock 'n' Roller Coaster Starring Aerosmith blasts guests from zero to sixty in seconds and sends them flying through the neon lights of downtown to reach the show on time. With two inversions, a rocking soundtrack, and high speeds, this is one coaster that thrill seekers can't miss.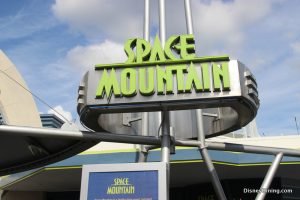 Space Mountain
Magic Kingdom
Perhaps one of the most well-known theme parks in Orlando is the Magic Kingdom. Guests who spend time in Walt Disney World's park should visit Tomorrowland and particularly Space Mountain. The thrilling attraction brings guests into Starport 75 where they board an intergalactic flight and blast off into the galaxy. Guests can enjoy a ride on either the Alpha or Omega track and fly through the galaxy in near darkness accompanied by a futuristic soundtrack and the sound of other guests' screams of delight.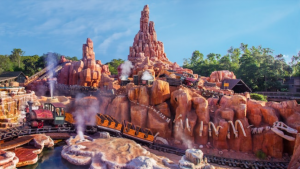 Big Thunder Mountain Railroad
Magic Kingdom
Also found in the Magic Kingdom is another roller coaster that thrill-seekers are sure to enjoy. Big Thunder Mountain Railroad is located in the Frontierland section of the park and brings guests into the town of Tumbleweed. The mining town is known for its Wild West appeal and guests soon find themselves whipping around the mountain on a runaway train that some call the wildest ride in the wilderness. With twists, turns, and caves that are both eerie and collapsing, guests are sure to love the big thrills on Big Thunder Mountain Railroad in the Magic Kingdom.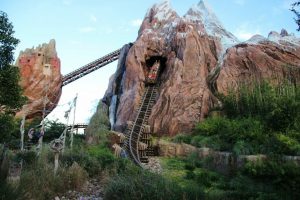 Expedition Everest
Disney's Animal Kingdom
Another thrilling roller coaster experience in Walt Disney World can be found in the Asia section of Disney's Animal Kingdom. Expedition Everest has guests board tea trains and set off on a shortcut through the Forbidden Mountain to Everest's basecamp. Along the way they come face to face with the Yeti who protects the mountain and find themselves plummeting backwards through the darkness of the mountain as well as flying down a steep drop to escape his clutches. Expedition Everest is definitely an amazing roller coaster that thrill-seekers have to enjoy!
Hollywood Rip Ride Rockit
Universal Studios Florida
The Production Central area of Universal Studios Florida is home to a thrilling roller coaster that will have guests rocking along throughout the entire experience. The Hollywood Rip Ride Rockit begins by having guests choose one of thirty songs that they would like to personally listen to throughout the attraction. Guests then approach the boarding station and step onto moving conveyor belts to enter into their seats and strap in. As the lift hill commences, the song that each guest chose begins to play and soon guests are enjoying high speeds, steep drops, many twisting loops, and a completely rocking experience.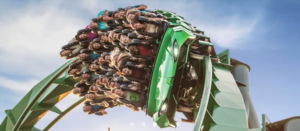 The Incredible Hulk Coaster
Universal's Islands of Adventure
Guests who visit Universal's Islands of Adventure and enjoy the Marvel Super Hero Island area of the park can experience a totally thrilling roller coaster that brings a big-screen hero to life. The Incredible Hulk Coaster brings guests in the middle of an experiment being conducted by General Thaddeus Ross and shows several subjects being exposed to radiation and turning into creatures like the Hulk. After boarding the coaster, guests soon find themselves passing through the radiation themselves and being rocketed out of a tunnel onto the track. The Incredible Hulk Boaster features an impressive seven inversions, high speeds, and steep drops making it a must-do for thrill-ride lovers.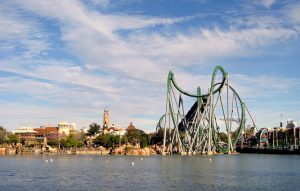 Mako
SeaWorld Orlando
Another popular location to visit in Central Florida is SeaWorld Orlando which many people still associate only with marine life. Luckily for thrill-seekers, the park is now home to many roller coasters including Mako in the Sea of Mystery area of the park. Guests move through the queue and assume the role of Mako sharks moving underneath a boardwalk and soon strap into the coaster in a boarding area that feels like an underwater shipwreck. With no inversions, Mako is still completely thrilling as it reaches top speeds of over seventy miles an hour and blasts guests through unique turns and hills designed to feel like the way that sharks move.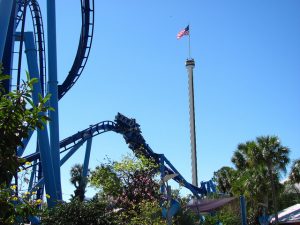 Manta
SeaWorld Orlando
SeaWorld Orlando is also home to another roller coaster that aims to have guests feel like a marine animal. The Manta rollercoaster begins by having guests move through a queue themed to feel like a seaside village where they can take in aquariums filled with many different species including stingrays. Once in the boarding area, guests strap into unique cars which soon tilt so that they are parallel with the track and feel as though they are gliding like a manta ray. With many twists and turns, guests move at high speeds and feel as though they are gliding through the water, including one very thrilling moment where a splash effect makes guests feel as though they did actually come in contact with the water below!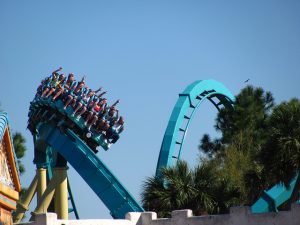 Kraken Unleashed
SeaWorld Orlando
A third amazing roller coaster that thrill-seekers have to enjoy in SeaWorld Orlando is themed after a fictional sea monster. Kraken Unleashed has guests board a lengthy train that features a drop-away floor to allow them to dangle their feet in the air throughout the journey. With several inversions, high speeds, and a dive into the Kraken's lair, Kraken Unleashed is a thrilling adventure that every thrill seeker in Central Orlando has to enjoy!