Iowa
For Ice Cream Lovers, The Happiest Place on Earth is…Iowa
These 8 legendary ice cream shops are worth the drive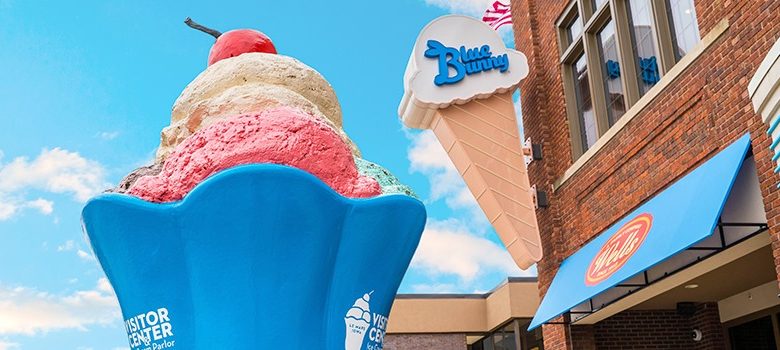 Ice cream lovers know there's never a bad time to indulge in the sweet, creamy deliciousness of an ice cream treat.  And if you scream for ice cream too, you'll definitely want to check out these fabulous ice cream shops in Iowa.  Whether you are a local, or passing through, ice cream is a perfect excuse for a road trip!  Your only problem will be narrowing down this list of delightful ice cream shops.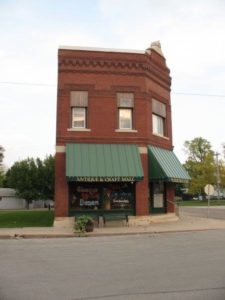 Cheaper by the Dozen Ice Cream and More Shoppe
Located in a charming, historic building that's listed on the National Registry of Historic Places, the Cheaper by the Dozen Ice Cream and More Shoppe is an old-fashioned, family-owned ice cream shop in downtown Williams.  Step right up to the marble soda fountain and place your order!  Choose from hand-dipped ice cream cones, malts, shakes – or opt for a sundae.  You can pick from one of 13 sundaes, each named after a member of the owner's family; for an added adventure, create your very own special sundae.
Casa Chameleon
Indecisive visitors may have a tough time choosing among the over 40 flavors of soft-serve ice cream at Belmond's Casa Chameleon.  Of course, this is an excellent reason to try more than one flavor!  Casa Chameleon also serves tasty pizza, so you can even make a meal of it.  And if the selection of ice cream, sundaes and shakes isn't enough, you can opt for an adult-style drink: the shop serves wine, beer, and frozen drinks.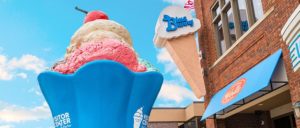 Wells Visitor Center & Ice Cream Parlor
How can any ice cream lover resist a visit to the Ice Cream Capital of the World?  The town of Le Mars was honored with this title back in the 1990s, and it certainly lives up to it!  When you get here, make a beeline for the Wells Visitor Center & Ice Cream Parlor for your fix of all things ice cream.  Tour the interactive displays and virtual production lines to learn exactly what goes into making this tasty treat, and then relax with an excellent view of the town as you enjoy your favorite flavor.  The extensive menu features sundaes, floats, shakes and novelty creations.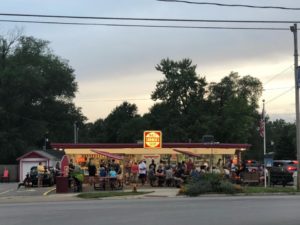 Snookie's Malt Shop
It's well worth the trip to Des Moines for the ice cream at Snookie's Malt Shop!  Visitors with a sweet tooth will love choosing among the many add-ins to complement their ice cream; whether your favorite sweet treat is cookie dough, sour candy or peanut butter cups, there's a candy just waiting to join your ice cream!  There are special kid-sized cones for pint-sized ice cream lovers.  And there's even something for canine sweet tooths at this family-owned ice cream shop, where dogs can enjoy a free pup-cone.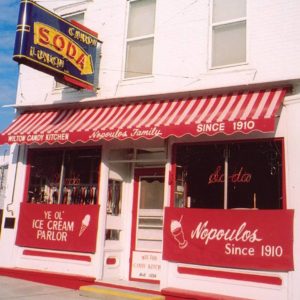 Wilton Candy Kitchen
For a healthy dose of history with your ice cream, make the trip to Wilton Candy Kitchen in Wilton.  It's one part ice cream parlor, one part soda fountain, and one part candy store – and it's the oldest continuously run shop of its kind in the entire country.  Because the interior hasn't changed much in the last century, you can enjoy the antique details like the tin ceiling as you watch the staff mix your ice cream.  Kids (and kids at heart) will love spinning on the retro red stools at this shop that time forgot.  You can enjoy drinks, lunch, candy and of course ice cream here, and don't forget to stop by the museum at the back of the building!
Lagomarcino's
Let's face it: chocolate and ice cream are a match made in heaven!  And there's nowhere better to enjoy this delectable combination that at Lagomarcino's, in Davenport.  A producer of homemade chocolates, candy, ice cream and soda fountain drinks for a century, Lagomarcino's still uses the original copper kettle kitchen to churn out the delicious treats here.  Sample some of the irresistible homemade chocolates, and choose a malt, ice cream soda or sundae while you're here.  Pro tip: the bitter-sweet fudge sauce served here has been called "the best hot fudge in the solar system"!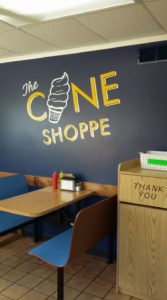 The Cone Shoppe
The name says it all!  The Cone Shop in Monticello is your one-stop shop for all things ice cream.  You can try an ice cream cookie sandwich if you like a bit of crunch with your ice cream, or opt for a fruit smoothie if you're on the hunt for something a little lighter.  Or go all out with a Razzle (ice cream blended with your choice of candy), or a made to order ice cream pie.  There's absolutely no wrong decision here!  You can even plan a meal here; there are familiar favorites such as chili cheese fries and mini corn dogs, and also a few fun surprises, such as shrimp and breaded tenderloin.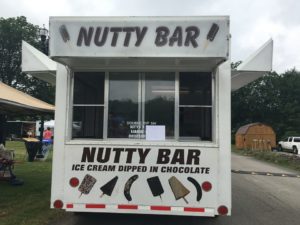 Nutty Bar Stand
Located at Arnolds Park Amusement Park in Okoboji, the Nutty Bar has been a hit with amusement park guests since the 1940s.  The signature treat here is the Nutty Bar itself, vanilla ice cream dipped in chocolate and chopped nuts.  But you won't want to limit yourself at this ice cream shop!  Try the handmade drumsticks, sundaes, or frozen bananas, and wash it all down with the root beer, brewed in house and served up in frosty mug.  There's no better way to end a beautiful summer day!