Idaho
Check Out These Amazing Spots in Idaho
3 places for the perfect weekend in the Gem State
The Gem State is known for many things—Hells Canyon, a plethora of Idaho Potatoes and the beautifully winding Snake River. Nearly 2 million people call Idaho home, and nearly 20 million people visit the state each year. There are any number of spots at which to spend the perfect weekend in Idaho, but in case you're reading this during your lunch break, we'll keep our list to just three impressive places for the perfect weekend. Each place really is something to see; it'll be difficult to choose only one!
Coeur d'Alene, Idaho
The lakeside town of Coeur d'Alene in northwest Idaho is the perfect setting for a weekend getaway. It's brimming with things to enjoy and is known for water sports on Lake Coeur d'Alene and for its endless list of possibilities for outdoor fun and activities, include canoeing, kayaking, fishing and lake cruising. It's also home to the beautiful walking trails of the Canfield Mountain Natural Area.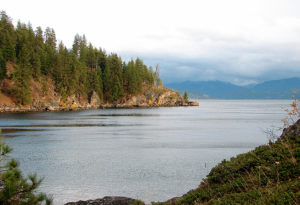 Coeur d'Alene National Forest is also a favorite place among tourists because of its natural beauty, and McEuen Park offers a beautifully lush grassy lawn and a trailhead leading to Tubbs Hill. City Park and Beach located right on the lake is the perfect spot for picnicking families with children who love to play on the playground. Families also enjoy the Museum of North Idaho, which takes a look at history in the region.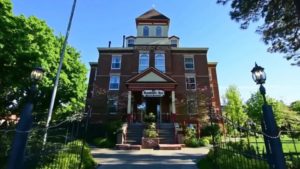 The Roosevelt Inn in Coeur d'Alene is the perfect place to spend the night during your weekend in Idaho. It's set in an old red brick schoolhouse that dates all the way back to 1905. It's an elegant and classic bed and breakfast nestled in the heart of Coeur d'Alene. It's only a short walk to the shores of Lake Coeur d'Alene where you can enjoy all kinds of outdoor water sports.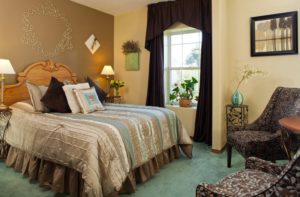 Each guest room and suite features contemporary décor with amazing views of the lake. Each suite has a fireplace and amenities at the Roosevelt Inn include a hot tub and sauna, and the beautifully maintained gardens and grounds at the Inn feature board and lawn games. There is also a huge DVD library where guests may borrow titles of their choosing.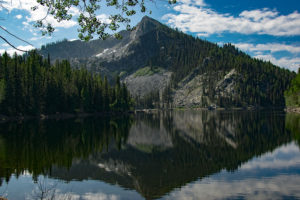 McCall, Idaho
The small resort town of McCall, Idaho, is located in western Valley County, Idaho. It was named after its founder, Tom McCall. The town lies on the southern shore of Payette Lake in the center of the Payette National Forest. It's home to just over 3,000 residents. It was once a logging community, but its last sawmill closed more than 40 years ago. Today it is a year-round tourist destination and a favorite place among visitors for outdoor recreation. Its annual Winter Carnival is one of the trademarks of the town of McCall. It is also known for having the highest average snowfall in all of the Gem State.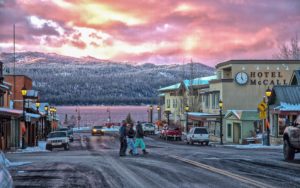 When booking your stay in McCall, be sure to make reservations at the Shore Lodge. The lodge keeps guests as close to untouched nature as possible and offers breathtaking views of the nature all around. Rooms at the Shore Lodge include amenities like safes, irons and ironing boards, coffee makers, robes, bottled waters and more. Each room also has a flat-screen HD satellite television and complimentary wi-fi. Each standard room has a refrigerator, a private sitting area, and either king or queen beds.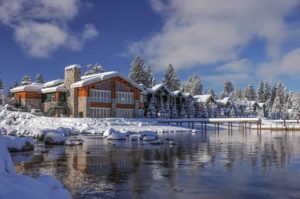 The Shore Lodge also offers suites that adjoin with standard rooms, and the suites are also pet-friendly. Suites are furnished with pullout sofas and have fireplaces, living rooms, outdoor terraces, and soaking tubs. You can also opt for a cottage with the same amenities as a suite. The cottages also include a kitchen, private dock, and multiple rooms.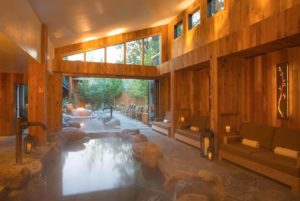 The resort also grants guests access to a heated pool, a hot tub, as well as indoor basketball and racquetball courts. There's also a movie theater, a ski valet, a game room, a fire pit, and a workout room. The Cove Spa is also available to guests. Inside the Mercantile, guests can buy coffee, clothing and all kinds of gifts. And Narrows Grill offers light meals and spirits. The Shore Lodge is the perfect place to spend the weekend in McCall, Idaho.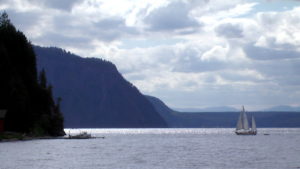 Athol, Idaho 
Not too far from Coeur d'Alene is the city of Athol in Kootenai County. Less than 1,000 people live in the city of Athol, which is famous for Silverwood Theme Park.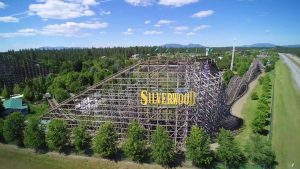 Silverwood Theme Park started small and has grown into an entire family entertainment complex. It's not just a theme park; it also includes Boulder Beach Water Park that's full of thrilling an exciting water rides perfect for everyone in the family. You can visit Silverwood in the spring, summer and fall. In October, Silverwood becomes "Scarywood," and only the bravest visit during this time of year. Ride and thrill enthusiasts enjoy popular attractions like the Corkscrew, Panic Plunge, the Spincycle, the Roaring Creek Log Flume and the Aftershock coaster at Silverwood.
Silverwood also offers multiple dining venues, shops, shows and an RV park where families can camp at night, but if you aren't interested in staying at Silverwood's park, look no further than the Log Spirit Bed and Breakfast, an award-winning lodge that functions as an authentic mountain retreat. The bed and breakfast is surrounded by unsurpassed mountains and woodlands beauty. It's a family-friendly lodge with cozy log cabin-style spaces that have big living areas, gourmet kitchens, private bathrooms and modern amenities. The lodge is set on 30 acres of wilderness.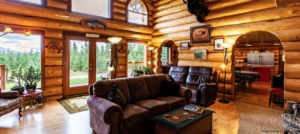 Come into the heart of the lodge where the floor-to-ceiling fireplace keeps everyone warm and comfy. Step into the elegant dining room or take a stroll along the covered wrap-around deck. The Log Spirit Bed and Breakfast is the perfect spot for your weekend getaway in Idaho and offers a wide variety of activities for the whole family, from hiking and fishing to kayaking and playing golf. You can even enjoy horseback riding and mountain biking.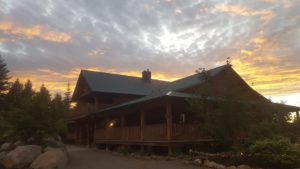 There are six guest rooms at Log Spirit with log cabin-style features, like wooden walls, wooden floors, rustic furnishings, private en-suite bathrooms, electric stoves and more. Four of the rooms are aptly named for the seasons: Spring, Summer, Autumn, and Winter, each of which is located on the main floor of the lodge. Each room has a queen bed with a down comforter, double showers, huge 8-foot-wide windows and access to the wrap-around deck. There's also outdoor furniture on the deck.
Another room is called the Sunrise Room. It's located on the main floor of the lodge and features a double bed and a queen-size bed, an en-suite bathroom with an authentic clawfoot tub/shower combination. The airy Sunrise Room also opens onto a large part of the main deck, which features a hot tub and outdoor furniture.