Idaho
A Gem State Jewel
Like no place on earth: A weekend in Coeur d'Alene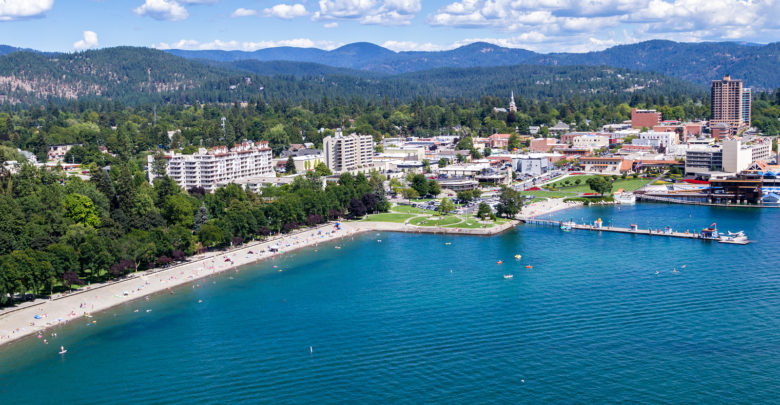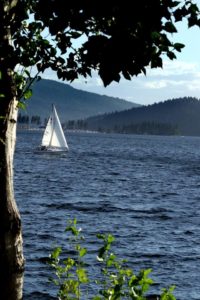 Picture a land of sparkling blue waters stretching as far as the eye can see.  Speedboats and pleasure cruises.  Hiking and biking.  Golfing and rock climbing.  A veritable haven for leisure and recreation, all located on or around more than 100 miles of shoreline, peppered with forests and sand-covered beaches.  Now picture that all of this can be found in northern Idaho.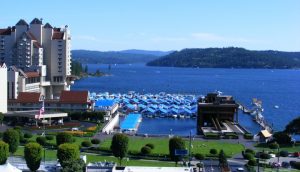 The bustling metropolitan resort town of Coeur d'Alene shucks off the stereotypes of the spud state with its majestic panoramas and endless array of activities. In fact, this "Gem State" jewel offers the ideal backdrop for a weekend getaway.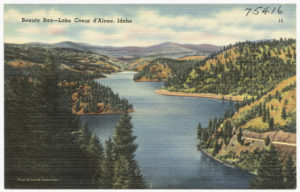 A Brief History of Coeur d'Alene
Located in northern Idaho, Coeur d'Alene lies 30 miles east of Spokane, Washington.  It resides along the northern shoreline of Lake Coeur d'Alene, a 25-mile long body of water that provides for many of the area's attractions.  As the largest city in northern Idaho and an increasingly popular tourist destination, the town has seen an uptick in population in recent years as it continues to grow and evolve.
But in order to truly appreciate the evolution of this area, we must first travel back to a time when buffalo still roamed the land and America was in its infancy. The region's original inhabitants, the Schee-Schu-Umsh Indians, were known to trade furs with early French explorers, who bestowed upon the tribe the name Coeur d'Alene, meaning "Heart Like an Awl".  And no, that's not a typo.  This moniker refers to the sharp leather hole punch often used in sewing and not the nocturnal bird of flight.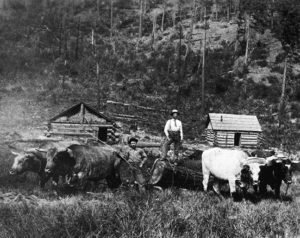 As settlers began to descend upon the territory, a military fort was established near the lake, along with a neighboring village – which would later become the town of Coeur d'Alene.  When silver deposits were discovered toward the end of the 19th century, it brought about a rush of miners who would generate a period of much prosperity as well as wreak havoc upon the land.  Today, the region is home to upwards of 50,000 citizens and helps comprise one of the most populous areas in the Pacific Inland.  It's a far cry from the scant 7,000 residents who called this land home a mere 100 years ago.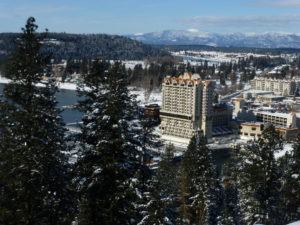 Where to Stay
When it comes to area accommodations, the gold standard would have to be The Coeur d'Alene Resort.  Located directly on the shoreline, this luxury hotel boasts more than 300 rooms divided up into three separate sections; the North Wing, the Park Tower, and the Lake Tower – which rises 17 stories above the water and offers spectacular views of the lake.  If you aren't able to secure a reservation at this posh resort, there are still countless options in and around town, including several large chain hotels, quaint bed and breakfasts, and scenic campgrounds.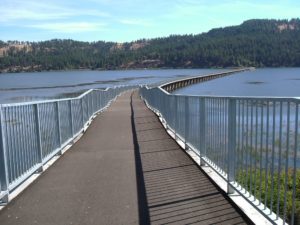 Outdoor Adventures
At nearly 50 square miles, the lake itself can accommodate activities ranging from waterskiing and paddleboarding to wedding cruises and charter fishing expeditions, on which anglers have been known to catch a variety of trout, pyke, and bass, among other species.  However, beyond the banks of Lake Coeur d'Alene, there are also many additional opportunities for visitors to make the most of their weekend retreat.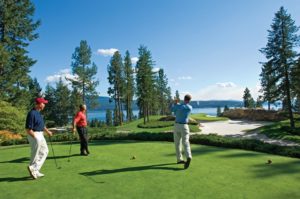 Take a hike on one of the many mountain trails, varying in length from just over 2 miles to the ultra-advanced 72-mile Trail of the Coeur d'Alene – which includes paved pathways and numerous trailheads – or take to the links at the Coeur d'Alene Resort Golf Course, which features its famous floating green on the 14th hole.  This marvel of modern engineering can be moved anywhere from 90 to 220 yards offshore, providing for a unique and intimidating challenge for even the most skilled of golfer.  For those looking to test their limits rather than their putting ability, Silverwood Theme Park and Boulder Beach Water Park offer up hair-raising amusements and attractions, including roller coasters, waterslides, and carnival rides.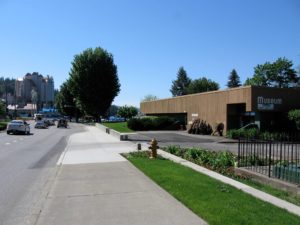 Indoor Escapes
If the heat gets to be too much on your weekend getaway (summertime temps can average in the mid-80s), no need to fret.  There are still plenty of indoor activities to keep the entire clan entertained.  For a quick cool down, head to the Frontier Ice Arena, which offers public skating opportunities every Tuesday and Friday evening.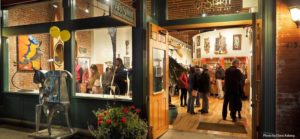 If you'd rather work up a mental sweat, check out one of the area's museums.  The Museum of North Idaho celebrates the history and heritage of the region through a variety of artifacts and exhibits, while the Northwest Tattoo Museum champions the art of ink.  The museum also features a full-service tattoo parlor, for anyone who'd like to take home a permanent souvenir of their visit.  The Art Spirit Gallery of Fine Art showcases paintings on a more traditional canvas by celebrating the work of local artists.  And for those who are into the theater scene, The Coeur d'Alene Summer Theatre puts on a variety of stage shows, from Oklahoma! to Beauty and the Beast.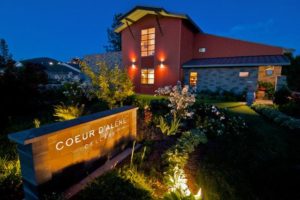 Where to Eat and Imbibe
At Coeur d'Alene Cellars, visitors can wine and dine on a variety of menu options and signature blends of varying vintage.  The winery features a tasting room and invites local musicians to showcase their talents on most Saturday nights.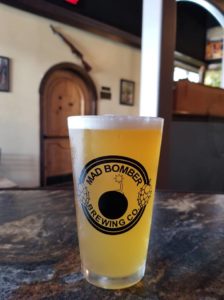 A trio of microbreweries also provide for opportunities to sample some of the area's more spirited offerings. Selkirk Abbey Brewing Company focuses on Belgian beers, while Tricksters Brewing churns out a variety of porters, stouts, and ales.  Meanwhile, Mad Bomber Brewing Company – located in nearby Hayden and founded by a group of Army veterans –  pays homage to fallen brothers in arms with its Fatman IPA and St. Nicholas Pale Ale, with half of the profits of each brew going directly to charity.
Once you've quenched your thirst, head over to Café Carambola or Fire Artisan Pizza to nosh on a selection of sandwiches, pastas, or pizza pies.
Coeur d'Alene offers more than its fair share of eats, entertainment, and attractions to make for a uniquely fulfilling weekend escape.   No matter which way you peal (or slice) it, there's more to Idaho than just potatoes.