Maine
Capturing the Most Beautiful and Interesting Scenes in Maine
The top 9 spots for photographers in our state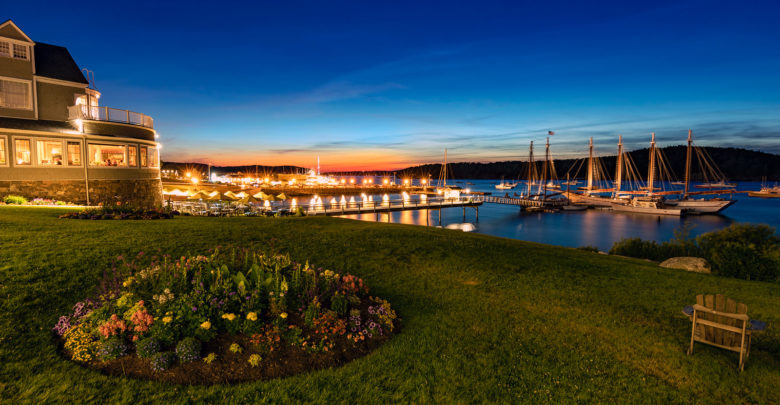 It's rustic, it's rocky, and it's stunning – the scenery in the state of Maine is picturesque in every season.  You don't have to know much about photography to capture amazing shots here, because it's hard to take a bad photo!  From lighthouses to ocean waves, rocky shores to sprawling forests, wildlife to spectacular sunsets, the photo ops here are endless.  Looking for inspiration?  Start with these amazing spots in Maine where you're bound to find the perfect photograph.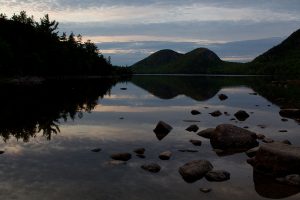 Acadia National Park
Spread out across several islands including Mount Desert Island, Acadia National Park is hard to beat when it comes to photogenic shoreline.  Visitors head here to enjoy the highest rocky headlands on the eastern coast of the country.  Get lost among the woods, lakes, and mountains, and you'll stumble upon more than one perfect photo opp.  There's a 27-mile road (Park Loop Road) that's a great way to get your bearings in the park.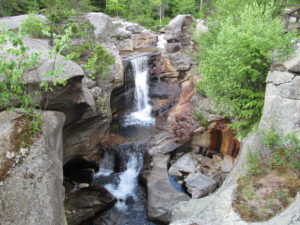 Screw Auger Falls
One of Maine's most popular waterfalls, for very good reason, is Screw Auger Falls, part of Grafton Notch State Park.  If you visit in the summer, anticipate crowds!  But it's worth it to view this 25-foot waterfall as it plunges into a gorge past grottoes and potholes created by receding glaciers thousands of years ago.  There's a wading area and plenty of sunbathing ledges from which to appreciate the cascading water, and you can explore above and below the gorge to find your favorite spot.
Maine Coastal Islands National Wildlife Refuge
Bird lovers will adore the more than 250 miles of coastline protected by the Maine Coastal Islands National Wildlife Refuge, which is rich in birdlife.  You can photograph eagles, razorbills, gulls, puffins and a variety of wading birds like cranes and herons, all in their natural habitats.  You can explore on foot, or check out the views from one of the tour boats.  Just keep in mind that you won't be able to visit some areas of the park during nesting season.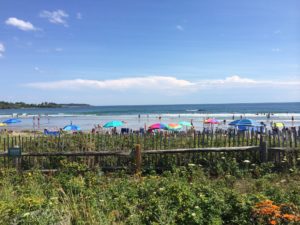 Higgins Beach
There's something hauntingly beautiful about a shipwreck.  Photographers will want to check out the hull of a shipwreck from 1897 that still remains on Higgins Beach in southern Maine, more than a century later.  The beach itself is also photo-worthy, with its more than half a mile of white sand, glistening Atlantic waves, and the beautifully quaint cottages lining the shore.  Stick around to watch how changing tides alter the beach, revealing even more opportunities for that perfect photo.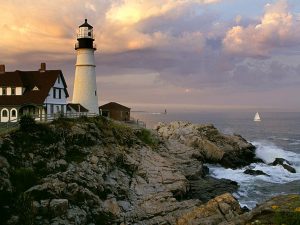 Portland Head Light
Within Casco Bay in the Gulf of Maine sits the oldest lighthouse in the state: Portland Head Light.  This treasured piece of history dates back to 1791, and is surrounded by natural beauty in the form of rugged coastal rocks and crashing waves.  This spot is a must for amateur and experienced photographers alike!  You can explore on land, but consider hiring a boat to take photos from the water for a different perspective.  Don't worry if the day happens to be foggy; overcast skies and limited visibility often make for fantastically moody shots here!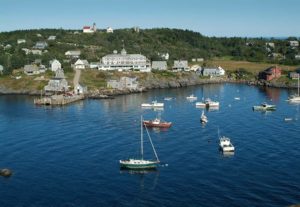 Monhegan Island
You'll have to work a little to get to Monhegan Island, because it's 10 miles from the mainland and can only be accessed by boat.  But it's well worth the hassle, we promise!  It may be tiny, but this isolated little island packs a punch when it comes to scenic spots for photographers.  You don't even have to leave the beautiful harbor to snag some coveted shots, looking out across the ocean to Manana Island with sailboats in the background.  Perfection.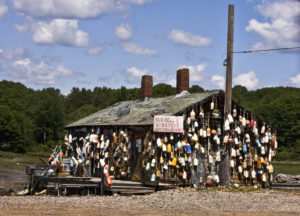 Russell's Lobster Shack (Cape Neddick)
Cape Neddick is another glorious Maine hot spot for lighthouses, rocky shores, ocean waves and general gorgeous photography.  But once you've taken these shots, we'd recommend heading to Russell's Lobster Shack, which has a fascinating history (it was once a fishnet and hose factory, and also part of the Underground Railroad).  Come here for the freshly sourced seafood, and stay for the unique photos of the shack, completely covered in brightly colored old buoys and fishing nets.  It's an iconic shot you'll be glad you sought out!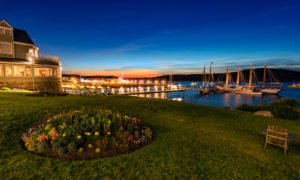 Sunset at Bar Harbor
If you're a photographer, chances are that at some point during your stay in Maine, you'll seek out a sunset photo opp.  And you're in luck, because the state has plenty of spots from which to photograph a stunning sunset!  While the classic sunset spot is Cadillac Mountain, really anywhere that you can see the southwestern horizon should offer you some pretty photos, so don't limit yourself.  Try Bar Harbor: The view from the Shore Path and the pier is great at sunset, or, if the tides cooperate during your visit, you can walk to Bar Island itself from some unique and beautiful sunset photos.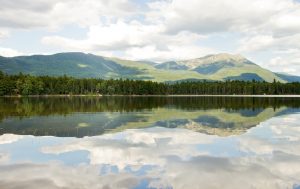 Baxter State Park
There are magnificent mountain and forest views to be had throughout Baxter State Park – it's massive, covering more than 200,000 acres, and it contains Mount Katahdin, the state's tallest mountain.  Camp here to get the most out of your experience, and to allow yourself time to explore the hundreds of trails here and discover some amazing photography spots.  You can also visit as a day-tripper; there are plenty of routes appropriate for short visits, and even for those with mobility restrictions.  Wherever you go, you'll be astounded by the rustic beauty of the park.  It really is a photographer's paradise!