Idaho
Waffles, Omelets (and Lots of Bacon!) in Idaho's Biggest City
The best breakfast spots in Boise for your family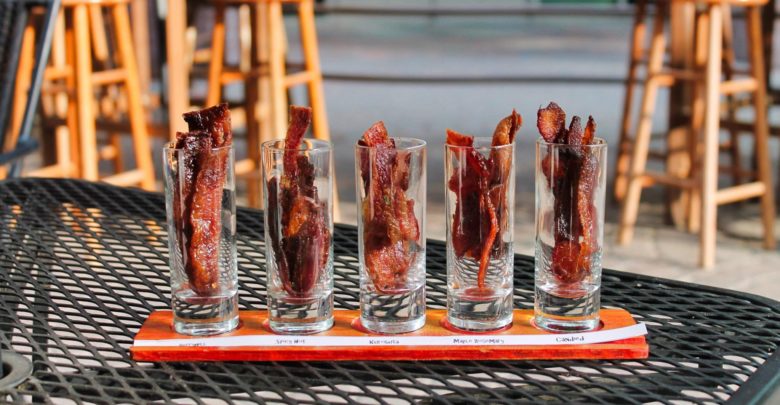 We love Boise, Idaho. This city has a surprising number of things to do, but even better than that, it has some seriously awesome food and drink stops. Whether you're looking for a quality cup of coffee, an excellent dessert, or a good meal, Boise has you covered.
Of course, the most important meal of the day is breakfast. Therefore, you'll want to be sure you can get a good morning meal in during your time in Boise. The answer? Absolutely! There are tons of amazing breakfast places in the area.
Below are a few of our favorites.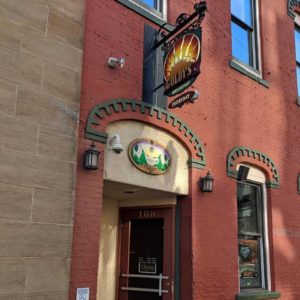 Goldy's Breakfast Bistro
Using as many locally sourced, seasonal ingredients as possible, Goldy's Breakfast Bistro serves up some seriously awesome breakfast.
Whether you're looking for a well-made fruit-filled crepe or a perfect eggs Benedict entrée, this is the place for you. We especially recommend the fruit cup here, which uses perfectly ripe fruits and is beautifully presented.
Just be aware that this place is popular with the locals, and sometimes that means a bit of a wait to be seated.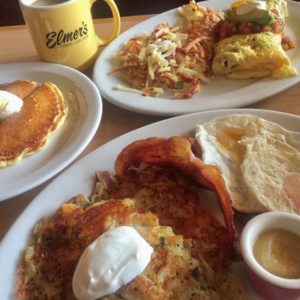 Elmer's Restaurant
Walking into Elmer's Restaurant feels like walking into someone's home, and eating the food served here feels exactly like eating someone's home cooking. These things make Elmer's a must-visit eatery in the Boise area.
After all, what could be better than being invited into someone's warm and comfortable home and being served some delicious food? Not much, and the folks at Elmer's do all of this with smiles on their faces.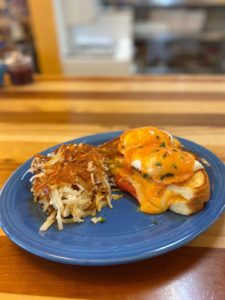 The Griddle
Looking for another cozy classic diner? The Griddle might just be your place. This laid-back eatery is filled with fun decor items and teal seating, and the overall effect is incredibly cute.
Of course, a restaurant is more than just cute decor. Fortunately, the people at The Griddle are well aware of this and make sure to serve up some awesome grub as well. Anything you order is sure to be enjoyed, and the fresh-squeezed OJ is a great accompaniment to your breakfast.
Wild Root Cafe
Those looking to keep it healthy will appreciate Wild Root Cafe. This modern eatery serves food made with locally sourced, seasonal, organic ingredients whenever possible. They have options for vegetarians and vegans, as well as those on gluten-free diets.
We love that almost every meal includes fruits or vegetables, and find that everything served here is very balanced. We also adore the patio seating, friendly customer service, and of course, the sweet treats.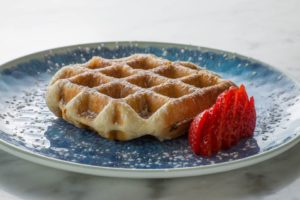 Waffle Me Up
In the mood for waffles? Lucky for you, there's a restaurant that is dedicated to making incredible waffles with wonderful toppings.
Whether you prefer savory toppings such as eggs and bacon or sweet toppings like fruit and chocolate, there's something for you. There are even gluten-free and vegan waffle options, making this a great choice for pleasing everyone in nearly any party.
Not sure what to order? We highly recommend the chicken and waffles!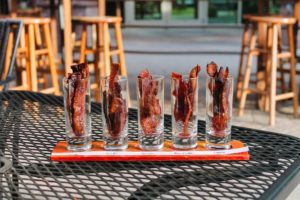 BACON
If you want to go someplace where the focus is a little less carb-heavy, it might be time to turn to BACON. As you might imagine, the menu at BACON is focused on, well… bacon. Considering how delicious this breakfast meat is, you can probably guess that it's hard to go wrong with the food here.
From sandwiches and omelette to burritos and grits, bacon is served in dozens of ways at this local eatery, and every single one is delicious.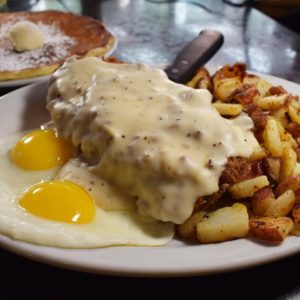 Joe Momma's Breakfast Eatery
Large portions and incredible prices are the name of the game at Joe Momma's Breakfast Eatery. That said, the restaurant doesn't let these things take away from the quality of their food or their service. In fact, the service at this local diner is superb, and the food is absolutely amazing.
Be sure to order some of their plate-sized pancakes. And, if you're in the mood, their wide selection of mimosas is also great.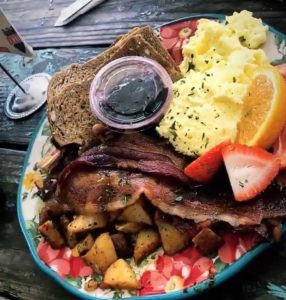 Big City Coffee and Cafe
Sometimes a quality latte is what you need to start your day off right. If this is the case for you, Big City Coffee and Cafe is a great choice.
This adorable cafe is well decorated with colorful vintage signs that are tons of fun to look at while you dine. The coffee menu is extensive and includes everything you'd expect a coffee shop to have available. However, they also have an extensive food menu, making this a 2-for-1 stop.
Both their food and their coffee beverages are excellent, and the staff is helpful and accommodating. What more could you ask for?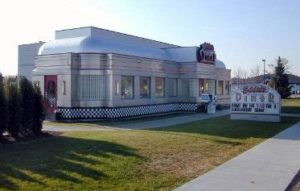 Eddie's Restaurant
A fun retro-style diner, Eddie's Restaurant is a great place to grab the first meal of the day. The decor, music, and even the waitstaff take you back to the good old days, something we can all use from time to time. The food is typical diner food, but done quite well. The chicken fried steak is especially good and should definitely be on your list of items to order.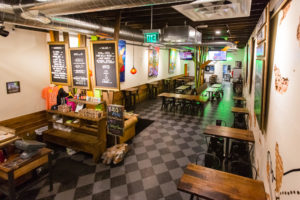 Even Stevens Sandwiches
Okay, so most people wouldn't expect to see a sandwich shop on a list of breakfast places. However, Even Stevens Sandwiches serves breakfast burritos that knock it out of the park. For this reason, we think this particular shop deserves a place on our list.
If you choose the traditional breakfast burrito, we recommend ordering the "Grad" (versus the standard "Undergrad") for a dollar more so you can enjoy extra veggies. Of course, if you don't eat meat, the vegan burrito is also a good choice.
Other breakfast options at this eatery include stuffed French toast and a breakfast sandwich. Best of all, all of these items are served all day long, so early mornings are not necessary for enjoying Even Stevens' breakfast.