Ohio
Soak It All In
Fun, Splashy Waterparks in Ohio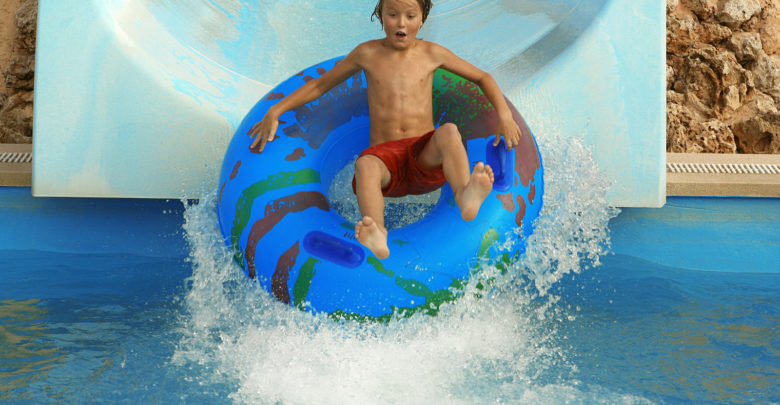 Though it borders Lake Erie, you may not think of Ohio as a state where sunshine and water sports reign supreme.  However, the following six destinations provide for a welcome escape from the heat of the Midwest during the summer months (and beyond).  On your next trip through the Buckeye State, grab your suit and splash in to one of these cooling stations to find out for yourself.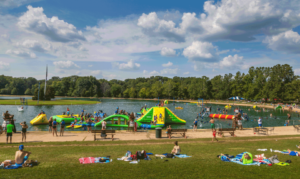 1. Clay's Park Resort
Located in North Lawrence, this popular camping destination offers one of the most unique waterpark experiences in all of Ohio.  Nestled on the shores of a 10-acre, manmade lake, the watering hole at Clay's Park combines the thrills of a waterpark with the feel of a day spent at the family cabin.  A pair of zip-lines invites visitors to challenge each other to airborne races before splashing down into the lagoon, while the 150-foot Wet Willie Waterslides launch supine sliders into the abyss.  Inflatable obstacles bob up and down in the water, beckoning visitors to make the perilous climb to the top lest they lose their footing and wind up back in the drink.  The barrel roll provides for an even more challenging task as it spins beneath slick feet in a battle that can only be described as futile.  The resort also features splash pads, children's play areas, and an indoor pool ideal for use during inclement weather.  The 500-acre property provides various camping options and a multitude of opportunities for outdoor activities.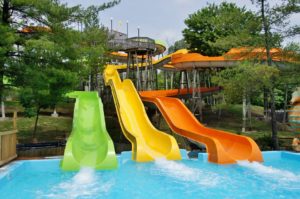 2. The Beach Waterpark
Inland Ohio's best beach may well be this waterpark in Mason.  In the midst of the woodlands of southwest Ohio, this 35-acre oasis serves as a tropical retreat replete with wave pool, thrill slides, and children's activity areas.  Soaring Eagle Zip Line places a pair of riders side by side before sending them sailing across the park eight stories above the wave pool while Runaway Rapids takes a winding route through the woods on this whitewater adventure.  Sand volleyball courts and water basketball pools provide alternative forms of outdoor entertainment, and an indoor arcade allows for a respite from the sweltering sunshine.  Cabana rentals are also available to help provide shade and offer a VIP experience complete with wait service.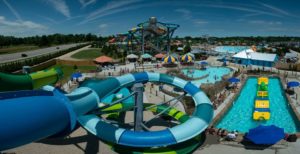 3. Zoombezi Bay
Since it opened in 2008, Zoombezi Bay has quickly established itself as one the Midwest's premiere waterpark destinations.   Erected on the former site of Wyandot Lake, a popular early 20th Century recreation park, this nearly 23-acre park is now owned and operated by the Columbus Zoo & Aquarium.  In addition to the expected selection of slides, several expansions have seen the waterpark add unique features such as the adults-only Croctail Island and Croctail Creek, where guests 21 and over can float along a lazy river with cocktails in hand, and Baboon Lagoon – which is named for the lifelike baboons that can be seen attempting to storm a children's play structure that boasts more than 90 water features.  Standout slides include the six lane Dolphin Dash mat racers, the uphill water coaster Python Plunge, and the Slippery Seal body slides on which riders can reach speeds of up to 20 miles per hour.  An additional perk of visiting Zoombezi Bay is that every ticket includes entry to the neighboring Columbus Zoo.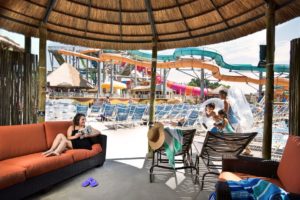 4. Kalahari Resort
This African-themed resort and convention center in Sandusky takes its name from the vast desert of Botswana, though this iteration – with its cavernous indoor waterpark and similarly expansive outdoor recreation area – provides for a much more comfortable and climate-controlled experience.  During the summer months, guests can splash about beneath the warm summer sun in the Zambezi Outdoor Waterpark, which offers experiences that range from serene to hair-raising, from going with the flow in the lazy river to weathering Tornado Alley – a turbulent slalom with zero gravity-inducing drops.  When the temperature plummets outside, guests can seek their aquatic thrills in the 174,000-square-foot indoor waterpark, which features an extensive collection of slides, children's activities, and even a surf simulator that invites riders to hang ten without having to worry about riptides or whale attacks.  The resort also features an animal park as well as an outdoor adventure park, complete with zip-line tours, rock climbing walls, and elevated rope courses.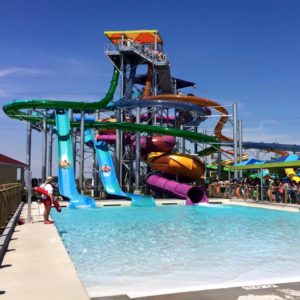 5. Soak City
A sister park to Mason's beloved Kings Island, Soak City keeps Midwesterners afloat with more than 50 aquatic activities.  Visitors of Kings Island also receive access to this waterpark, which boasts a 650,000-gallon wave pool, more than 30 waterslides, and several kid-friendly play areas, including Castaway Cove and the pirate-themed Lookout Lagoon complete with water cannons and shipwreck.  Thrill-seekers will enjoy breathtaking experiences, from being spun 360 degrees in complete darkness on Rendezvous Run to plummeting seven stories on Tropical Plunge, while Splash River provides for a (somewhat) more leisurely jaunt around the park in a lazy river that can quickly turn from tame to tumultuous with its whitewater rapid-like stretches and spray features.  Soak City makes for an ideal supplemental excursion for anyone visiting Kings Island during the peak of the summer season.
6. Coney Island
Not to be confused with the famed seaside Brooklyn amusement area, this Coney Island can be found in Cincinnati along the shores of the Ohio River and is home to the Sunlite Water Adventure.  The Sunlite Pool, which is said to be the world's largest recirculating pool at 200 feet wide and 400 feet long, is the park's signature attraction and has been in operation since 1925.  It features several slides, including the Silver Bullet, and is policed by a platinum award-winning lifeguard crew.  At Cannonball Cove (a glorified diving pool), guests can work on maximizing their splashback, while Typhoon Tower provides endless activities with more than 70 interactive play stations as well as a 33-foot water tower that periodically dumps 1,300 gallons of agua onto anyone in its wake.  New for the 2020 season is the Challenge Zone, which features a pair of identical water-based obstacle courses with tests that include balance beams, climbing walls, and slides.