Washington
This Breathtaking Lake in Washington Offers More than Just Scenery
There's Nothing Like it: Lake Chelan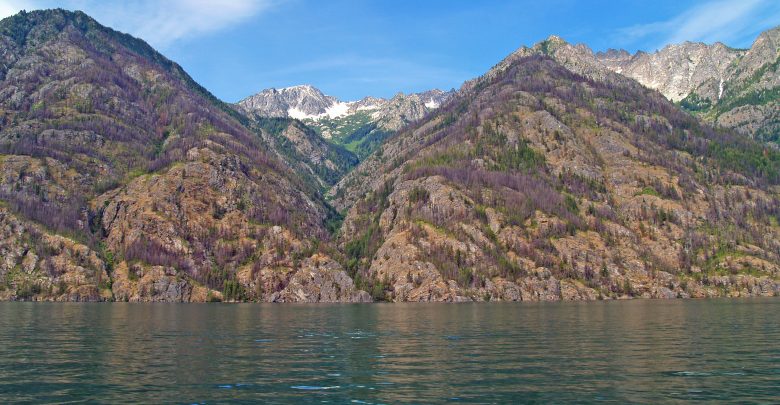 If you're lucky enough to call Washington's Lake Chelan home, or if you're a repeat visitor, you're already well-acquainted with its clear blue waters, soaring mountains, quaint villages, and abundance of year-round activities to suit every age, taste, and ability.  If you've never heard of Lake Chelan, or haven't had the pleasure of enjoying its splendors, there's no time like the present!  Here's the low-down on this one-of-a-kind gem.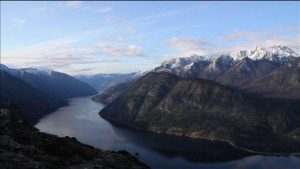 Lay of the Land
You'll find glacier-fed Lake Chelan in Chelan Country, in the north-central region of Washington state.  It's long and narrow, at 50.5 miles long, and it's situated in one of the deepest gorges in the country.  Understandably, the lake is the center of activity in the region.  There are two communities at the southern end of the lake: Chelan, a resort town right along the lakeshore, and small, tranquil village of Manson.  At the other end of the lake lies isolated Stehekin, which is a destination unto itself.  It's nestled in the North Cascades National Park and offers fantastic views of 9,000 feet mountains, and it's so remote you'll need a boat or float plane to visit.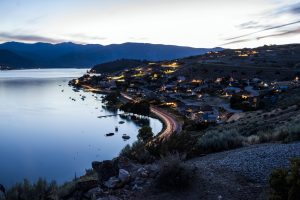 Small-Town Feel
Lake Chelan is so remote that it doesn't have a large population permanently residing on its shores.  The result is that any villages or towns you find here still have a wonderful small-town feel.  When you need a break from all the fun on the lake, wander through these quaint villages and discover their charms for yourself!  Whether it's Mason's Village, historic Chelan itself, or isolated Stehekin, you're bound to find unique boutique shops with gifts for that hard-to-buy-for loved one, cozy coffee shops, and buildings and businesses that go back generations.  And the amiable locals are as friendly as you'd expect!  If you're visiting in the spring, summer or fall, check out the abundant yard sales in the area.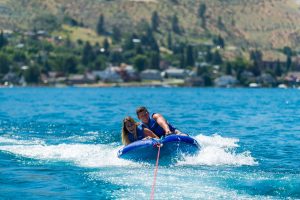 Fun in the Sun
Lake Chelan is a paradise for boaters, sunbathers, beachcombers, and swimmers, and has been for decades.  You need to visit for yourself to believe the color of the pristine waters and the breathtaking mountain backdrop.  You can while away a summer day relaxing lakeside, or if you're looking for a more active holiday, try your hand at tubing, wakeboarding, paddleboarding, kayaking, or waterskiing.  There are also miles of hiking and mountain biking trails and impressive golf courses in the area – something for every sports aficionado in your family.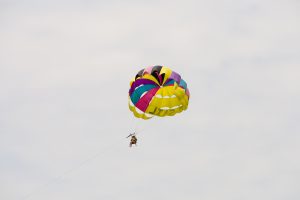 Extreme Sports
Looking for something a little more adrenalin-inducing?  Well, there are a variety of extreme sports that thrive in Lake Chelan.  Take an airplane ride to enjoy the view and then skydive (don't worry, for first-time jumpers, there are tandem instructors to help you out).  Helicopter rides over the lake are popular, and you can't beat the feeling of soaring through the air while parasailing above the lake!  You can even choose options like "atomic drop freefall" and "toe-dip", meaning you can personalize your parasailing experience to get exactly the ride you want.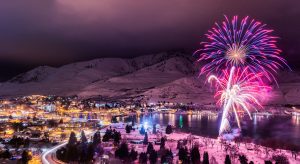 4 Seasons of Fun
If you think the fun at Lake Chelan disappears once the warm summer weather ends, think again!  There are plenty of winter sports to enjoy here, making this area a playground all four seasons of the year.  Cross-country skiing and snowmobiling are very popular winter options at Lake Chelan, and there's always a firepit where you can warm up and roast some marshmallows.  A particularly magical time to visit is the holiday season, which starts the day after Thanksgiving.  There's a Holiday Open House in the town of Chelan, and you'll want to wander down the historic streets to enjoy the festive decorations, Christmas sales, and caroling.  Keep your eyes peeled for Santa, and stay for the parade and tree lighting.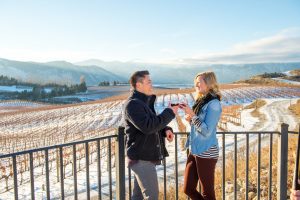 Wine, Cider and Ale
In Lake Chelan, you can often find wine tours as part of our sight-seeing tours.  In addition to excellent wineries, cider is also popular here.  With numerous specialty and heirloom apple varieties grown, cider-tasting is the perfect opportunity to taste your way through the region.  You can also check out the valley's craft breweries – ale here is unique to the area, and uses the best Lake Chelan water.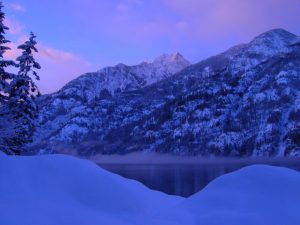 Stehekin
At the remote, unspoiled, northern-most point of Lake Chelan is Stehekin.  You won't find any roads here – it's that remote!  But you can take a personal boat or charter a boat, arrive by small aircraft, or – the most accessible option – take the passenger ferry, Lady of the Lake, which has been in operation for more than 100 years.  If you're more ambitious, you can hike in, or arrive by horseback.  Once you arrive at this beautiful, serene spot, you'll probably want to stay!  There are cabins and campsites that will allow you to experience this natural wonder as it was meant to be experienced.  You can kayak, go river rafting, fishing, take a plane or helicopter ride to admire the view from above, or just lay back and enjoy the relaxing vibe!  You can always take the ferry back the same day you arrive if roughing it isn't quite your thing.