Virginia
The Ultimate Virginia History Tour
Washington, Jefferson and Colonial Williamsburg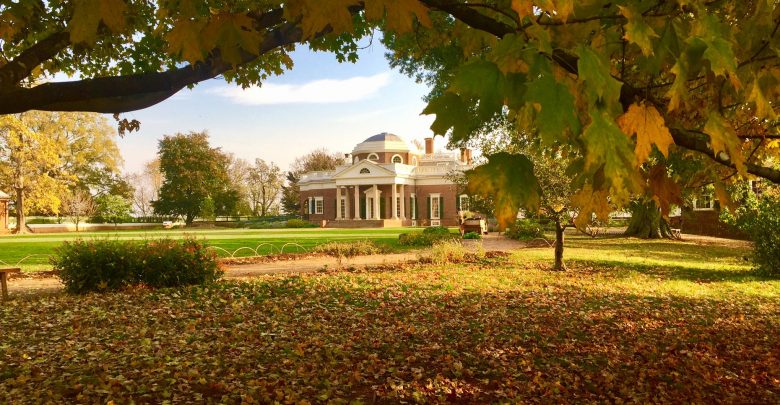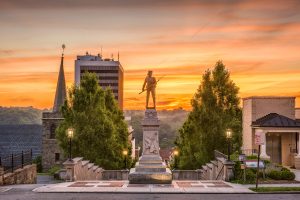 Virginia is for lovers – specifically history lovers! Virginia is a state steeped in history. Our country started there. And the great thing is that Virginia has preserved this fascinating and significant story. Oftentimes, we read our history books in school and leave it there. But Virginia allows you to step into the past, to get a real taste of what it looked like, to be a part of the story.
Washington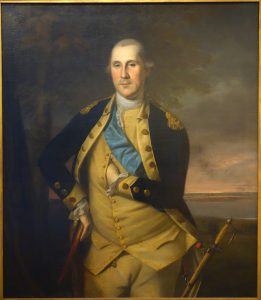 George Washington, the first ever president of the United States was proud to call Virginia home. And you can actually visit his home! George Washington's Mount Vernon estate is truly the best place to check out to get to know this important man. The estate is massive. You could easily spend a whole day or two there. Many students in New England do as a part of their 8th-grade field trip! Mount Vernon sits about 15 miles south of Washington DC and 8 miles south of Alexandria, which makes it the perfect day trip.
Once at the estate, there is so much to do, explore, and learn about! Unless closed for maintenance, you can tour George and Martha's mansion. There are twenty-one total rooms in this behemoth, including the famous Blue and New Rooms.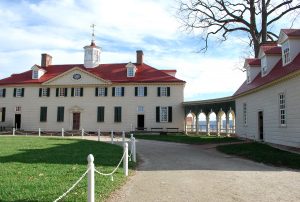 Beyond the mansion, guests are able to explore the grounds and gardens. Originally, Mount Vernon was a proper plantation, which means its grounds are huge. There are four gardens, a failed vineyard, a deer paddock, full farm, and more.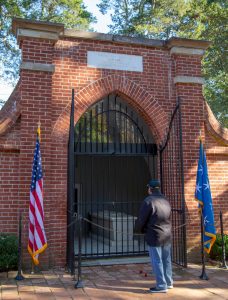 You can even see George and Martha – well, sort of. Their tombs are on display on the Estate grounds. There are actually two sets of tombs – the first was the Washington family burial vault, but George Washington wanted a new one, so a second vault was built after his death where Martha and his remains currently lay. There is another memorial on the Mount Vernon grounds: The Slave Memorial. This is a cemetery for the slaves and free men and women who worked at Mount Vernon.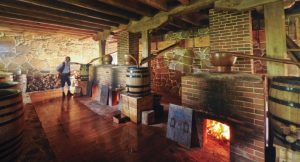 For something a bit more lively, check out George Washington's distillery! This was his personal collection. At the time, it was the largest distillery in America, although now it would be considered rather modest. The Estate even continues to make whiskey to this day! You can bring a bottle home with you after your visit!
Similar to the distillery, George Washington ran a state-of-the-art (for the time) gristmill. They made thousands of pounds of flour and cornmeal a day! The mill is still operational!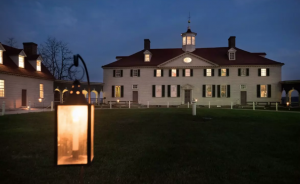 Lastly, there's the museum and educational center. This place is so impressive! There are twenty-three galleries and theaters to learn in.  There are mini-films, displays, interactive opportunities, and so much more! You can even see George Washington's dentures…
George Washington made such a lasting impact as a Founding Father and first president. There's so much to know about him, but Mount Vernon is a great start!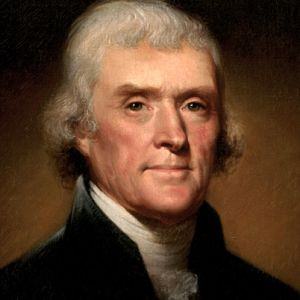 Jefferson
Thomas Jefferson: our 3rd president, author of the Declaration of Independence, Founding Father. He was pretty remarkable. Born and raised in Virginia, he made quite the lasting impact. But his most famous spot is his Monticello estate in Charlottesville, VA.
Jefferson designed the house himself, although it went through many versions before it became the mansion we can tour today. It has a grand total of forty-three rooms! The Monticello website calls this gorgeous house "the autobiographical masterpiece of Thomas Jefferson."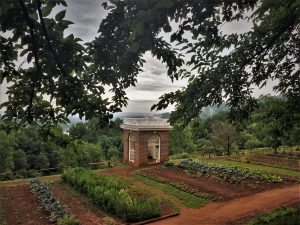 Monticello doesn't have as many unique features as Mount Vernon, but it does rival the gardens. Jefferson loved his gardens. Just one lawn has its own map. Thousands of flowers grace the grounds, only highlighting its beauty. But there are also vegetable and fruit gardens.  Jefferson loved to garden and experiment with seeds. He had nearly 330 varieties of vegetables and 170 varieties of fruits! He would record with meticulous detail the progress and workings of each plant. He was always interested in the next thing – the newest and best method of gardening.
The plantations of Monticello are fascinating and provide a great way to learn about Jefferson's views on slavery and how he conducted his life regarding it.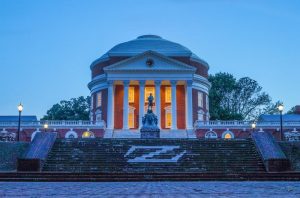 Thomas Jefferson also prided himself on his contribution to the foundation of the University of Virginia. He was educated at the College of William and Mary, which sparked his love and desire for education. He first designed the University of Virginia and saw to its completion in 1825. He died a year later, and on his tombstone reads: "The Father of the University of Virginia," an epitaph that he penned.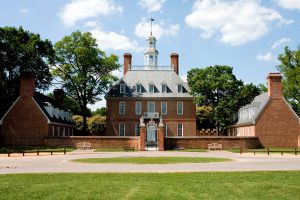 Colonial Williamsburg
As the biggest living history museum in the world, Colonial Williamsburg has a lot to offer.  CW is amazing. Guests get to actually walk the streets and story of early America. What makes CW stand out is its interpreters. The workers at this living museum are truly what makes it comes to life. To them, it is the 18th century through and through.
The heart of CW is Duke of Gloucester Street. This is where all of the main buildings and interpreters reside. Here guests can go in and out of these historic places as they please, inserting them into that world. From the blacksmith to the mercantile, to the Raleigh Tavern, to the Palace, there is so much to explore and learn. On this street, guests can experience stories and skits, carriage rides, and historic dining. But I'd argue that the best thing to do is talk to some of the townspeople. Hear about their lives, ask questions. You might even bump into someone famous, like Thomas Jefferson!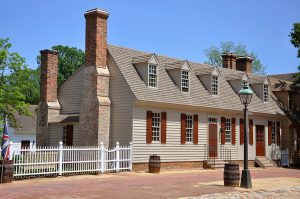 Colonial Williamsburg also has outstanding museums on its campus, like the Abby Aldrich Rockefeller Folk Art Museum or the DeWitt. These museums and displays are so thorough and well researched that you'll walk out of there an early American history expert! Speaking of research, one of the coolest parts of CW is its dedication to excavation. Experts are constantly digging up new details and adding bits and pieces to America's story. For an old museum, it's constantly changing!
The history tour of Virginia does not stop there, although this article must! There is so much to see and discover in Virginia that hasn't been mentioned. Make sure to check out William and Mary, Montpelier, Jamestown, and the countless other historically significant parts of this great state.