Colorado
These Cool Ghost Towns Are a Unique Part of American History
The most fascinating abandoned mining towns in Colorado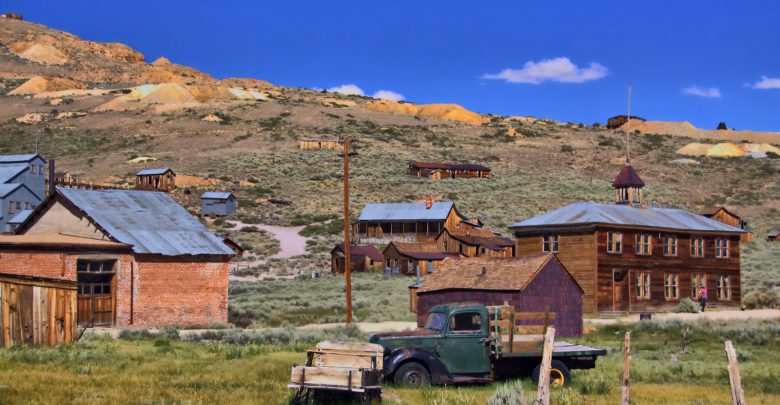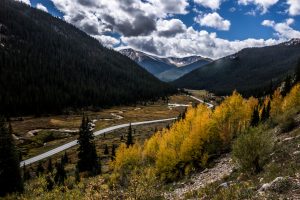 If history, abandoned towns and ruins are your idea of fun (and who could blame you?), Colorado is the destination for you!   You'll find hundreds of abandoned mining towns here, typically amid amazingly picturesque scenery.  Not all of them have much left to explore, but all of them are hauntingly poignant.  Here are a few of our favorites to get you started, but don't stop there!  There's a whole state of old mining towns in various states of ruin waiting to shed some light on Colorado's past.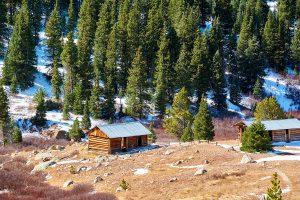 Independence
You'll find the remote abandoned mining town of Independence near Aspen, high in the mountains at 11,000.  The town was established in 1879 as a camp, when mining in the area took off.  It had about 1,500 residents at its peak, and more than 40 structures; many of these buildings still stand today, including a stable, some houses, a general store, and the Farwell Stamp Mill, used to process ore from the mines.  You can easily access all of these structures, as they're conveniently linked with a trail.  The good fortune of Independence didn't last; the harsh weather made life difficult for residents and most of them left for better jobs in Aspen.  By 1899, all but one of the remaining residents left the town following an especially heavy blizzard.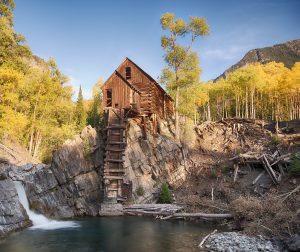 Crystal
We can't imagine a more stunning location for a mining town!  The mining community of Crystal, just east of Marble, is nestled among gorgeous, lush mountain scenery.  It already had a population of several hundred people back in the mid-1880s.  A bustling backwoods town centering around an impressive seven silver mines, Crystal had saloons, two hotels, two newspapers, a barbershop, a billiards parlor, and even a men-only club.  The silver crash of the late 1800s took its toll on the town, and by the early 1900s, there were scarcely more than a dozen residents left.  Today, you'll want to check out the precariously positioned mill high above the river, as well as several old cabins.  A word of warning – Crystal is not easy to get to.  You'll need four-wheel drive to navigate the roads, or you can choose to ride or hike in instead.  It's worth the effort!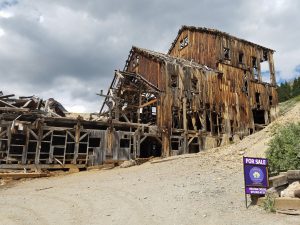 Animas Forks
Another Colorado ghost town high in the mountains (this time the soaring San Juan Mountains), Animas Forks enjoys a beautifully scenic location on the Alpine Loop near Silverton.  To traverse these dirt roads, you'll need four-wheel drive if you visit any season but summer, and the road past Animas Forks is only accessible by four-wheel drive at all times.  You can learn about the fascinating history of this avalanche-plagued town, established in 1873, through interpretive brochures and maps that you can get in the parking area.  You can explore the abandoned buildings here to your heart's content, but exercise caution, as some are understandably fragile.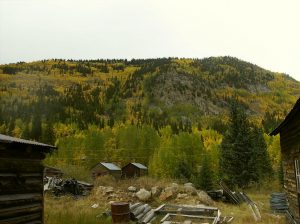 St. Elmo
St. Elmo, west of Buena Vista, is the epitome of a ghost town.  It enjoys the designation of being one of Colorado's best-preserved abandoned towns, and it's perched high(around 10,000 feet) in the Collegiate Peaks.  You'd be forgiven for thinking that the residents of the main street have just stepped away – it's that well preserved!  Founded in 1880, gold and silver mining in the area made St. Elmo a popular town, and train running through it meant it was a hub town for arriving supplies.  When the train tracks were abandoned in 1922, so was the town.  There are more than three dozen buildings that still remain, including some restored structures, making St. Elmo a must-see destination.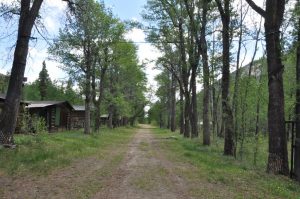 Vicksburg
Vicksburg is another well-preserved abandoned mining town in Colorado, and there are several other ghost towns to explore along the road to this site in Clear Creek Canyon.  Silver was discovered in this area back in the 1860s and 1870s, and miners flooded the town.  With 600 to 700 people at its height, Vicksburg had over three dozen structures by 1880, including saloons, billiard halls, a schoolhouse, a stable, blacksmith, boarding house, cobbler shop, and a couple of hotels.  The early miners in the town planted the trees that still stand today, lining the abandoned streets and lending them a wonderfully haunting feel.  The site is protected and preserved by the local historical society.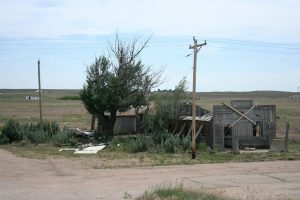 Dearfield
It's tough to find a more unique abandoned mining town in Colorado than Dearfield!  It's a Registered Historic Landmark, and you'll find it in Weld County, about 30 miles outside of Greeley.  Dearfield was an all-African-American settlement established in 1910, and more than 700 people lived here in the early 1900s.  By the time the Great Depression rolled around, the town had ceased to be the thriving center it once was; by 1940, only 12 people lived here, and the town sat neglected for quite a few years.  Today, Dearfield is being preserved by the Black American West Museum in Denver, and you can learn about the town's past through the historic markers and monuments.  You can also see the last three buildings remaining in Dearfield: a diner, a gas station, and the home of the town's founder.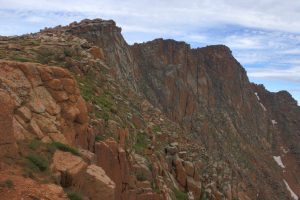 Ghost Town Hollow
Don't expect picture-perfect restored buildings in Ghost Town Hollow, accessible by traveling along Peak Pikes Highway and then hiking for a few miles from Elk Park.  It takes a little effort to get here, but it's well worth it!  Once you reach the gulch below Pikes Peak, you'll find the remnants of this abandoned mining camp in the form of log shelter ruins, rusted barrels and cans, and other litter scattered about.  Visitors to Ghost Town Hollow will learn what archaeologists have known for decades: there's a lot that can be learned about the people that came before us by examining their litter!  There's also a (blocked) tunnel where more than one early miner lost his life in an accident while mining gold.