Colorado
You Will Be Blown Away by These Awesome Sights in Colorado
The 5 Most Beautiful Natural Wonders in the Mile-High State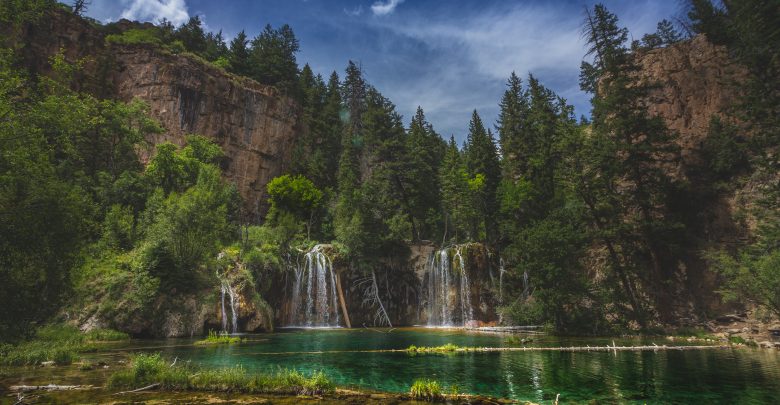 Anyone who has ever been to Colorado will likely be quick to tell you just how amazingly gorgeous it is. No matter when you visit, there is something amazing to see in this beautiful state, and the vast majority of these attractions are made by nature. This is absolutely fabulous because it encourages people to get outside and explore the world around them. Besides, who can resist soaking up some extra sunshine in beautiful Colorado?
Of course, if you're going to head to Colorado in search of some of the many natural wonders there, you will want some idea of where to start. That's where we come in. Below we've curated a list of the top natural wonders in the Centennial State.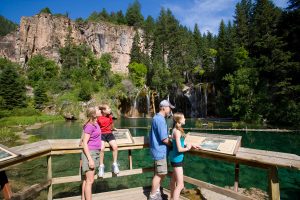 #1: Hanging Lake in Glenwood Springs
An amazing sight to see and a crazy geographic phenomenon, Hanging Lake is one you won't want to miss. The lake was formed when around an acre and a half of the valley floor sheared off from a faultline and dropped to form a basin of water that literally hangs from the cliffs. It boasts sparkling green waters that are caused by mineral deposits and is an absolutely gorgeous body of water.
For obvious reasons, Hanging Lake is quite a popular destination, meaning it's best to visit during the week or during the off-season. However, visiting along with the crowds doesn't make the lake any less beautiful.
It is important to be aware that getting to Hanging Lake does require a bit of hiking, and while it is doable for most people, it is moderately intense. That said, the views you get once you reach the end of your hike definitely make the extra work worthwhile.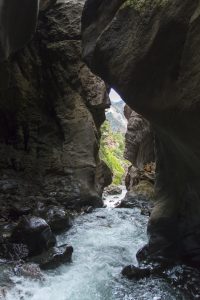 #2: Box Canyon Falls Park in Ouray
If spectacular waterfalls are your thing, you won't want to miss Box Canyon Falls Park. This park has all the usual hiking and bird-watching opportunities, but the real attraction is Box Canyon Falls. These falls are enormous, dropping thousands of gallons of water a minute over a steep cliff and into a narrow canyon below. The falls are about 85 feet high, and the surrounding area is filled with incredible views.
Want to see more than just waterfalls? No problem. There are tons of great hiking trails scattered throughout the park, and the outdoor picnic areas make stopping for a snack or quick lunch super easy. Additionally, the park's visitor center has a lot to offer in the way of educational exhibits, so be sure to check it out.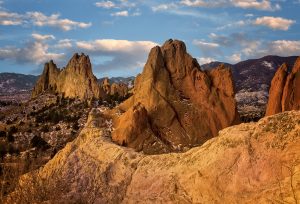 #3: Garden of the Gods in Colorado Springs
An incredible park with massive and seemingly impossible sandstone structures, along with a rich and fascinating history, Garden of the Gods is a wonderful day trip option. The rock formations provide amazing photo opportunities, and the way they tend to cast shadows across the ground adds a mystical feeling to the park.
In addition to some awesome views, this park also offers amazing hiking opportunities and—for those with the proper skills—some pretty incredible rock climbing in a gorgeous natural setting.
After spending some time outdoors, be sure to stop in at the Garden of the Gods visitor center. This building features 1) a wonderful immersive movie that shows how the rock structures were formed, 2) museum-like exhibits, 3) informative staff, and 4) a complete skeleton of a dinosaur that had never been discovered before these fossils were uncovered in the park.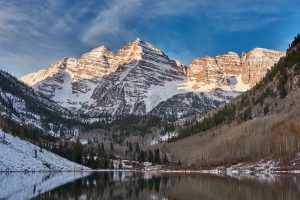 #4: Maroon Bells in Aspen
Quite possibly the most photographed area in all of Colorado, the Maroon Bells most certainly are photo-worthy. This pair of 14,000-foot peaks together create a gorgeous backdrop for the shining maroon lake which sits in a nearby valley. The mountains get their name from their distinctive maroon color caused by the weathering of hematite, an iron-bearing mineral.
Summer and fall are the most popular times to visit, and the crowds can become overwhelming on the weekends. That said, those who can visit during a weekday in the fall will be treated to a tranquil and colorful scene that seems almost magical. For a truly incredible time, try to visit during sunrise or sunset. The area will likely be empty, and the view will be indescribable.
Of course, no matter when you visit you will also want to venture through some of the hiking trails surrounding the area. There are many more beautiful vantage points, and finding one or two is well worth the extra bit of walking.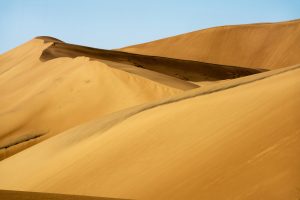 #5: Great Sand Dunes National Park and Preserve
Looking for something truly unusual to do? A visit to Great Sand Dunes National Park might be just the thing. This park is chock full of—you guessed it—sand dunes. In fact, this park houses the biggest dunes in the entire country! Not only that, the mountains provide an absolutely stunning backdrop to the sandy park, and at dawn and dusk, the shadows created by the mountains are beautifully haunting.
While visiting Great Sand Dunes National Park, you will want to be sure to surf, sled, or slide down at least a couple of the dunes. Don't be surprised however if you find yourself going down time and time again because it's a blast, to say the least. Additionally, visitors can wade in shallow waters, something that is greatly appreciated on hot summer days. Finally, many people enjoy visiting at night. The park is open 24/7 and provides great views of the night sky.
Obviously, there are a lot of incredible things to see in Colorado's natural environments. Why not take the time to see them all? Whether you choose to cram them all into one trip or spread the sights out between several vacations, you won't regret seeing all of these awesome wonders of the world.