Colorado
Why Vail Is One of America's 10 Favorite Ski Resorts
It's a legendary ski resort and idyllic town/village that still draws people from all over the globe.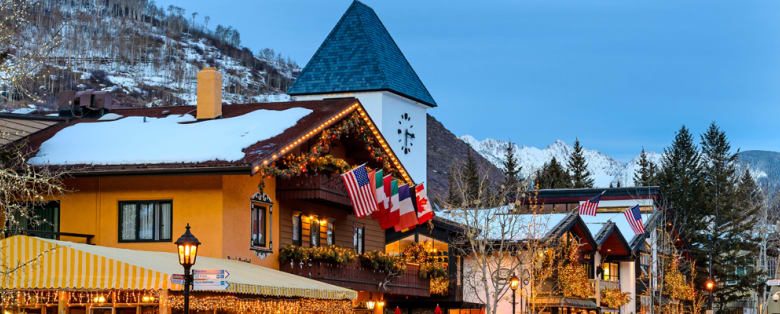 A legendary ski resort and idyllic town/village, Vail has been at the forefront of the world's mind for decades when it comes to perfect places on the planet. So, why is Vail so awesome? Let us count the reasons.
1. Vail is undeniably beautiful.
When you first set foot inside Vail Village or a neighborhood in East Vail, the fresh air and smell of pine is unmistakable. As you explore, whether it's in town or on the mountain, colors abound between the wildflowers, pine needles, mountain mud, and stone. It's easy to lose track of time walking on the trail from East Vail to Lionshead to Vail Village with the river rushing on your right and pine trees growing tall on your left. And you know that peaceful sleep you can find only when everything around you is completely silent, save a few crickets chirping? That's the sleep you'll get every night in Vail.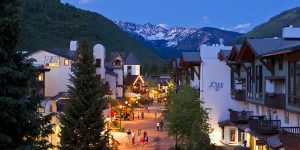 2. Vail offers a variety of activities.
You can never be bored in Vail. Here's why:
Shopping
Vail Village and Lionshead make up Vail, and each town is filled to the brim with boutiques and stores. Within Vail Village, you will find quaint shops filled with hand-whittled wooden decor for your home, galleries with paintings you can take home to remind you of the mountains, and clothing stores, just to name a few. There are shops where you can buy Vail-themed t-shirts, shorts, sweatshirts, hats, etc., as well as shops with high-end retail. There are shops with outdoors and sports gear. There are shops filled with current trends. If you are not up for braving the outdoors, you can while away the days exploring all that the unique shops of Vail Village and Lionshead have to offer.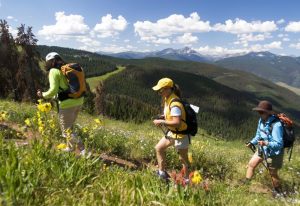 Hiking
Berry Picker Trail is a 6-mile-long, moderate hiking trail that will take you to Eagle's Nest, a hub for food and fun on the top of Vail's mountain range. The trail is well-trafficked so the path is clear, and you can bring your dog! Most of it is a narrow path surrounded by trees, but every so often you will happen upon a large meadow. Throughout the hike, you can turn around and catch a beautiful view of Vail below you and surrounding mountains behind you.
Booth Falls is a 6-mile moderate trail that leads up to a, you guessed it, waterfall. As you walk through the trail, you'll pass creeks, meadows, wildflowers, and views of other mountains. Also dog-friendly!
The Gore Creek Trail to Buffalo Pass is a 12.8-mile moderate trail. It's a there-and-back trail, so you can turn around as early as you'd like, or make it all the way till the end. A waterfall awaits you at the end, and this trail is also dog-friendly.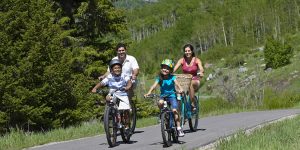 Biking
Rent a bike through the Charter Sports shop in Vail. You can take it out for as long as you'd like and can use it for mountain biking (more advanced) or simply exploring the town. Another option for those who aren't advanced bikers but want to have some adventure would be to bike Vail Pass. A van from Charter will take you up to the top of Vail Pass (near town) and you mount your bike there, then ride all the way to Breckenridge. A pit stop in Frisco for lunch is recommended because you'll work up an appetite! The total trip is about 25 miles, but it's not too strenuous – just a bit of uphill toward the end – and the views through the entire route are stunning.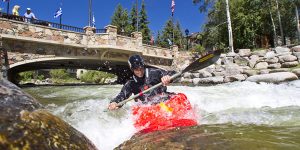 Adventuring
Go ziplining with the Expedition Zip Line Tour in nearby Breckenridge! You will need to wear closed-toed shoes and must be at least 10 years old. The tour includes 8 zip lines, 10 towers, and a 200 foot-long aerial bridge walk. You can see the mountains the way the birds do!
Whitewater rafting through Timberline Tours in Vail is an exciting way to see the rivers of Colorado. Based on what you're looking for – float, adventure, or adrenaline – and the ages of your group, you can select a tour perfect for you. Some of the tours are more on the calm side while others are fast-paced.
Everything else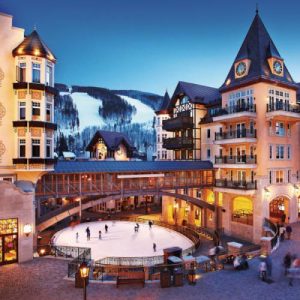 Go bowling in Vail Village at "bol." This bowling alley is pristine – beautifully designed and fairly elegant, but still kid-friendly. You can bowl and order drinks and snacks, or you can eat a full meal before, during, or after your game.
Right next door to the bowling alley is a movie theater! It's a small one, so there are typically only two shows playing, but is a great way to spend a rainy afternoon in Vail.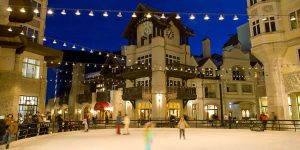 There are two ice skating rinks in Vail Village and one in Lionshead. The Dobson arena is open year-round because it is indoor. You will need to check in advance for public skating hours because the local hockey teams practice there. In the middle of Vail Village, right next to the bowling alley and movie theater, there is an outdoor rink that is open in the winter and spring. In Lionshead, there is another outdoor rink right in the center of the village, also only open during winter and spring.
There are several parks and playgrounds around Vail for kids to play. Ford Park and Donovan Park both have fields, gardens, picnic areas, and basketball courts. Donovan Park includes a playground. Other parks include Bighorn Park, Booth Creek Park, Buffehr Creek Park, Ellefson Park, Pirateship Park, Red Sandstone Park, Stephens Park, and Sunbird Park. The only parks that allow dogs off-leash are Bighorn Park and Stephens Park.
3. Vail's mountain will keep you entertained as a skier or snowboarder for years.
Within Vail Mountain, you can ski the front-side of the mountain, the back bowls, or Blue Sky Basin. The entire mountain is divided up into 8 sections, and each section has more than enough runs to last you for days – and you still won't have skied all the runs. There's a diverse range of difficulty levels. If you are a beginner skier, skiing Chair 2/Mid Mountain and Game Creek Bowl would be your best starting point. For intermediate and advanced, there are also plenty of options in those two areas on top of fun runs on Northeast Bowl, China Bowl, Blue Sky Basin, and Golden Peak. For the advanced skiers looking for adventure, you'll want to do Siberia & Mongolia Bowl as well as Sun Up & Sun Down Bowl.
4. Vail has delicious food.
Breakfast
Westside Café is not in the village, it's right off the interstate, but it is certainly a hidden gem. Their hot chocolate is a big hit, but their pancakes, omelets, French toast, scrambles, and biscuits are just as delicious. You'll need to eat here at least one morning during your stay in Vail.
Yeti's Grind is a coffee shop, but they also have pastries and breakfast tacos. If you'd like a more casual breakfast, swing by here on a warm summer morning to grab a table outside in the sun.
Lunch
Moe's Original Barbecue is located in Lionshead. It serves Alabama-style pulled pork and other meats smoked in-house.
Bart and Yeti's, also located in Lionshead, serves burgers, sandwiches, and typical American lunch fare. This place has an old-school pub feel.
Los Amigos is a Mexican restaurant in Vail Village. Prepare yourself to leave feeling really full. You need to order the nachos.
Dinner
Up The Creek is a bit on the upscale side, but it is delicious food and has been a staple of Vail Village for a very long time. Typically, while waiting for their food to come to the table, kids will go play in the creek – which you have a perfect view of from your table.
Pazzo's Pizzeria is a casual spot in Vail Village for dinner, but it is some of the best pizza you'll have. It feels like a typical small-town pizza joint.
Bully Ranch Restaurant, also in Vail Village, is a happy medium between casual and upscale. The vibe is casual but the food is very high quality. Make sure to order the tater tots as a starter.
Vail Chophouse is a great spot for dinner. They are located in Lionshead. Their lobster mac & cheese is like no mac & cheese you've ever had.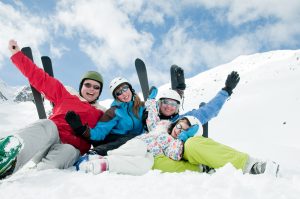 5. Vail is set up to cultivate quality family time.
Between cozy breakfast spots, kid-friendly shopping, welcoming coffee shops, ice cream spots, bike rental shops, hiking, skiing, endless options for dinner, and homey condos or hotel rooms to rent for a few days, Vail is set up for a getaway with your family that will make you feel relaxed and fulfilled simultaneously. Get out and do things with your family that everyone will enjoy, then come home to your condo or hotel room at the end of the day to unwind and enjoy a filling dinner together. You'll leave Vail filled up on family time and feeling renewed.