Minnesota
Have a Blast at The Mall of America – and Relax Nearby
From the Mall to Mother Nature, enjoy the attractions of Bloomington, MN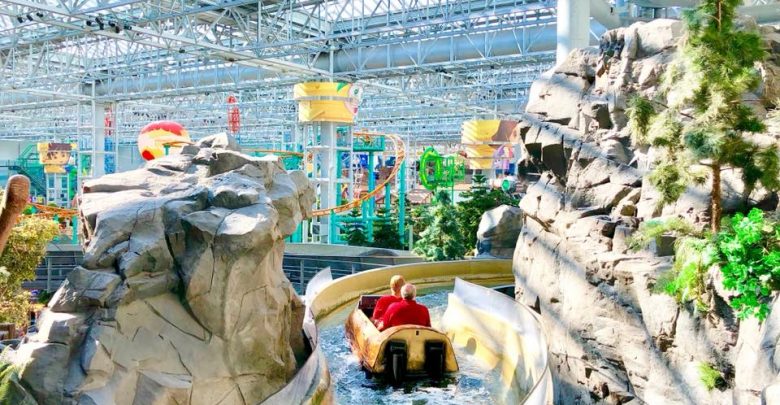 Bloomington Minnesota is home to the Mall of America, one of the most visited malls in the United States. In fact, it's the most visited tourist attraction in the Midwest bringing more than 40 million people each year through its doors. Bloomington is a southern suburb of the Twin Cities with easy access from I-494 and not far from the Twin Cities International Airport.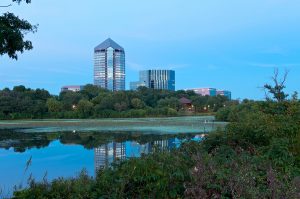 It's also near the Minnesota River which makes it an ideal spot to enjoy nature. So, while you're in Bloomington to enjoy all that the mall has to offer, be sure to take time for their beautiful natural areas – areas so quiet and pristine you won't even know you're in the city. These parks are the perfect break from shopping you'll be craving.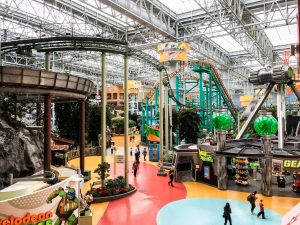 Mall of America
The Mall of America (also known as the MOA) has long been known as the destination of not only shopping but entertainment as well. It covers almost one hundred acres, has more than 520 stores, 50 restaurants, a huge indoor amusement park, two attached hotels and an ice-skating rink in the winter. Spend a day or the weekend here – there's so much to see. But even if you spent weeks here, you might not even see it all.
One of the benefits of the Mall of America is its central location and easy access. It's even on the Light Rail Transit Line, so it's a quick hop from the airport and a great place to spend long flight layover. There are more than 50 hotels within minutes of the MOA; two of which are attached for direct access. There's also plenty of parking.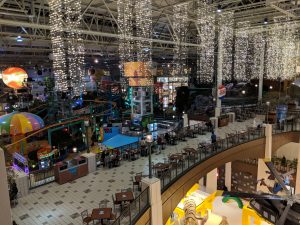 Shopping
The Mall of America is four floors of enjoyment and fun featuring large department stores, boutique stores, local flavor and nationally known chain stores. From all types of fashion-forward clothing options to technology, and beauty to toys, there's certainly something for everyone, locals and tourists alike. The best part about shopping for clothes and shoes here? They're tax-free in Minnesota year-round! All the more reason to make Minnesota your shopping destination.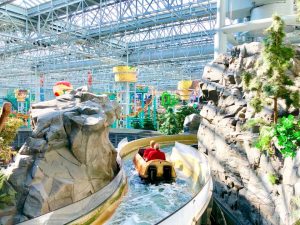 Entertainment
Many of Bloomington's top entertainment options are located within the walls of the Mall of America, so if you're looking for something different, check out all it has to offer. Here are the highlights you'll want to explore while you're there:
1. Nickelodeon Universe is America's largest indoor amusement park and there's no shortage of fun here! There are roller coasters, a water ride, thrill rides and rides geared toward the younger set. They even feature a high ropes adventure course with a gangplank.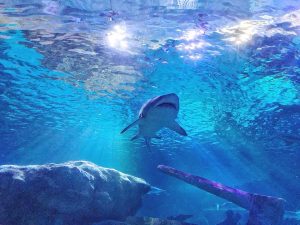 2. The Sea Life Aquarium offers the chance to get hands-on with sea creatures or even feed the Sting Rays. View ocean creatures of all types from their under-the-water sea life viewing tunnel and experience the new Brave the Rainforest exhibit to get friendly with insects, snakes, and cockroaches.
3. The movie theater at the Mall of America isn't just your run-of-the-mill place to catch a film. This one is top of the line – a luxury experience for both movie watching and grabbing a meal. Featuring 13 screens with wide reclining seats, swiveling food trays and USB ports to charge your phone, you won't want to leave when the movie is done! Before the show, build your meal from their food hall-style restaurant and choose stations offering burgers, pizzas, custom-made sandwiches, salads and more. And of course, you can get your movie popcorn (three kinds!) and candy.
4. For everything Lego, be sure to visit the Lego Imagination Center. It's both a store and play area where kids can build and create to their heart's content.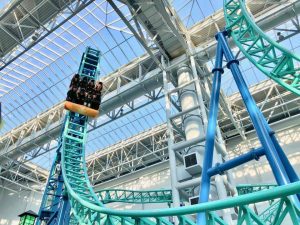 5. Flyover America is a fully immersible experience to make you feel as if you are flying over locations throughout the United States. You'll visit both coasts, Alaska, Hawaii and other highlights throughout the country. The simulated flying feels real and thrilling with added wind, smells and mist.
6. Check out the Crayola Experience where kids of all ages can play and learn. Find out about the chemistry of color, create your own art and bring it to life in 4D and create, name and wrap your own crayon.
7. For some indoor recreation, try out the two mini-golf courses – Rock of Ages Blacklight Minigolf and Moose Mountain Adventure Golf. Both have 18 holes in original and fun theming.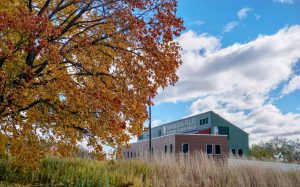 Time for a nature break
If you find yourself needing a break from shopping and entertainment, take some time to enjoy the area's natural beauty. The Minnesota Valley Wildlife Refuge and the Hyland Lake Park Reserve are good local escapes in Bloomington at any time of year.
Minnesota Valley National Wildlife Refuge
Not far from the MOA is the Minnesota Valley National Wildlife Refuge. Established as a nature and wetlands preserve, this beautiful riverside area has hiking trails, fishing and wildlife viewing. Nestled along the Minnesota River, it gives you a chance to enjoy all that nature has to offer. It's a habitat for wildlife but it's so peaceful and serene, you'll enjoy it too and not want to leave. While you're there, you'll hardly know you're in the city.
Hyland Lake Park Reserve
The Hyland Lake Park Reserve is a large park set aside to enjoy nature in the heart of Bloomington. Take a nature break to hike, jog or bike their trails and appreciate their ponds and wildlife. You can visit their Nature Center to learn about what you're seeing or enjoy a picnic at one of their many outside picnic tables. Enjoy the lake with a walk or get in your kayak to enjoy it from within. If you're there in the winter, cross country ski on their groomed trails or downhill ski at the Hyland Hills ski area.
A fun part about this park for kids is the Hyland Play Area, also called Chutes and Ladders. This huge play park is a draw for local families from around the cities and provides hours of entertainment for your kids – so much so that they're sure to be tired out after their time here.
With so many options for shopping, enjoyment and respite, you'll find Bloomington is worth the trip!