Michigan
You Could Spend All Year on the Sandy Beaches of this Fresh Water Ocean
The Best Beaches on Lake Michigan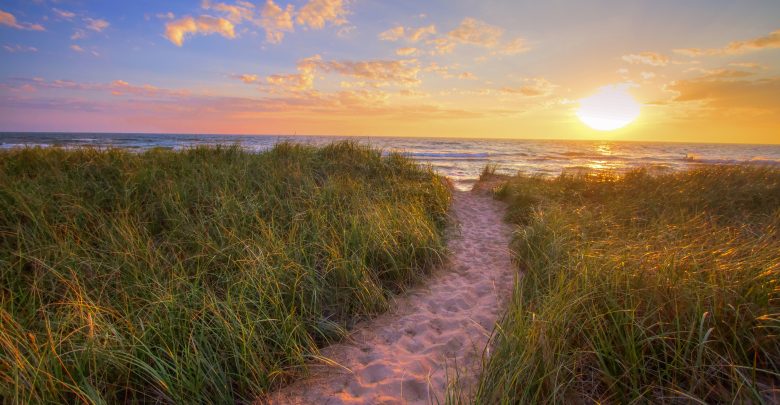 With over 3000 miles of Great Lakes shoreline, Michigan is a dream destination for any beach lover (plus, Lake Michigan is so huge, you'd never know you're not at the ocean).  Here's a look at some of the best beaches we've found on Lake Michigan – we wouldn't turn down a vacation at any of them.  But this list is of course not exhaustive – do you have a favorite Lake Michigan beach we have yet to discover?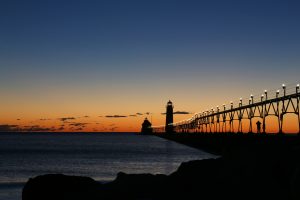 Grand Haven
Hands-down the winner when it comes to Lake Michigan sunsets, Grand Haven State Park Beach is hard to beat.  You may even encounter people lining up to snap the perfect sunset shot – the views are that stunning!  This state park has camping if you want to stay awhile, but make sure you book early, as this is a very popular spot.  In fact, the only downfall we can find to this beauty is that you're not going to have it remotely to yourself, at least in the summer!  Predictably for such a popular beach, the amenities and services are great here.  While you're here, check out the Grand Haven Pier and Lighthouse – trust us, the lighthouse looks even better framed by one of those glorious sunsets!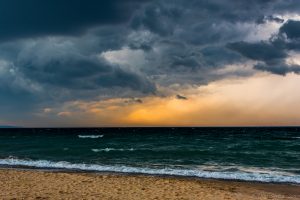 Empire Beach
Empire Beach should be on your summer to-do list if you're a dog owner!  This beach is the gateway to the sand dunes at Sleeping Bear Dunes National Lakeshore (see our next entry), but it's a destination unto itself, and worth spending some time at.  You and your furry companions can enjoy this dog-friendly beach while gazing at the gorgeous scenery, and you'll soon understand why this gem is considered one of the prettiest beaches around.  As with any popular beach, be prepared for some crowds – but don't let that stop you from enjoying water sports, hiking, bird-watching and soaking up some sun in this beautiful spot.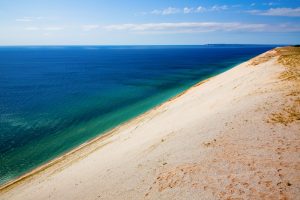 Sleeping Bear Dune National Lakeshore
 If your childhood memories don't include the exhilaration of climbing up and falling down sand dunes, don't worry – it's not too late!  People head to Sleeping Bear Dune National Lakeshore for lots of reasons.  They love the panoramic views (best enjoyed from atop a sand dune, of course), the picturesque white sand, and the clear water.  And of course, the sand dunes draw their share of visitors too!  While sledding and sandboarding aren't allowed (aww), you can climb – or roll, or fall – around to your heart's content!  You'll see perfectly pastoral scenes of local fields, and maybe even a lighthouse, from the dunes.  Just take it from someone who learned the hard way – keep your electronics in a secure place so they don't fall out while you're rediscovering your youth on the dunes.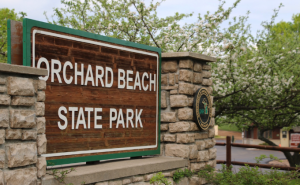 Orchard Beach
If you're looking for drama on a beach, then look no further.  Our next beach is located at the top of a cliff, and yes, the views are everything you could hope for!  Check out the view from the top of the bluff at Orchard Beach State Park (you can even camp there if you can't get enough of the amazing Lake Michigan views, and with more than 150 campsites, you'll have plenty to choose from).  Then make your way down to the beach itself using the thoughtfully-provided staircase.  This spot is ideal for picnics, hiking, swimming, and fishing.  Or if you don't feel like dealing with other campers, come in the winter for some cross-country skiing.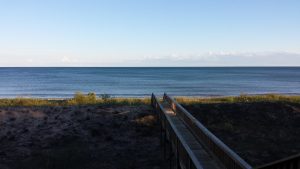 Manistique Beach
This unique destination is frequented more by locals than by tourists, and it's a hotspot for summer fun in the sun.  Looking at the beautiful natural harbor and beach, you'd never guess that Manistique used to be a lumber town!  When you're finished swimming and relaxing on the beach, you can hike the trails, go fishing, or go boating.  Come back in the winter, and check out the beach on a snowmobile.  While you're in town, don't miss the famous ghost town, Fayette, or the supposedly haunted lighthouse.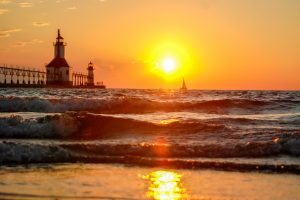 Tiscornia Beach
Another picturesque beach that comes complete with sand dunes, Tiscornia Beach offers a picnic area right on the beach, a pavilion, and all the facilities you could want.  But what draws most sun-seekers here is the stunning view from the beach.  Take a walk on the pier (where you can see fishermen plying their trade), splash in the waves, or get in your cardio by traversing the wind-swept sand dunes.  Easily accessible and clean, this beach earns top points for its soft sands and the calm conditions of the water.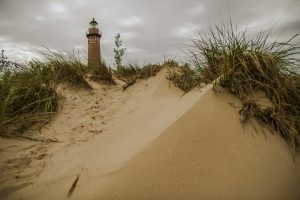 Silver Lake Sand Dunes
We've mentioned several Lake Michigan beaches that, however stunning, are not exactly well-kept secrets.  Silver Lake Sand Dunes is a beach that is wonderfully secluded, where you won't run into the crowds you'll see at other beaches.  There is a price to pay for that seclusion, though – it's a bit of a hike to the beach.  You can choose to walk for about 45 minutes after you get to the parking lot, or take the more exciting option and bring an off-road vehicle to drive right onto the dunes!  This unique location gives you the chance to explore all 2000+ acres of beautiful sand dunes with a sandboard or an off-road vehicle.  You can even take a dune buggy tour.  And once you get to the beach, you'll find a peaceful oasis that's perfect to explore with a loved one.