Missouri
We Bet You Didn't Know All This About Missouri
Here are just a few reasons it's different from your state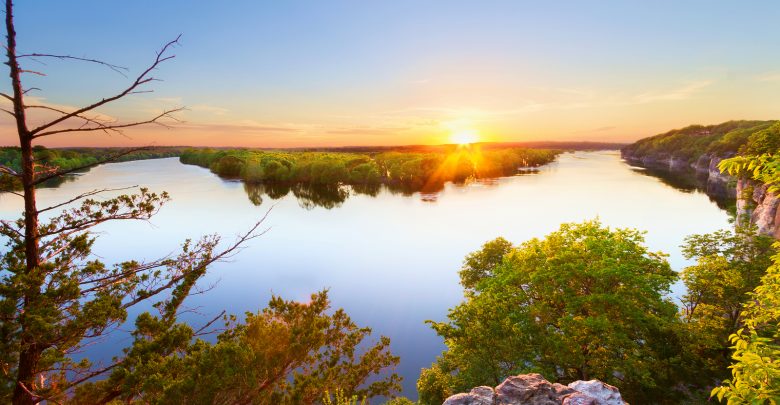 Missouri joined the United States on August 10, 1821, bringing the total number of states in the country to 24. Today, over 6 million Americans call Missouri home. It's the 18th most populous state in the union. The Missouri River—for which it is named—flows through the center of the state toward the mighty Mississippi River, which makes up the border between Missouri and Illinois. But these things are just the basics. There's a lot about the 'Show Me State' that might surprise you—including these six things that make it stand out from its 49 fellow states.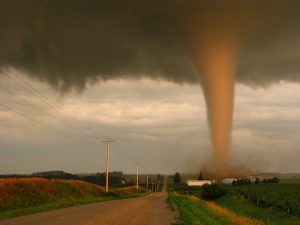 Terrifying record-breaking weather
When you think of Tornado Alley, you often think of states like Kansas, Oklahoma, and Texas as being some of the hardest hit by the terrifying twisters. But what might surprise you is that perhaps one of the most terrifying episodes of this weather phenomenon actually happened in Missouri—one in particular is quite the record holder.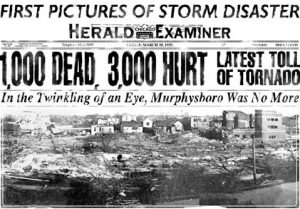 On March 18, 1925, just after lunchtime, a massive tornado touched down in the city of Annapolis, Missouri, only a few miles northwest of the town of Ellington. More than 85% of Annapolis was destroyed by the titan of a twister, but the destruction didn't end there—not by a long shot. In fact, the "Tri-State Tornado," as it came to be known, is the U. S. record holder for the longest track of a tornado, for the most deaths in a single tornado and the most injuries in a single tornado. The twister tore through 13 different counties in Missouri, Illinois, and Indiana that afternoon—at an average speed of 62 miles per hour. When all was said and done, the tornado had stayed on the ground for an astonishing 3 hours and 30 minutes, and its track was 219 miles long. Nearly 700 people lost their lives that day, and over 2,000 were injured.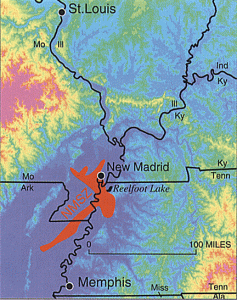 And when it comes to earthquakes, we usually think of California. But between December of 1811 and February of 1812, three massive earthquakes occurred in the central Missouri Valley in a town called New Madrid. On December 16, 1811, the quake measured 8.1 on the Richter scale. Just over a month later on January 23, 1812, another quake hit the town—a 7.8 on the Richter scale. And only two weeks later, the same town experienced a massive earthquake. This one registered 8.8 on the scale. The shaking from these quakes could be felt as far away as New York City, Boston, Montreal, Canada and Washington, D. C. What's even more terrifying is that between December and March, more than 6,000 (yes, 6,000!) quakes occurred in the bootheel of Missouri where New Madrid is located. No other quakes in history have lasted so long or caused so much damage. In fact, some fissures left by the quakes were as much as 5 miles long!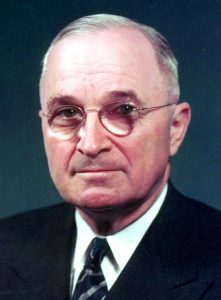 A president, a chemist, an astronomer, a dancer—and that's just the beginning.
A number of celebrities—including actors, actresses, singers, writers, and dancers—got their start in the Show Me State. Actors Vincent Price and John Hamm (Mad Men) were born in Missouri, as were Chuck Berry, President Harry Truman, designer Kate Spade, and motivational speaker Joyce Meyer. The Unsinkable Molly Brown was also born here, as were astronomer Edwin Hubble—for which the Hubble Telescope was named—Ginger Rogers, Betty Grable, Dick Van Dyke and authors T. S. Eliot, Mark Twain, and Langston Hughes. And again, that's just the beginning!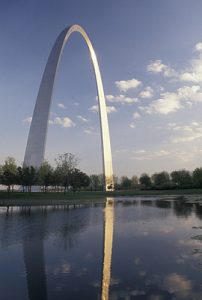 A giant arch standing 63 stories high
The famous Gateway Arch monument in St. Louis is something to see! It stands 630 feet high, 630 feet wide and is Missouri's tallest accessible building. It's also the tallest man-made monument in the Western Hemisphere, the tallest stainless-steel monument on earth and the world's tallest arch. It's called "The Gateway to the West" and was built to celebrate the westward expansion of the United States. It was officially dedicated to the American people. Before its construction began, a design competition was held in May of 1947 to determine what the monument would look like. It would be 16 years before construction finally began. Nearly 150 twelve-foot-long prefabricated steel sections were assembled, and once they were in place, each was filled with concrete. Despite numerous delays and setbacks in the construction of the arch, the project saw no fatalities. The Gateway Arch was dedicated on May 25, 1968. Today, it continues to serve as a monument to America's westward expansion, and it's one of the most visited attractions in the country.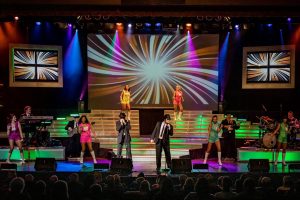 "Stop that singin', quit that dancin'! We all know you've been to Branson!"
This silly slogan was once used as part of a marketing campaign for tourism in the city of Branson, Missouri. Branson is located in the Ozark Mountains and is home to approximately 12,000 people, but it sees far more than that number in the form of visitors and tourists who come to Branson for a weekend getaway, a family vacation or just to enjoy one of its many attractions for the day—and there are many to choose from.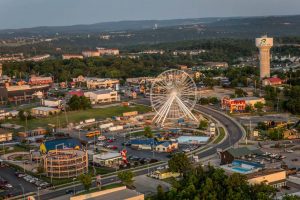 Silver Dollar City is a 19th-century-style amusement park that boasts more than 40 rides and attractions, 40 live shows and more than 60 shops and restaurants. There are also scores of artisans at the park who demonstrate glass-blowing, blacksmithing, candy making and more. White Water park has almost 7,000 feet of water slides, 2 million gallons of water and several rides and attractions, making it a great way to cool off on a warm day in Branson.
In downtown Branson along Lake Taneycomo, Branson Landing is the destination of choice for shopping, dining, and entertainment. The Branson Belle Showboat is an 1800s-style boat that offers two-hour cruises around Table Rock Lake that include a three-course lunch or dinner, depending on the time of day. During the cruise, guests are entertained by singers, dancers, comedians, and magicians. And if you're really into history, the Titanic Museum is a great place to visit. Walk down the Grand Staircase or see what 28-degree water felt like for the passengers who were in the water, struggling to stay afloat until help came. You can also try standing on the sloping deck of the Titanic—just like passengers did as the luxury liner began to slip into the North Atlantic.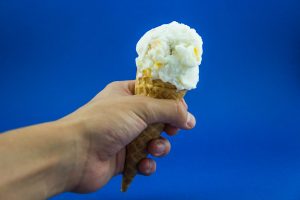 The ice cream cone was born in St. Louis.
There's a bit of debate over who really was the first to create the ice cream cone, but since we're feeling pretty good about Missouri, we'll give the credit to them. Besides, it's a story of kindness, so we'll take it! During the 19th century, ice cream was only affordable for the wealthy. That's because of the expense in its ingredients and in storing it. But over time, ice cream became more accessible to people of all classes. In 1904 at the St. Louis World's Fair, a man named Ernest A. Hamwi owned a store that sold a crunchy waffle pastry called a zalabis. He was located next to one of many ice cream vendors at the fair, and upon noticing that the vendor had run out of dishes in which to serve ice cream, Hamwi sprang into action. He took one of his waffle pastries, folded it into a conical shape and allowed it to cool. It was then used to hold ice cream purchased by the vendor's patrons. Ingenious!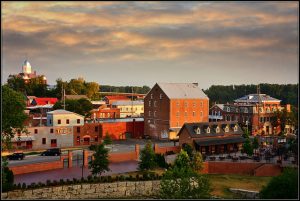 You can visit Germany without ever leaving Missouri.
The town of Hermann, Missouri, is located in the Missouri River Valley and was designated as the county seat of Gasconade County in 1842. It is a 19th-century village that was named for Hermann der Cherusker—a German leader who defeated the Romans in the Battle of Teutoburg Forest in the year 9. Clock towers and church steeples are plentiful in the iconic German village. Hermann is known for its many wineries. Stone Hill Winery is the largest in Missouri, and it is located in the town, as is Hermanoff Winery. The Adam Puchta Winery is located only two miles south of town. It's the oldest continually family-owned winery in the United States (since 1855). There are several more wineries within only a few miles of Hermann.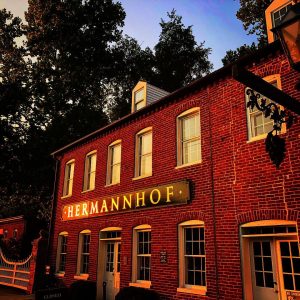 As the town grew, many wanted it to become "the heart of German-America." For these reasons, the townspeople wanted to adhere to German customs and participate in German culture. There are multiple German culture-inspired celebrations held throughout the year. Wurstfest is held on the fourth weekend of March and is a celebration of all things sausage. Maifest takes place on the third weekend of May. It's a traditional German celebration of spring. In the fall, the town celebrates Oktoberfest, and during the first and second weekends of December, the town hosts a traditional German Christmas market called Kristkindl Market.
The people of Hermann invite tourists to stop in and stay for a while. If you're visiting and looking for a place to spend the night, Hermann offers multiple options. There are cozy cottages and bed-and-breakfasts, as well as lofts, guest houses and more. For more information about this quaint and cozy German town, visit www.hermannmissouri.com.