Mississippi
Mississippi Is One of a Kind
10 things you might not know about The Magnolia State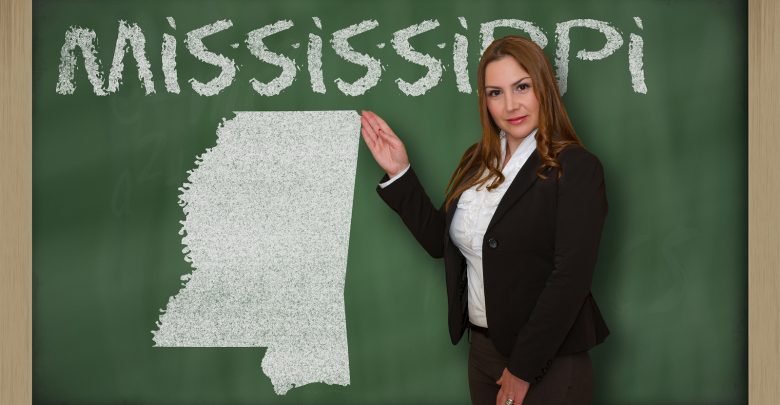 Mississippi was the 20th state to join the union on December 10, 1817, and is home to more than 3 million people. The city of Jackson is both the largest city in the state and the capital. Mississippi played an important role during the Civil War. The Union victory at the Siege of Vicksburg was a turning point in the war, as the Union won control of the Mississippi River, making it impossible for Confederate troops to send supplies by way of the river.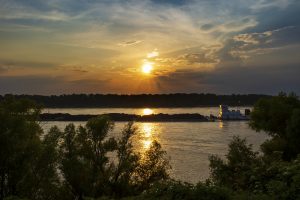 The Magnolia State is known for bluegrass music, small-town values, the historic Natchez Trace, Magnolia trees and for preserving the history of the south. And though you may have known these things already, we discovered ten things you might not have known about Mississippi.
The inspiration for the Teddy Bear came from Mississippi.
Theodore Roosevelt was known for many things—his foreign policy, corporate reforms, and environmental activism. He won the Nobel Peace Prize for working to end the Russo-Japanese War. He was also an avid huntsman. And so it was that he and Mississippi Governor Andrew Longino, along with a few others, went bear hunting in Onward, Mississippi, on November 14, 1902. The other gentlemen were making more progress in their endeavors than was the President, so one of Roosevelt's assistants cornered and tied a black bear to a tree. The men urged Roosevelt to shoot the bear, but he refused because he felt it would be unsportsmanlike to do so.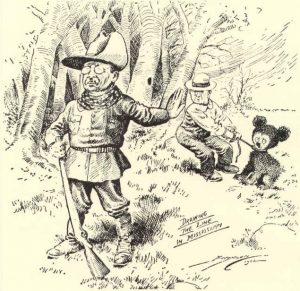 The story spread, especially since he was known as a big game hunter—this should have been easy, but it wasn't. Only two days later, a playful satirical cartoon showed up in The Washington Post, poking fun at Roosevelt's refusal to shoot the poor bear. Morris Michton, a candy store owner in Brooklyn, New York, saw the cartoon and immediately had the idea for a stuffed toy bear. (He and his wife created stuffed animals already, and the bear seemed like the perfect idea.) Michton called the toy "Teddy's Bear," and after getting permission to use Roosevelt's name, the bears were mass produced. But the inspiration for the bear came from the events of a hunting trip that year in the state of Mississippi.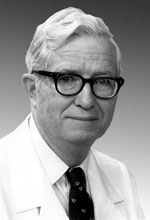 The first lung transplant took place in Jackson.
In the 1960s, organ transplantation was in its infancy at best. To that point, it had only been in experimental phases, and never with a human recipient. But on June 11, 1963, Dr. James Hardy performed the first ever lung transplant on 58-year-old John Russell, who was suffering from terminal lung cancer at the University of Mississippi Medical Center. Dr. Hardy and his team had decided that because transplantation was still experimental, they would only consider candidates with a terminal disease in order to somewhat justify the risks of the procedure. Russell lived for 18 days post-transplant, and his death was not related to rejection of the lung. This procedure paved the way for modern-day organ transplantation.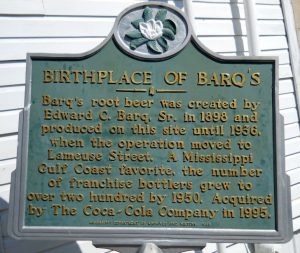 Barq's Root Beer was born here, and not all root beers are created equal.
In 1898, Edward Barq opened Biloxi Artesian Bottling Works in Biloxi, Mississippi. It was here that he created a new take on root beer. It wasn't initially marketed as "root beer" because another company was attempting to get a trademark on the term and because Barq's beverage was very different from other versions of root beer. Its base was a sarsaparilla drink with caffeine, less sugar, and more carbonation—but with less foam—than other similar beverages. He decided to just call it "Barq's." Sometimes simplicity can be creative!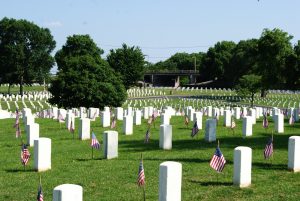 Memorial Day might have been inspired by a gesture of kindness here in 1866. 
Once upon a time—after the Civil War was over—a group of women in Columbus, Mississippi, called the Ladies Memorial Association took it upon themselves to decorate the graves of those who lost their lives during the Civil War. They used garlands and other decorations to adorn graves as a way of honoring soldiers who died fighting in the war. But the ladies didn't choose sides. Rather, what they did for one, they did for all, so that the graves of both Union and Confederate soldiers were decorated, thus honoring men from both sides. During this dark time of mourning and feelings of separation in the country, this act of kindness set forth a message of unity. Though there is debate over where the idea for Memorial Day was born, this act is seen as some by the very inspiration for the day, and we think this sort of kindness deserves the spotlight, whether it was the actual inspiration or not. At a minimum, surely it paved the way for a day of remembrance.

Pine-Sol debuted in Mississippi.
Pine-Sol has been used for nearly a century as a household cleaner, and it was first created by Harry A. Cole of Jackson, Mississippi, in 1929. Cole was a chemist who lived among the pine forests in Mississippi. He knew pine oil was a natural disinfectant and deodorizer, so he used it to make the cleaner. The original formula was made with pine oil from old yellow pine stumps. Pine-Sol is still sold today, but the formula no longer contains pine oil.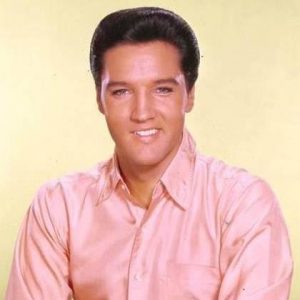 Darth Vader was born in Arkabutla, Mississippi.
Ok, so maybe not Darth Vader, but James Earl Jones—the famous actor who lent his voice to the evil Sith Lord as well as to Mufasa in Disney's The Lion King—was born in Mississippi in the town of Arkabutla. Morgan Freeman was also born in the Magnolia State, as was Elvis Presley, Oprah Winfrey, Brett Favre, singers Conway Twitty, and Faith Hill and famous guitarists B. B. King and Bo Diddley. Motivational speaker and author Zig Ziglar and playwright Tennessee Williams were also initially Mississippians, as was FOX News' Shepard Smith.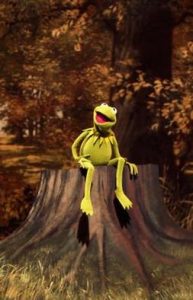 Kermit the Frog is from Mississippi.
Actually, Kermit is from the swamp, but the man who claims Kermit was his alter ego was born in Greenville, Mississippi, in 1936. James Maury Henson—better known as Jim Henson—was a talented puppeteer, artist, cartoonist, and screenwriter. He is most famous for the creation of the Muppets, as well as for his work with public television's Sesame Street. Henson founded Muppets, Inc. in 1958, which later became the Jim Henson Company. His zany group of elaborate puppets with an affinity for silliness and slapstick comedy included front-runner Kermit the Frog, as well as Fozzy Bear, Miss Piggy, Animal, Rowlf the Dog, Dr. Bunsen Honeydew and Beaker, Dr. Teeth, Scooter and many more. Henson lent his voice to Kermit, Rowlf and a few other Muppets.
In 1969, a television producer with the Children's Television Workshop asked Henson to work full-time on Sesame Street. In the 1970s, Henson's Muppets began to appear on Saturday Night Live, but after several episodes, some of the writers for SNL weren't too keen about writing comedy and lines for puppets. The Muppet Show first debuted in 1976 and stayed on the air until 1981. Between 1979 and 1981, Henson saw the release of The Muppet Movie, which grossed $65.2 million domestically and The Great Muppet Caper, which saw a domestic gross of $31.2 million. In 1984, The Muppets Take Manhattan grossed $25.5 million.
Toward the end of the 1980s, Henson entered into talks to sell the Muppets to the Walt Disney Company for around $150 million. In 1990, Henson completed work on a Muppet-themed attraction for Disney's Hollywood Studios at Walt Disney World. Sadly, Henson died suddenly from an illness in May of 1990. The Disney World attraction he had worked on opened one year to the day after his passing. The Walt Disney Company purchased the Muppets in February of 2004, and Henson was posthumously inducted into the Hollywood Walk of Fame in 1991. He was also chosen as a Disney Legend in 2011. Betcha didn't know the Muppets came from Mississippi!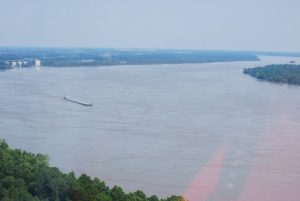 The Mississippi River by the numbers is quite impressive!
The mighty Mississippi River serves as the western border of the state, but it doesn't stop there. It stretches for some 2,340 miles and at 1.15 million square miles, it has the second largest drainage system on the North American continent. It runs along or through ten states from Minnesota to Louisiana. The Mississippi River's watershed drains all or parts of an impressive 32 states, as well as two Canadian provinces. By volume, the river is the 5th largest in the world, and it's the 4th longest on earth. At Lake Itasca—the source of the Mississippi—the river is only about three feet deep, but a portion of the river near New Orleans, Louisiana, is as deep as 200 feet in some places.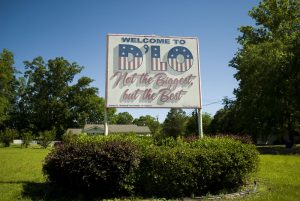 D'Lo, Mississippi is credited with a sizable sacrifice.
The tiny town of D'Lo, Mississippi, is situated in Simpson County. Its population today is less than 500 people, but it is credited with a huge sacrifice. During World War II, D'Lo sent more men per capita to serve in the war effort than any other town its size. In fact, 38% of the population fought in the war.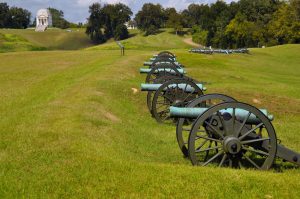 The Siege of Vicksburg will never be forgotten, thanks to a very special park.
Just a stone's throw from Mississippi's western border lies Vicksburg National Military Park and Cemetery. The park preserves the site on which the Civil War Battle of Vicksburg took place. The siege lasted 47 days—from May 18 to July 4, 1863. The Vicksburg National Military Park was established in 1899 to commemorate the battle. It encompasses 1,800 acres—116 of which make up the national cemetery—and has 20 miles of historic trenches, 144 cannons, a 16-mile road tour, as well as the restored USS Cairo, which was sunk in 1862 on the Yazoo River and recovered in 1964.
Vicksburg National Cemetery has 18,244 interments—each taking place between 1866 and 1874—and 12,954 of those are unidentified. For more information about the military park and cemetery, visit www.nps.gov/vick.