Oklahoma
More Than OK: Fun Facts About Oklahoma
Here are 8 reasons its unlike anyplace else
Oklahoma has been a state since November 16, 1907, when it joined the union as the country's 46th state. It's bordered by six other states, and almost 4 million people call Oklahoma home sweet home. The name "Oklahoma" is derived from the Chocktaw words "ukla," meaning person and "huma" meaning red. The Sooner State boasts beautiful state parks, the invention of the first electric guitar and a city that holds the world record for biggest pecan pie! But that's just the beginning. If you thought there wasn't much of interest in Oklahoma, we're about to change your mind with the following 8 reasons it's not like any of the other 49 states.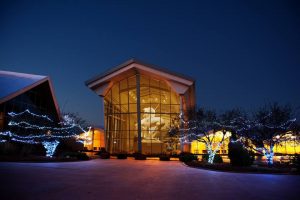 You can visit a museum dedicated to all things cowboys! Yee-haw!
Founded in 1955, the National Cowboy and Western Heritage Museum located in Oklahoma City was created to preserve and exhibit a collection of artifacts and Western art. It's a celebration of the American West. The museum sponsors educational programs that aim at fostering interest in the legacy of this part of the country. The National Cowboy and Western Heritage Museum also hosts several annual events like the Annie Oakley Society Luncheon, the Annual Chuck Wagon Festival, the Rodeo Hall of Fame Weekend, the Cowboy Arts Exhibition and Sale and the Cowboy Christmas Ball.
The museum is open Monday through Saturday from 10:00 a.m. to 5:00 p.m. and on Sundays from noon to 5:00 p.m. For more information on the museum or to begin planning your experience, call (405) 478-2250 or visit www.nationalcowboymuseum.org.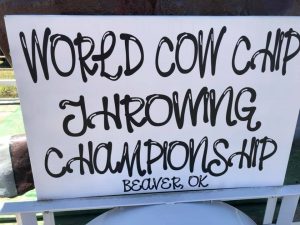 You can even enter a contest and see how far you can toss a cow chip.
The town of Beaver is located in Oklahoma's panhandle and is the county seat of Beaver County (fitting, isn't it?). The town's registered trademark is a "cartoonish" version of a cow chip wearing a crown. That's because the community of Beaver is proud to stake their claim as "The Cow Chip Throwing Capital of the World." And if you aren't sure what cow chips are, well, ask a trusted friend. Let's just say that as throwing things goes, it's not as classy as a frisbee. But since 1969, the town of Beaver has held the World Championship Cow Chip Throw. In 2015, the old world record was broken when a man named Drew Russell stepped up and hurled a chip a distance of 188 feet, 6 inches!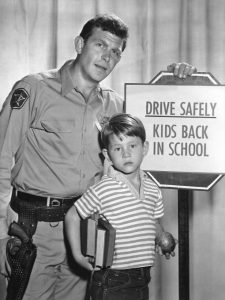 If it weren't for Oklahoma, The Andy Griffith Show would have had an entirely different storyline.
It's true. Opie Taylor was the son of Sheriff Andy Taylor on the sitcom The Andy Griffith Show, which ran from October of 1960 to April of 1968. The red-headed, freckle-faced little boy was played by none other than Oklahoma native Ron Howard. The child-star-turned-star-director was born in Duncan, Oklahoma in 1954, making him only six years old when he first became a resident of Mayberry, North Carolina.
In 1974 at the age of 20, Howard began to play the role of Richie Cunningham on Happy Days. ABC's hit show ran a solid 10 years, ending in 1984, but Howard left the show in 1980 to focus on directing. He would go on to work on several hit films including Cocoon (1985), How the Grinch Stole Christmas (2000), A Beautiful Mind (2001), The Da Vinci Code (2006) and Solo: A Star Wars Story (2018).
Can you imagine the movie and film industry without Ron Howard? Me neither. Thanks, Oklahoma!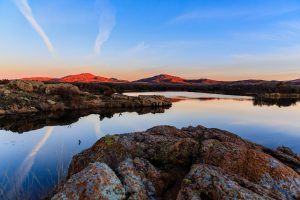 Into mountain climbing? Just pick your range.
They're certainly not towering mountains from which you could yodel, but the state of Oklahoma does have four different mountain ranges within its borders. The Arbuckle Mountains are located in the south-central part of the state. Southwestern Oklahoma is where you'll find the Wichita Mountains. Southeastern Oklahoma is home to the Ouachita Mountains, and the Kiamichi Mountains are a subrange of the Ouachitas. Pick one or visit them all as you make your way around the state.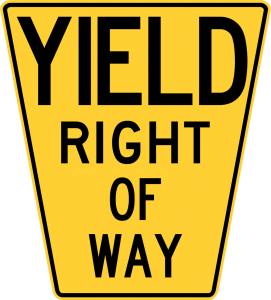 Courteous driving had a bit of a start in Oklahoma.
In 1950, Tulsa, Oklahoma, was the first place in the country to have a yield sign erected at an intersection. It was designed by Fairview, Oklahoma native Clinton Riggs. Riggs served as an officer with the Tulsa Police Department. He wanted to find a way to decrease the danger at one particular intersection in the city—at the corner of First Street and Columbia Avenue. The sign he created was shaped like a keystone and painted yellow. "YIELD RIGHT OF WAY" was spelled in black letters.
The signs were later removed, and in 1971 the official look of the yield sign was changed and shaped like a white triangle within a red triangle. The word, "YIELD" is spelled in red letters on the white triangle.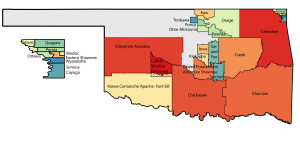 Native Americans played a vital role in Oklahoma's history, and they're a vital part of life in the Sooner State today.
The state of Oklahoma has one of the largest Native American populations in the country. In fact, only the state of California is home to more Native Americans. As of 2018, more than 320,000 lived in Oklahoma. Because of its abundant natural resources, Oklahoma has some of the oldest recorded regions to have been settled. Many Native Americans who live here are descendants of the 67 tribes that first inhabited the Indian Territory. There are 39 tribal governments in Oklahoma, and 38 of them are federally recognized.
Oklahoma has more man-made lakes than your state. Oh, and more shoreline—by miles and miles!
After World War II, two prominent Oklahoma politicians worked to create order out of a somewhat chaotic natural resource situation. Oklahoma had so many rivers, and people were interested in preserving what they deemed "untamed" natural water resources. Over the years, lakes were dug to assist with this concern. Today, Oklahoma has more man-made lakes than any other state in the country, and because there are so many lakes, the Sooner State also has more miles of shoreline than the Atlantic and Gulf Coasts combined—over 55,000 miles of shoreline!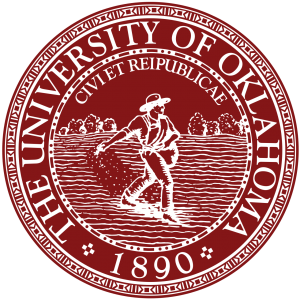 A popular university with famous alumni and a rivalry over 100 years in the making
Oklahoma University in Norman, Oklahoma, was founded in 1890. Today, the university has an enrollment of over 31,000 students and employs almost 3,000 members of faculty. Students at Oklahoma University can choose from 150 baccalaureate programs, 160 master's programs and over 70 doctorate programs. But it's not just the academic programs that make the university stand out. The school also has a long list of celebrity alumni, as well as a century-old rivalry called the Red River Showdown.
Oklahoma University served as the proverbial stomping grounds for a host of Hollywood and sports royalty in their younger days. Actors James Garner, Ed Harris, and Ryan Reynolds were all part of the Sooner Nation, as were country singers Toby Keith and Garth Brooks. The legendary Mickey Mantle attended Oklahoma University, as did the NFL's Adrian Peterson and the all-star Dallas Cowboys quarterback, Troy Aikman.
The Red River Showdown is legendary in its own right. It's the famous rivalry between the Oklahoma University Sooners and the University of Texas Longhorns. It is one of the biggest rivalries in college football and has been played in Dallas, Texas, since 1912 and at the State Fair of Texas since 1929. The two universities have played over 110 rivalry games and it looks like there are no plans for the Red River Showdown to slow down any time soon!