South Carolina
So Worth it! The Best Breakfasts in Myrtle Beach
The finest breakfast spots in the Myrtle Beach area for your family.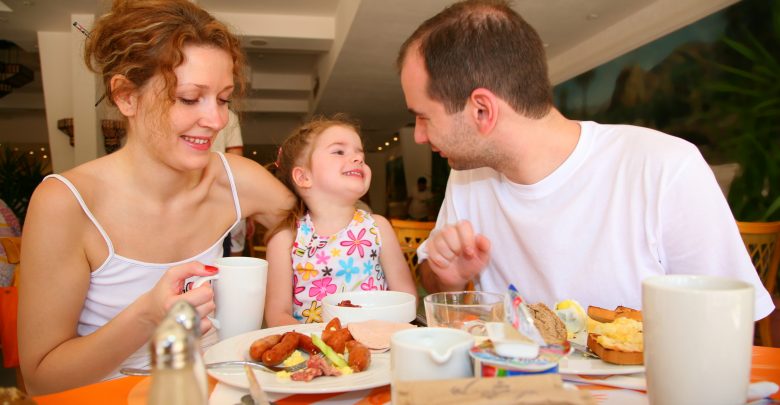 Do you love breakfast? Of course you do! Who doesn't? From pancakes to omelets, breakfast is a wonderful thing, and anyone who disagrees is crazy. Not only that, but they're also out of luck because not only is breakfast the most important meal of the day, it's also one of the most popular meals in Myrtle Beach.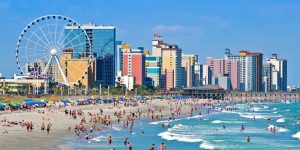 That's right! Myrtle Beach has breakfast down to a science. With cafes, diners, and bistros on every street, this is a breakfast lover's dream come true, and it's hard to resist trying them all. That said, most vacationers don't have time to try them all. This means it's important that they use their valuable time to try only the best of the best.
Lucky for you, we've compiled a list of our favorite breakfast places in all of Myrtle Beach. Try these and you will have tasted the finest breakfast food Myrtle Beach has to offer the world.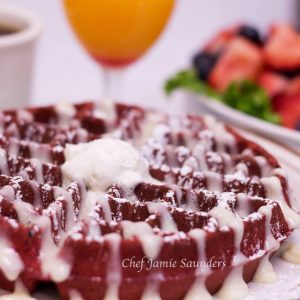 Johnny D's Waffles and Bakery
Looking for some outstanding food, unlike any breakfast you've had before? You need to head to Johnny D's. This little eatery may not look like much, but their creative take on waffles is fun, tasty, and makes breakfast exciting. Ever had a red velvet waffle? What about a cinnamon one? If not, you need to get to Johnny D's ASAP.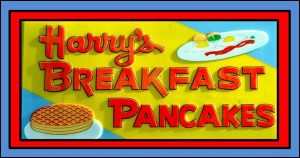 Harry's Breakfast Pancakes
Harry's Breakfast Pancakes has been around since 1979, and when you get a taste of their food you'll know why. This yummy local food stop uses fresh ingredients to create incredible breakfast food you won't soon forget. We especially love the pancakes at this restaurant and enjoy the many different flavors offered, including the pineapple, chocolate chip, and pecan options.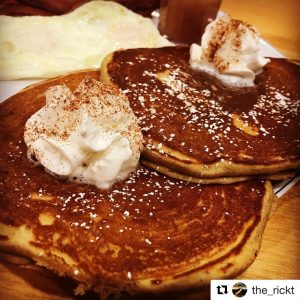 Eggs Up Grill
The egg lovers in your group will adore Eggs Up Grill. This delicious breakfast place is a favorite with locals and vacationers alike. The food is always fabulous, the service is excellent, and the location can't be beat. Best of all, Eggs Up Grill serves breakfast until 2 pm, meaning you don't have to get up early to enjoy this awesome meal!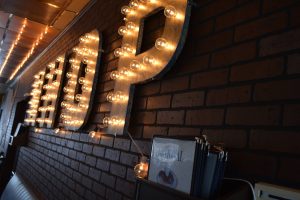 National House of Pancakes
Whether you're a fan of sweets or prefer a more savory breakfast, National House of Pancakes has something amazing for you. The menu here has all the breakfast staples plus a few creative additions nearly everyone loves.
Have kids? Be sure to try the hot cocoa, which is served with whipped cream, M&Ms, cotton candy, and a sucker. The strawberry banana french toast is also delicious, as are the large and filling omelets.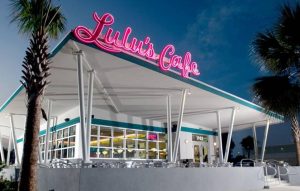 Lulu's Cafe
This cute and colorful '50s-style diner is the perfect place for a vacation breakfast or weekend meal. They serve up high-quality traditional breakfast items, as well as some seriously delicious mimosas. Best of all, the location of this diner is right off of the ocean, making it a great beach-day stop the whole family will love.
Mammy's Kitchen
Feeling extra hungry? Mammy's Kitchen has an all-you-can-eat hot breakfast buffet ready and waiting for you. Their buffet is always delicious and has such breakfast favorites as bacon and eggs. That said, if a buffet isn't your thing you can always opt for the à la carte menu. Either way, you're sure to be pleased with your meal.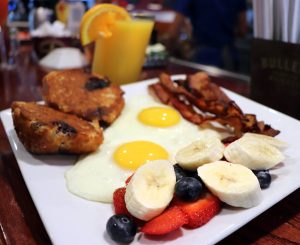 Blueberry's Grill
With gluten-free, heart-healthy, and even vegan options, Blueberry's Grill is an excellent place to go if you have special dietary needs. That said, it's pretty awesome for those who don't have special diets as well. For instance, their grilled blueberry muffin is 100% amazing, and their special twist on chicken and waffles couldn't get any better. We definitely approve of this modern breakfast stop.

Croissants Bistro and Bakery
An upscale breakfast place serving food with a twist, Croissants Bistro, and Bakery is an excellent way to start the day. Be sure to order one of their famous pastries and some of their delicious cheesy hashbrowns, along with a well-made coffee. In a hurry? No worries! To-go orders are no problem for this wonderful little bistro.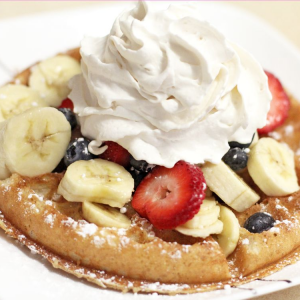 Crepe Creation Cafe
If there's anything better than a pancake for breakfast, it has to be a crepe. Seriously, these delicious breakfast treats couldn't have a better texture, and the fact that they usually come filled with amazing things isn't hurting anything either.
If you're in the mood for a crepe while in Myrtle Beach, Crepe Creation Cafe is the place to go. This local eatery offers a wide variety of delicious crepe options, and each and every one is amazing.
Golden Griddle Pancake House
According to the website Refinery29, Golden Griddle serves up the very best pancakes in the state of South Carolina. We have to say, we might just agree with that assessment. These pancakes truly are amazing, and the rest of the food is pretty great as well.
Best of all, Golden Griddle is right by the beach, making it the ideal breakfast stop before a fun day near the ocean.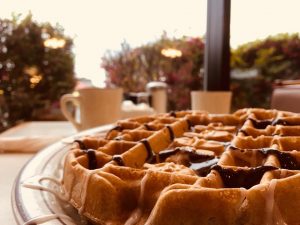 Dino's House of Pancakes
Voted one of the best breakfast spots in Myrtle Beach, Dino's House of Pancakes is a classic American diner that makes you feel right at home even if you're from out of town. The staff is amazing, and they remember the regulars as well as those who return year after year during their vacations. On top of all that awesome customer service, Dino's also has some wonderful food to match. It doesn't get much better than that!
Now that you know where to go, it's time to pack your bags, head to Myrtle Beach, and get your breakfast grub on. Make sure you show up hungry because you have some serious eating ahead of you!