California
Amazing! Whale Watching in California
Best places to see these great beasts in California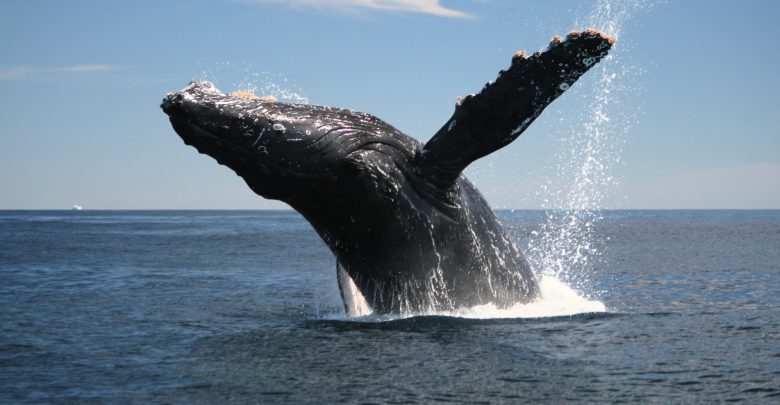 The allure of the California coast is undeniable.  Beautiful weather, stunning beaches, and a thriving arts scene are only a few of the draws of this region.  And one of the most coveted experiences for California visitors is whale watching.  With at least two dozen species of cetaceans routinely spotted along the coast, you'll find whales here year-round, and you can look online to find out what time of year you're bound to find your favorite whale feeding or migrating through these coastal waters.  From grey whales to blue whales to the short-beaked common dolphin, there's a world of whales to explore!  Here are our top picks for places to see these majestic mammals along the California coast.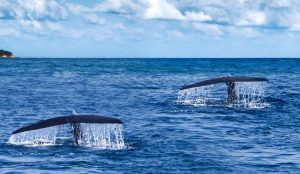 Monterey Bay
The best time for whale watching in Monterey Bay will depend on what species you want to see.  For gray whales, dolphins and killer whales, come from mid-December to mid-April, when these species migrate through the bay.  Plan a trip in mid-April to mid-December if you want to see blue whales, humpback whales, killer whales, and dolphins.  Monterey Bay enjoys unusually calm waters, where a variety of sea life – and even seabirds – come together to feast.  So you're bound to see many fascinating species here, including sea otters and seals.  To get the most bang for your buck, head to Santa Cruz, which is an especially prime spot for viewing all the whale action.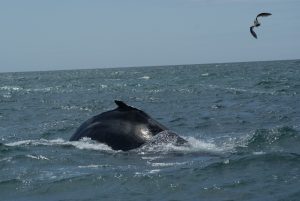 Moss Landing
Just north of Monterey, Moss Landing offers a unique close encounter with whales that may just be the highlight of your vacation.  If you're here in the summer, and you're an experienced paddler, you can join a guided kayak tour that takes you out to the open ocean, where you'll have just about the most personal experience with a whale that you could hope for.  You'll see humpbacks breaching and spouting all around you, and you'll get much closer than you could with a large boat.  If you aren't a paddler, you can still join a cruise to enjoy the experience.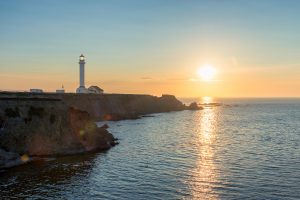 Mendocino
Another place where the adventurous can experience whale action by kayak is along the Mendocino Coast.  Gray whales migrate through these waters from November through to April, which makes this the perfect place to see these gentle giants diving and breaching as they journey south to Mexico.  If renting a kayak isn't quite your speed, you can still see the show by joining a whale-watching cruise or try any high spots along the coast, especially on calm mornings, to optimize your viewing chances.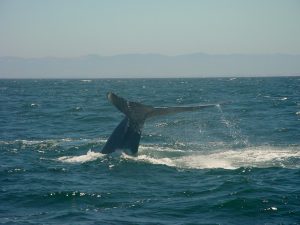 San Francisco
It may not be the first place that jumps to mind when you think of whale watching, but San Francisco and the surrounding area is a great place to be if you want to see whales – especially gray whales.  Pier 39 is the departure spot for gray whale cruises that are available from December until May.  Or you can get yourself to Point Reyes National Seashore between December and February when over 90% of migrating Pacific gray whales pass within a mile of this peninsula.  You can also stop at any high points along the coast near San Francisco – if it's a calm day, chances are you'll be able to spot a whale or two.  For a real thrill, sign up for a cruise to the Farallon Islands, 27 miles off the coast of San Francisco.  This ruggedly beautiful chain of rocky outcroppings is rich with marine life, including humpback whales and blue whales.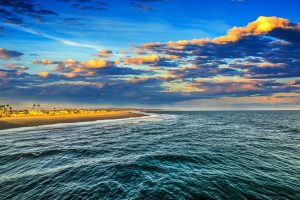 Newport
You won't have to go far from shore to find whales in Newport.  The Newport Submarine Canyon provides an underwater channel for nutrients, which turn the waters close to the shore into the perfect under-the-sea dining table for a variety of sea life, including whales, sea lions, and dolphins.  Book a whale-watching cruise to view the migration of gray whales here from December to April, or try to spot blue whales from May to October.  The towering cliffs at Dana Point are a great place to view whales from land, and if you come in March, you can even attend the Dana Point Festival of Whales to complete your experience.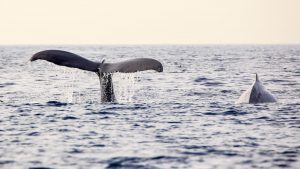 Los Angeles
Blue whale seekers can try their luck in Los Angeles from June to October, where these behemoths are often seen off Long Beach and San Pedro.  Gray whales are also typically viewed from December until May, and you might just see a humpback whale or an orca while you're at it, not to mention the ever-present dolphins.  You can head out to sea in a catamaran with stadium seating, and enjoy commentary from marine educators along the way.  Back on land, head to the picturesque Pointe Vicente Interpretive Center; you'll love the views, and this is one of the best spots on land to view gray whale migration in Southern California.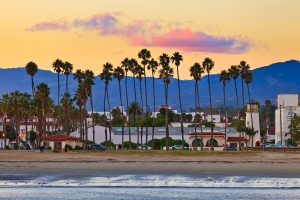 Santa Barbara
Head to Santa Barbara in the summer months if you're keen to view blue whales or humpback whales.  You can also come here to see gray whales as they migrate through from late December through to mid-April.  Regardless of when you travel, you're likely to enjoy quite a show on any whale watching tour running between the Channel Islands and the Ventura coast; 29 species of cetaceans have been viewed near the National Marine Sanctuary here!  If by some chance you don't see any whales, you can usually count on seeing various species of dolphin, sea lions, and sometimes even flying fish.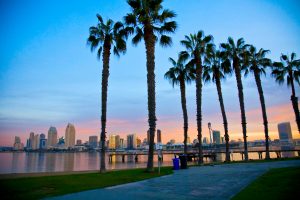 San Diego
One of the absolute best places in California to spot whales, San Diego earns points because you don't have to venture out to sea for whale watching.  You can, of course – there are several companies that offer whale watching cruises, and some even guarantee that you'll see a whale, or else you can return on another day for a free cruise.  You can even join an expedition to the Coronado Islands in Mexican waters to view elephant seals, killer whales, and blue whales.  But landlubbers will appreciate the many spots on dry land from which your chances of seeing a whale are excellent.  Bring a pair of binoculars, and head to the bluffs at Torrey Pines State Reserve, the Birch Aquarium at Scripps Institution of Oceanography, or the Whale Watch Lookout Point near the Cabrillo National Monument for your best whale spotting chances.