New Mexico
Beautiful, Fun, Quirky: Experience New Mexico
To enjoy the best of our state, check out these 5 key locations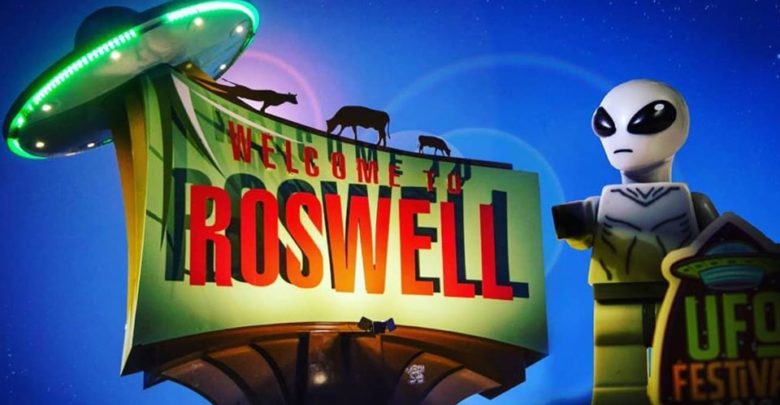 When you get that urge to get away from it all—take a break, rest and recharge—New Mexico offers breathtaking beauty, grandeur, and otherworldly landscapes to help put life back in perspective. This amazing state has the perfect places for you to visit to be inspired and recharge your batteries. Here are five of them you've simply got to check out this year.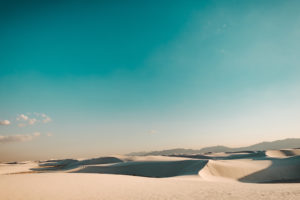 White Sands National Monument
You don't have to be a kid to have a blast playing in the sand, especially when that sand is in the form of huge, pristine dunes. You'll find some of these dunes at White Sands National Monument in south-central New Mexico. White Sands is home to the largest field of white sand or gypsum dunes on the globe. The elevation of the dunes in this area ranges from nearly 3,900 feet to more than 4,100 feet.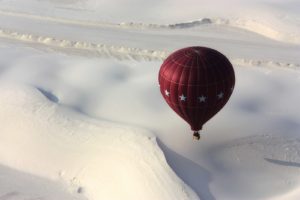 White Sands National Monument is situated at the end of the Chihuahuan Desert in the Tularosa Basin near Holloman Air Force Base. The monument encompasses some 275 square miles of dunes. One hundred fifteen of those lie within the White Sands Monument's boundaries. The dunes at White Sands shift wildly in a northeasterly direction. That shifting moves the dunes by approximately 30 feet each year.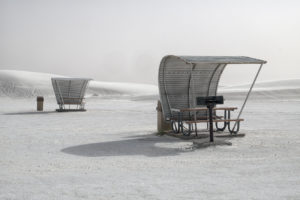 White Sands National Monument is open to visitors daily all year long, with the exception of Christmas Day. Hours of operation vary by month and season. Visit the White Sands National Monument website to see specific hours of operation based on the date of your visit at www.nps.gov/whsa. Entrance fees apply to visitors ages 16 and up. Children ages 15 and younger enter free of charge. Backcountry camping is available at White Sands in the dune field. Camping requires a one-mile hike to a campsite. This is the only type of camping permitted at White Sands. Campers must have a permit. Camping fees are $3.00 per person ages 16 and up and $1.50 per person ages 15 and under.
Pets are allowed at White Sands National Monument, given they are leashed and not disruptive.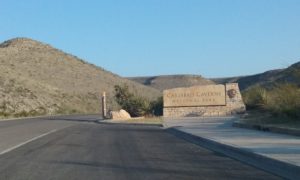 Carlsbad Caverns National Park
If you're a spelunker at heart, you might just find your new favorite getaway at Carlsbad Caverns National Park. The park is located in the Guadalupe Mountains in southeastern New Mexico. The network of caves has been there for thousands of years, but the first person to be credited for discovering and exploring the caves was a 16-year-old boy named Jim White, who first stumbled upon the caves in 1898 while herding cattle nearby.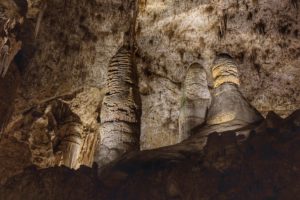 The park includes a huge chamber, aptly named the "Big Room," which is a natural limestone cave that measures 4,000 feet long by 625 feet wide by 250 feet high at its highest point. It's the 3rd largest chamber on the continent and the 7th largest in the world.
Visitors to the park can either hike into the caves on their own or they can access the cave's natural entrance located near the Visitors Center. Those visitors who want direct access to the bottommost parts of the caverns can use the elevator in the Visitors Center.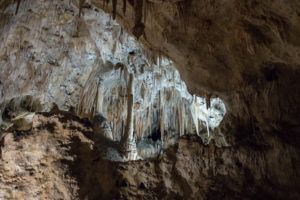 You'll find the park approximately 18 miles southwest of the city of Carlsbad, New Mexico. About 2/3 of Carlsbad Caverns National Park is a designated protected wilderness area that ensures the preservation and protection of the caverns. It also protects the land in the area and the animals that call that land home. To begin planning your experience, visit the park's official site at www.nps.gov/cave.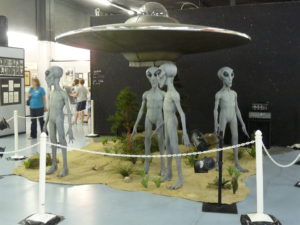 Roswell, New Mexico
Are you up for a little mystery and intrigue? What if that mystery and intrigue involves little green men? If aliens are your bag, or if you're into the history of UFOs and spooky stories about aliens don't bother you, you might "find" what you're looking for in a little town called Roswell, New Mexico.
At first glance, Roswell looks like any other normal American town, but once you begin to talk to some of the townspeople and take a look inside the windows at some of the downtown buildings, it becomes eerily obvious that there's more to Roswell than meets the eye. And there's a reason for that.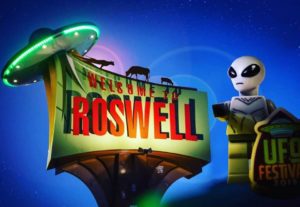 Back in 1947, there was a crash at a ranch just outside of Roswell. What exactly crashed out there varies depending on who you ask. The United States Army Air Forces says it was one of their conventional weather balloons that crashed. But many in the area believe that was a cover-up. Many in the Roswell area believe that it was actually an alien spacecraft that crashed. In the late 1970s, more and more conspiracy theories surfaced, continuing to claim that at least one spacecraft crash-landed on that New Mexico ranch. Other theories went so far as to propose that aliens inside the crashed spaceships were taken by the military; hence, the cover-up, so they say.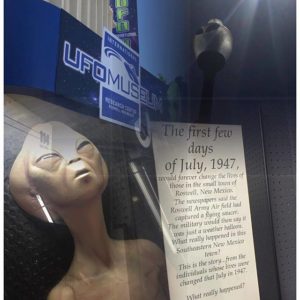 Some 20+ years later, the United States military released two separate reports stating that the crashed object was a nuclear test surveillance balloon, not a weather balloon. But the reports made no difference to those who truly believed that UFO and extraterrestrial activity was afoot that summer night. To this day, the name "Roswell" is synonymous with the aliens, UFOs and unexplained phenomena.
And whether they believe it or not, many proprietors have cashed in on the urban legend. There are several shops that sale alien-themed merchandise. There are even a few "museums" in Roswell dedicated to the little green (or tall grey) alien men and the 1947 incident that will forever remain a mystery to some and an absolute to others.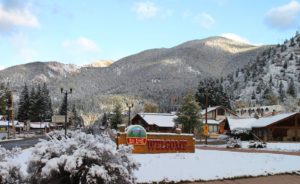 Red River, New Mexico
If you'd rather forgo the aliens and instead marvel at the beauty of the Land of Enchantment, one of your best bets is to visit the resort town of Red River, New Mexico. Red River is located in the Sangre de Cristo Mountains in Taos County, New Mexico, approximately 35 miles from the city of Taos.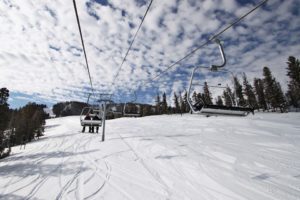 It's the perfect spot for a vacation, whether for the weekend or the entire week. Houses are available for rent from sites like VRBO, or you can choose to rent a cabin right along the Red River. The choice is yours. Red River is the prime spot for camping, hiking, biking, fishing and exploring. You can even rent Jeeps and ATVs with which you can explore the rugged terrain.
In the wintertime, Red River becomes one of New Mexico's most welcoming ski resort towns. Enjoy cross-country skiing, tubing, snowshoeing, snowmobiling, snowboarding and more. Just pick your season. It's always a great time to visit Red River, New Mexico. For information about all there is to see and do, visit www.redriver.org.
Santa Fe, New Mexico
If you're more into culture, history, art, and architecture than you are aliens and snowmobiling, Santa Fe might be more your style. In Santa Fe, New Mexico, visitors enjoy museums like the Georgia O'Keeffe Art Museum, the New Mexico Museum of Art, the Museum of Indian Arts and Culture and more. Or visit the Loretto Chapel, a former Roman Catholic Church that today is a museum and a wedding chapel. It's best known for its helix-shaped spiral staircase. The Sisters of Loretto claim the chapel was built miraculously by St. Joseph. It's a beautiful chapel, and the staircase is absolutely breathtaking!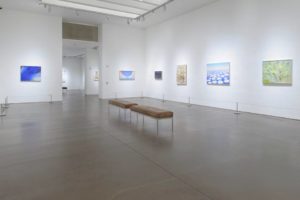 The Canyon Road Art District is another favorite spot among visitors to Santa Fe. Within the art district are more than 100 art galleries and studios. Art on exhibit at Canyon Road includes Native American art, historical Latino art, international folk art and even contemporary art.
There is no shortage of things to see, do and enjoy in Santa Fe. In fact, there are so many opportunities that you'll want to begin planning your visit long before you leave for New Mexico. To get started, visit www.santafe.org.