Maryland
You Want Ice Cream? Maryland's Tastiest and Trendiest
7 Ice Cream shops in in MD that are worth the drive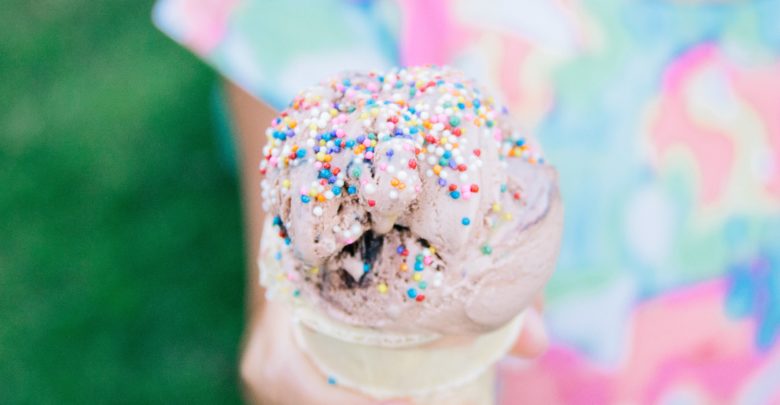 No snack spreads joy quite so quickly and easily as ice cream. Whether you have it plain or with toppings, or hard scoop versus soft served, it's nearly impossible to eat this delicious treat without a smile on your face. For this reason, we highly recommend working ice cream into each and every traveling adventure you take.
Fortunately, almost every state has a nice selection of ice cream shops to choose from, and Maryland is no exception. If you'll be visiting the Old Line State sometime soon, these are the ice cream spots we recommend checking out during your visit.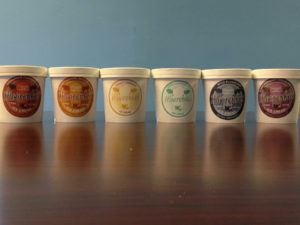 Moorenko's Ice Cream Cafe
Silver Spring
In addition to ice cream shops, we really love to support quaint local coffee shops while traveling. In Silver Spring, MD you can do both at the same time by visiting the wonderful Moorenko's Ice Cream Cafe.
This adorable little shop is painted a cheery blue that is bound to put absolutely anyone in a good mood. Live musicians play often, and a shelf full of books gives visitors a quieter way to entertain themselves.
We love that the ice cream at this shop is locally sourced and made in small batches, and we adore that we can get a good coffee beverage here as well, making it a great place to go no matter what time of day it happens to be.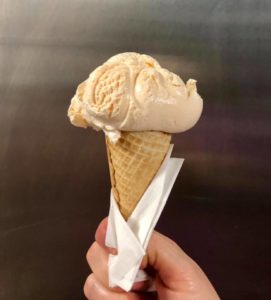 Hoofman's Ice Cream and Deli
Westminster
Hoofman's is a local favorite for a reason. The homemade ice cream is absolutely phenomenal. Favorite flavors include "Chocolate Chocolate Chunk", "Mint Chocolate Chip", "Peanut Butter Ripple", and "Cake Batter". That said, any flavor you order is sure to be scrumptious.
Feel like you should eat some real food before indulging in ice cream? Hoofman's has you covered with their cute little deli, which serves up some delicious salads, soups, and sandwiches. We highly recommend the chicken salad on a pretzel bun.
We're betting you're going to love this place just as much as the rest of the folks who try it. For this reason, we highly recommend planning to purchase one of their take-home pints while you're there.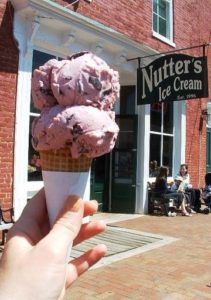 Nutter's Ice Cream
Sharpsburg 
An old-school ice cream shop serving a variety of frozen treats in an adorable historic building, Nutter's Ice Cream is the perfect place to go on a warm afternoon and get lost in nostalgia. The cute green door is incredibly inviting, and we love the old clock that stands just outside the shop.
As far as the ice cream itself goes, you can expect large portion sizes, low prices, and some wonderful flavor options. We love the sundaes here, but even just a simple ice cream cone will leave you feeling satisfied.
Best of all, the happy faces behind the counter make the whole experience feel a little more special.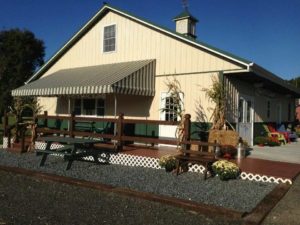 Keyes Creamery
Aberdeen
Keyes Creamery is more than just an ice cream shop, it's a full-fledged creamery. This means they have their own dairy cows and fresh milk with which to make their delicious frozen treats, as well as a variety of delicious cheeses.
Flavors at the Keyes ice cream counter include classics such as chocolate and vanilla, as well as more creative flavors such as "Goose Feathers" (cake batter with a fudge ripple). They even offer some seasonal flavors such as banana and "Lemon Blueberry" in summer, and pumpkin and "Cinnamon Apple Pie" in the cooler months. Every flavor is fresh, hand-scooped, and spectacular.
When you visit this wonderful place, we recommend sitting outside. Why? So you can see the planes and parasailers from the airport next door!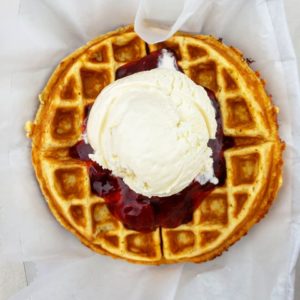 Pringle Family Creamery
Glen Arm 
Another creamery offering fresh ice cream made using their very own milk, Pringle Family Creamery is definitely worth a visit. The small dairy farm has been through five generations of the Pringle family, meaning their ice cream recipe has been tested and perfected over the course of many years.
Treats served here include hand-scooped ice cream, sundaes, and super special shakes with all kinds of fun topping options. They also offer fresh meat and eggs, cheese, and some amazing ice cream cakes and ice cream pies for your next gathering.
Want to add a bit more fun to your day? Not only can you get some awesome dessert here, you can also see the cows, making it an extra special outing.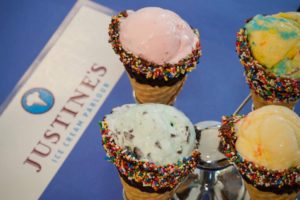 Justine's Ice Cream Parlour
Ocean City
Looking for a super fun place to get your ice cream fix? Look no further than Justine's Ice Cream Parlour. This Ocean City shop is clean, bright, and—as you'll be able to see from the fun arcade games—all about having a good time.
They have an entire wall full of shake flavor options. Most are super creative with fun toppings, and all are 100% delicious. Additionally, there are 40 flavors of ice cream, meaning you can choose something unique even if you only plan to get a cone.
Chocolate-dipped cones, a huge variety of toppings, and some seriously yummy fudge all help round out this shop's awesome variety of sweets.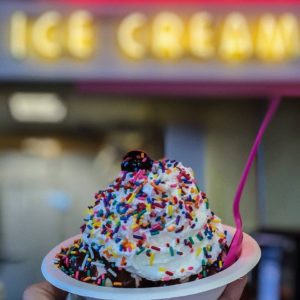 The Charmery
Baltimore
Ice cream shops are meant to be charming, right? Fortunately, The Charmery lives up to its name, and is nothing if not adorably charming. This shop may be small, but it's absolutely packed with character and we love it.
The ice cream served at this local shop is all homemade, and the flavors offered are incredibly creative and sometimes even bizarre. For instance, there was once a time when a person could order a balsamic vinegar flavor of ice cream here, and believe it or not, some people enjoyed it!
Does the idea of that particular flavor disgust you? Don't worry, not all of their flavors are so strange, and most are downright delicious. Just be aware that this shop does rotate some of its flavors, so if you do find a new favorite, you may not necessarily be able to get it next time you visit.
Clearly, there are a lot of awesome ice cream spots to check out in the state of Maryland, and honestly, this list is only the tip of the iceberg. Why not give one or two of these a try and then venture out on your own to see what other gems you might find?