Virginia
7 Reasons Virginia Beach Is Amazing
There's so much to love about this mid-Atlantic region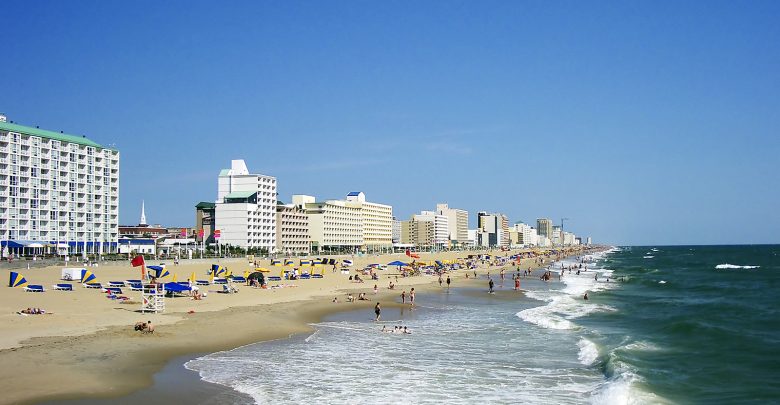 Virginia Beach is consistently ranked high among US beaches. In fact, some publications even go so far as to name this popular spot the "number 1 beach in America"!
If you have ever visited this amazing seaside location, you probably know very well that this designation is well deserved. However, those who haven't seen it before may be wondering what makes this beach stand out from the rest.
Honestly, it's hard to put the beauty of this amazing place into words. That said, we've tried to pick apart the reasons for this beach's consistently high rankings. The results of this effort are below. Hopefully, they'll give you a brief glimpse into the incredible Virginia Beach so you can better understand why people love it.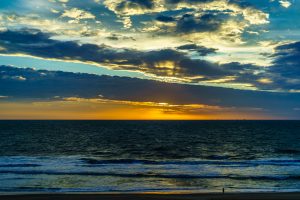 #1: Gorgeous Beach
Obviously, the biggest reason to see Virginia Beach is for the beach itself, and it certainly doesn't disappoint. This seaside haven is beyond beautiful and features soft sand and clear waters. It's the perfect place to build sandcastles, splash in the waves, or sit back and enjoy a cat nap.
There are plenty of other beachgoers to hang out with on main parts of the beach. However, those who prefer solitude can head to the north end of the beach. This is where the locals go, and it's much less crowded than the other areas, with a more laid-back vibe.
#2: Water Quality
One of the coolest things about Virginia Beach is the incredible quality of the water there. The water is tested weekly to determine whether or not it is safe for swimming, and it always passes with flying colors.
In fact, the Natural Resource Defense Council has dubbed the beach a "superstar" beach because of its water quality. This means you can swim with peace of mind knowing the chance of catching an illness due to poor water quality is highly unlikely.
#3: Awesome Aquarium
One of the very best attractions in Virginia Beach is its excellent aquarium. The Virginia Aquarium and Marine Science Center is chock-full of amazing, educational exhibits and fun ways to learn about the ocean's amazing creatures.
The attraction features daily talks and events, a giant screen theater, and a wide variety of sea life. It's the perfect place to take the family for a break from the beach, and an awesome way to learn something new.
#4: Superb Boardwalk
Virginia Beach Boardwalk is one of the best out there. It covers a good three miles and offers a wide variety of things to see and do. Not only that, the Boardwalk isn't made in the traditional way with planks of wood. Instead, it is completely paved, making it a more versatile pathway that can be easily used by bicyclists, people in wheelchairs, and those who have trouble walking.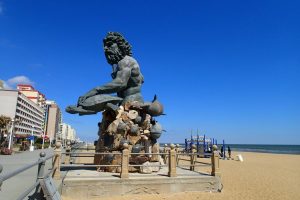 Wondering what you might find to see and do along this famous walkway? Awesome events such as concerts and art shows take place there on a regular basis, and a bronze statue of King Neptune offers awesome photo opportunities. Meanwhile, adorable outdoor eateries line the boardwalks, and vendors add to the bustle by renting and selling their wares.
All in all, this is a super fun place to be.
#5: Plenty to See
Many beach towns are small and quaint. While this is adorable, it does tend to pose a problem for vacationers who are looking for something fun to do, as there isn't usually much to do in smaller towns. Luckily, this isn't the case in Virginia Beach. Actually, it's quite the opposite.
Virginia Beach is a thriving city—the largest one in Virginia, in fact—with a population of over 450,000. As you might guess, there is plenty to see and do in this big metropolitan area, and visitors and locals alike can be constantly entertained if that's what they desire.
Clearly, this is a major bonus for vacationers who like to see as much as possible during their trips.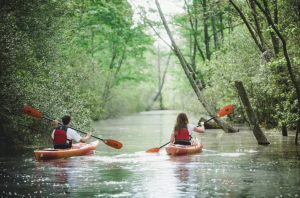 #6: Outdoor Recreation
One might assume that since Virginia Beach is a bigger city, they'd have very little outdoor fun available for guests or residents. Fortunately, this just isn't the case. In fact, there are plenty of outdoor activities for people of all ages.
There are obviously all of the usual beach activities, and because Virginia Beach is so clean and lovely, very few people can pass up this chance to spend time outdoors. However, there are also a couple of parks available for public use.
Mount Trashmore Park is a popular option. Named for the fact that the park was built on the site of an old landfill, the area is now quite clean and a wonderful place to spend an afternoon with a picnic. This park features a skatepark, an incredible playground, and plenty of walking paths.
If you're looking for a park with a more natural setting, you'll want to head over to Bay National Wildlife Refuge. This beautiful, natural park offers opportunities for hiking, fishing, kayaking, canoeing, and nature photography. Local wildlife can often be spotted, and the serene environment makes this a perfect getaway.
#7: Great Place to Live
Besides being an ideal vacation destination, Virginia Beach is also a great place to live. It was listed in U.S. News & World Report's Best Places to Live, and we completely agree with this selection.
The water views can't be beaten, and the award-winning restaurants are yet another wonderful reason to call this city home. Moreover, the crime rates are low, the schools are top-notch, and the weather is hard to beat. Besides, who doesn't like the perk of heading to the beach whenever they see fit?
Of course, these are just a few of the many reasons Virginia Beach is consistently rated one of the best beaches out there. Want to learn more about this amazing city and beach? Why not come visit for yourself so you can see just how awesome this place is? You won't be disappointed!