California
A Great American Retro Diner that's Been in More Movies than Tom Cruise
Visit Rae's Restaurant in Santa Monica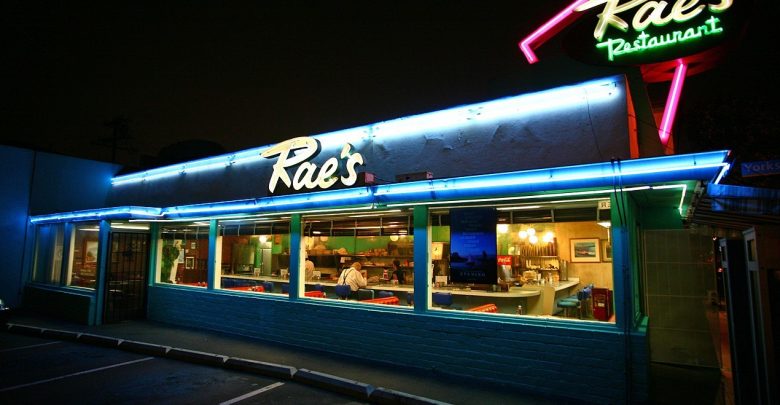 There are many diners across the country that want to replicate the feel of a diner from the 1950's. If you are in Santa Monica, CA, you do not need to settle for a replica. Rae's Restaurant is an authentic American diner, it has been open since 1958! You'll find this fantastic eating experience at 2901 Pico Boulevard, Santa Monica, California. If you need to call, the number is 310-828-7937. Here are some of the things that you will love about this classic.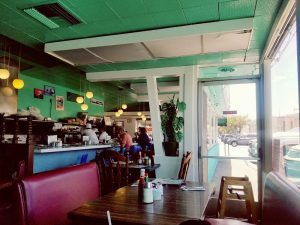 Atmosphere
When you picture a retro American diner, chances are that Rae's Restaurant is close to the scene that appears in your mind. You'll find a counter with stools, and there are booths as well. The kitchen and cooking area is on the other side of the counter, and it is filled with stainless steel. The color theme features sea green walls, red booths, and there are bricks along one area. There are also large windows that let the light in. You will feel as if you've stepped back in time — even more so when you taste the food.
Hollywood History
Not only does Rae's Restaurant date back decades, it's also been a popular place to film both movies and television shows. Bowfinger, The Lords of Dogtown, The Next Best Thing, Not Another Teen Movie, and Starsky and Hutch, are just a few of the names that have used the inside or the outside of Rae's Restaurant for filming. There have been commercials filmed at Rae's as well. The fact that it has been a popular location for TV and movies will add to the feeling that you've been there before.
Talk to Your Waitress
We live in a day and age when people order their food from an app, and where communication and customer service do not seem to be all that important. That is not the case at Rae's Restaurant. You are encouraged to talk to your waitress. She'll be more than happy to answer all of your questions, and also inform you of the daily specials. You'll feel once again as if you are important, because at Rae's Restaurant, you are.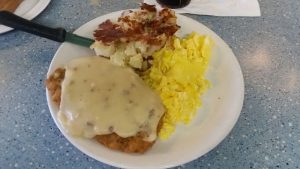 Breakfast All Day
Sometimes you have to hurry to a restaurant if you are in the mood for breakfast. Many places switch over to lunch as early as 10:00 each morning. That is not the case at Rae's Restaurant. They open at 5:30 so you can have an early breakfast if you want, but they do not have a time when they stop serving from the breakfast menu. It is available all day long, with the exception of biscuits and gravy.
Breakfast Menu
You'll find many classic breakfast items on that menu. Three egg omelets are available in a variety of options. Other eggs are also available. You can pick one, two, or three eggs, have them prepared how you want, and add a side if you'd like. The breakfast menu also features hot cakes, French toast, and several varieties of waffles. For something that will keep you full for hours, try a "Farm Style Breakfast". The choices include top sirloin, broiled ham steak, and center cut pork chops. Donuts, bagels, and cinnamon rolls are also on the menu. The sides include breakfast meats, potatoes, and even chicken breast. Coffee, tea, hot chocolate, and other beverages are served to help wash down your meal and get your day started on the right foot.
Lunch and Dinner Menu
Even though breakfast is served all day long, that doesn't mean you can order only from the breakfast menu. You'll find many traditional diner foods available the rest of the day. Rae's Restaurant is especially proud of the Rae Burger. It's a half-pound burger served on a grilled Kaiser roll and it comes with a salad and fries. Rae's calls it "a meal in itself". Other burgers, including a chicken breast burger, are also sold. There are plenty of sandwiches. Traditional sandwiches such as fried egg or tuna salad can be found. There are also some creative choices, such as Black Forest Sandwich. That's roast beef and swiss cheese on grilled pumpernickel bread. True to California, you can order an avocado, lettuce, and tomato sandwich; include bacon if you'd like. If you're in the mood for something a bit lighter, there are also several sandwiches served. If you're watching your calories, you might want a diet plate. Both hot and cold beverages are available.
Special Dinners
While burgers are a staple of many diners, dinner plates are as well. Served only from 5:00 until 9:00, Rae's calls them "Special Dinners". You'll find veal, liver, chicken, seafood, and other entrees. Each dinner comes with your choice of soup, salad, or tomato juice. If you're there on a Sunday, ask your waitress what the "Sunday Dinner Special" is.
Ice Cream Fountain
If you expect delicious ice cream creations at a classic diner, then Rae's Restaurant will be able to appease your sweet tooth. Order a sundae with your favorite toppings and nuts. Malts and shakes are served, or you might want an old-fashioned banana split. If you're full, order just a scoop of ice cream. Rae's Restaurant also serves pie, cake, and tapioca pudding for dessert.
Special Diets
If you are vegetarian, vegan, have allergies, or follow a special diet, talk to your waitress. The staff will be more than happy to find something delicious that will fit your needs.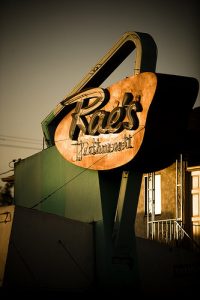 Before You Go
There are a couple of things that you will want to know before you go. Rae's Restaurant is open daily from 5:30 until 9:00. There is a children's menu that is available for those nine and under. Reservations are accepted, and no alcohol is served. Booths are reserved for parties of two or more. One more thing that you need to know, make sure you have cash. Rae's Restaurant does not accept credit cards, debit cards, or checks. The meals are affordable, so you will not have to have all that much on you. There is a good chance that you will be able to dine for less than $15 per person, including dessert and your beverage.