Tennessee
The Best Music on a Saturday Night in Downtown Nashville
Rockin', Blues'ing and Honky Tonkin' your way through 5 idyllic hotspots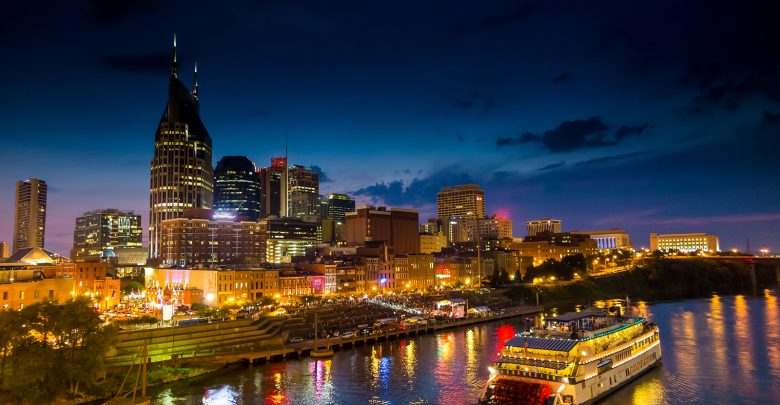 The city of Nashville, Tennessee is home to nearly 700,000 residents. It's nicknamed "Music City" and "the Athens of the South" by locals, as it's home to the Country Music Hall of Fame, Opryland and the Parthenon, among other things. But Nashville is also home to an active nightlife with various venues at which to dance, have a drink, eat dinner, gather with friends and enjoy great music. Here are five of Nashville's idyllic nightly hotspots.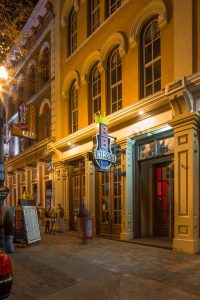 1. BB King's Blues Club
This combination restaurant, bar and live music club named for the infamous B. B. King himself can be found on 2nd Avenue in "the District" area of downtown Nashville, just blocks from the Bridgestone Arena, the Nashville Convention Center, Nissan Stadium and the Nashville Music City Center. B. B. King's Blues Club is known for its live music on stage every night, as well as for its lively dance floor. And the food is pretty famous too—especially the ribs! The Club also serves shrimp and grits, barbecue chicken, burgers, po boys and other Southern favorites. Reservations are accepted, as are bookings for large events. Visit www.bbkingclubs.com for more information or to make a reservation.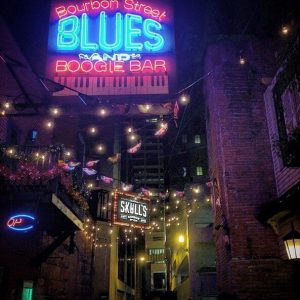 2. Bourbon Street Blues and Boogie Bar
The Bourbon Street Blues and Boogie Bar opened its doors in 1995 and since then, more than 100 different blues musicians have performed on stage—including the legendary James Brown and B. B. King. The bar serves up authentic Cajun food, signature cocktails and more. The two most famous cocktails are the Big Easy Hurricane and the NOLA Sweet Tea. Both have put the bar on the map, and many say you can't visit without trying one of them. The famous appetizer on the menu—Voodoo Wings—is very popular with guests too. Don't forget your dancing shoes as the dance floor is open so you can dance the night away. Open blues jams take place every Monday night. Visit www.bourbonstreetbluesandboogieclub.com for more information about this club.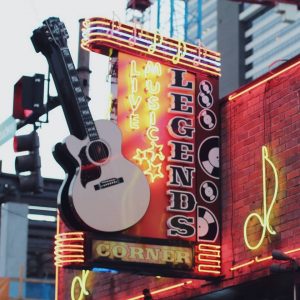 3. Legends Corner
Legends Corner in downtown Nashville keeps the doors open until 3:00 a.m. every night (or morning) of the week! If you're looking for a place on legendary Broadway Street in Nashville—where lots of the action is—that's just a little different from all the other places, head to Legends Corner. Each night the stage welcomes some of Nashville's finest contemporary acts. After 6:00 p.m., Legends is a 21 and up venue. Visit www.legendscorner.com to find out more and to plan your evening in the Corner!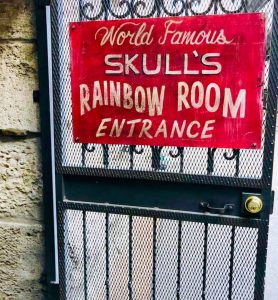 4. Skull's Rainbow Room
Skull's Rainbow Room has a long history—and some of that history is not so savory. Back in 1948, David "Skull" Schulman opened the Rainbow Room as an upscale speakeasy in Nashville. For five decades the Rainbow Room was the place to be in Nashville. There was nightly entertainment including music, singing, burlesque shows and more. Many famous faces graced the Rainbow Room's checkerboard stage—Bob Dylan, Johnny Cash, Patsy Cline, Elvis Presley, Etta James, Paul McCartney, Jerry Lee Lewis, and Andy Griffith are just a few! Sadly the Rainbow Room's owner—David Schulman—lost his life during a robbery of his famed club in the late 1990s.
For nearly 17 years, the club was closed. Then, after an extensive 3-year-long renovation of the building, the new Skull's Rainbow Room opened its doors. It's named "Skull's" Rainbow Room to honor Schulman and the older dining establishments of Nashville's historic Printer's Alley. Skull's Rainbow Room is open until 2:00 a.m. every night, and burlesque performances and live music are part of the nightly entertainment. The menu is amazing too! Choose from entrees like prime rib, rack of lamb, filet mignon, scallops, duck breast and more. Handcrafted cocktails pair well with everything on the menu. Check out www.skullsrainbowroom.com to learn more about this classy speakeasy.
5. The Catbird Seat
If you're looking for a different kind of dining experience in downtown Nashville, you've got to stop in at the CatBird Seat Restaurant. But don't try stopping in without a reservation. The CatBird is not only very popular; it also only seats 22 people. That's because it's an interactive chef-operated venue that brings guests into the kitchen and the chefs in front of the guests. Twenty-two seats surround the U-shaped kitchen at the CatBird. While the chefs create a multi-course meal, guests can watch, ask questions, chat with chefs and learn all about the flavors highlighted at the CatBird, which include tastes from Spain, Denmark, Southeast Asia and other locations around the globe. Because of the limited space at the CatBird, groups are limited to only 4 people each. Visit www.thecatbirdrestaurant.com to inquire about reservations.