Washington
These Amazing Japanese Gardens Will Stir Your Heart and Mind
Take a stroll through the most perfect arboretums and parks you'll ever see.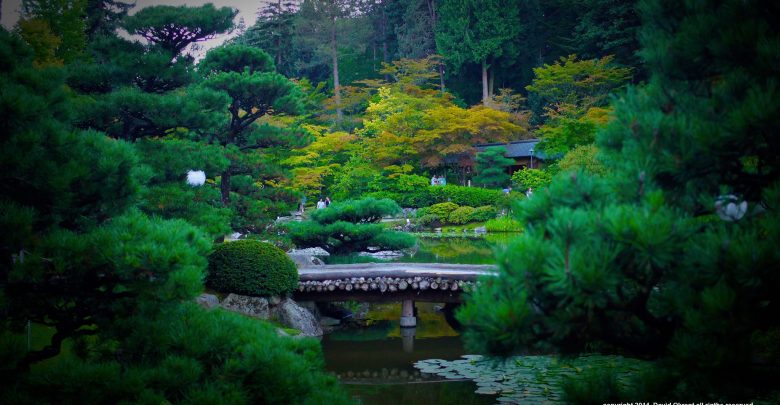 For centuries, Japanese gardens have inspired garden designers, and today they continue to provide a welcome escape from hectic daily life in contemporary urban centers here in the West.  There's something soothing about retreating into a serene natural wonderland where colorful blossoms complement ancient gnarled trees, and the calming sound of a waterfall can be heard as you wander along a stone lantern-strewn path, leaving your busy life behind for a few glorious moments.  Want to partake in this garden bliss?  If you live in Washington, you have several Japanese gardens that you can get lost in.  Here are some of the most perfect Japanese gardens in the state – why not explore one today?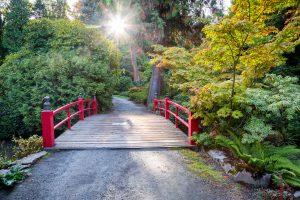 Seattle Japanese Garden
Not only one of the best Japanese gardens in the state but also the continent, the Seattle Japanese Garden is world-renowned and is visited by more than 100,000 people every year.  Located in the Washington Park Arboretum, the garden is comprised of 3.5 acres and is faithful to a late 16th-early 17th century style known as a "stroll garden", in which visitors can stroll along a twisting path surrounding a pond, where different Japanese landscapes come into view and then are hidden again from sight around the next bend.  Benches placed along the path beckon you to stay awhile.  You'll encounter lots of features to conjure up images of Japan and to soothe your soul: bridges and buildings, lanterns, waterfalls, stones, plants, and animals.  The Seattle Japanese Garden is meticulously maintained and was created with plants from Japan and those used by indigenous people of the Pacific Northwest.  Join a tea ceremony in the garden to elevate your experience.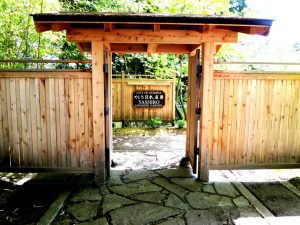 Yashiro Japanese Garden
The Yashiro Japanese Garden in Olympia is a lovely place to watch the seasons slowly change throughout the year.  In fact, this is the only indication you'll have that time is passing within the garden, as it follows a traditional Japanese design that's more than a millennium old.  You'll hardly know you're still in an urban area as you listen to the birdsong and falling water, and admire the beautiful flowers and colorful fall leaves punctuated by stone lanterns.  Maintained by Olympia Parks, Arts & Recreation, the garden was created through a partnership between the city, the Olympia-Yashiro Sister City Association, and the City of Yashiro, Japan.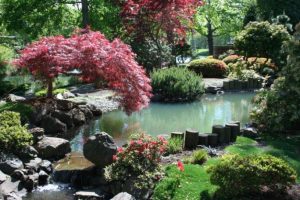 Lake Sacajewea Park Japanese Garden
Part of the sprawling landscape of Lake Sacajawea Park, this garden enjoys an island location.  When Lake Sacajawea Park was initially being developed, there were plans to build a bridge to the island, but the bridge was removed and the island became overgrown over the years.  Eventually, it was cleared and reimagined as the current Japanese garden, designed by a former Parks Superintendent who had seen such gardens in Japan while in the Navy.  Japanese gardeners were consulted for the project, and many of the original plants were donated by members of the community or taken from other park locations to be reused here.  Now you can once again enjoy a bridge to the island, as well as various architectural elements from Japan, and of course a serene Japanese garden setting.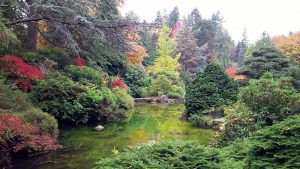 Kubota Garden
By far the largest Japanese garden on our list, the Kubota Garden in South Seattle comprises an impressive 20 acres of beauty.  A hidden gem that's located on a historic landmark, the park was once part of the estate of Fujitaro Kubota, a master landscaper.  The property's history is nothing short of fascinating.  In 1927, Japanese immigrant Fujitaro Kubota purchased swampland to begin his display garden here, in which he blended North American materials and Japanese garden design.  Kubota was completely self-taught as a gardener, but his work didn't go unnoticed.  Eventually, the site was targeted by condominium developers, and was saved by community groups who lobbied successfully to have the property protected; the site was declared a Historical Landmark in 1981.  Owned by the city since 1987, today Kubota Garden is the ultimate urban refuge and includes a breathtaking array of waterfalls and streams, rock outcroppings, ponds and a mature and diverse array of plants.
Bellevue Botanical Garden
You'll find a traditional Japanese gate marking the entrance of the Yao Garden within the larger Bellevue Botanical Garden in Bellevue.  It was created to celebrate the relationship between sister cities Bellevue and Yao Japan, and it's the perfect place to spend a contemplative afternoon.  Wander along the paths at your leisure to enjoy this Japanese stroll garden and its maples, hydrangeas, rhododendrons, azaleas, and viburnums.  There's a definite Pacific rim influence here, but also traditional Japanese elements such as lanterns.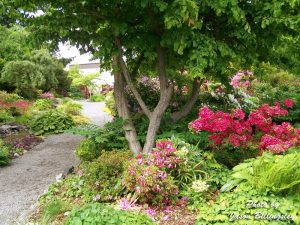 Seike Japanese Garden
A variety of gardens comprise the 10.5 acres of the Highline SeaTac Botanical Garden in SeaTac.  One of these is the Seike Japanese Garden, which formerly occupied space at the Des Moines Way Nursery.  In 2006, the garden, which was created as a war memorial in 1961 to honor a Japanese immigrant's fallen son, was in danger because of the expanding Sea-Tac Airport.  It was luckily saved by no less than four governments as well as the Highline Botanical Garden Foundation.  Thought to be the biggest relocation of a Japanese garden in the history of the country, it cost a whopping $350,000 to move the garden to its current home.  Today, you can wander along the garden's bridges and marvel at its imposing stones and hand-candled pines.  Created in a traditional Japanese pond-and-mountain style, the garden includes some plants from the original owner's collection (keep your eyes peeled for a laceleaf Japanese maple that's over a century old).