Tennessee
You'll Never be the Same After Spending Time With These Sights
5 most breathtaking views in Tennessee
The state of Tennessee is home to nearly 7 million people. It's also home to the Grand Ole Opry, Nashville and all things country music. But if you're more interested in the outdoors than in dueling banjos, Tennessee is a proverbial treasure trove of places that not only offer outdoor family activities, but some of the most beautiful and breathtaking views in the country. Here are five of those places.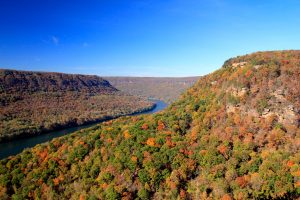 The Town of Signal Mountain
The Town of Signal Mountain is but a blip on the map at only 7.75 square miles, but the views it affords visitors make quite the impression on any who witness this truly beautiful part of Tennessee. Signal Mountain sits atop the south end of Walden Ridge in Southwestern Hamilton County, just north of Chattanooga. The southern edge of town overlooks the Tennessee River, some 1,000 feet below. The views from here are simply breathtaking as visitors look out on the river and the horizon beyond. Rainbow Lake Trail in the Town of Signal Mountain is a beautiful trail that's only about ¾ of a mile long. It circles Rainbow Lake, offering visitors scenic views in every direction. The impressive Cumberland Trail traverses 11 counties and two time zones in Tennessee. It runs along a line of ridges and gorges along the Cumberland Plateau and gives hikers access to preserved areas of abundant natural beauty that are otherwise entirely inaccessible. Hikers on this trail can see waterfalls, swimming holes and more. Breathtaking indeed!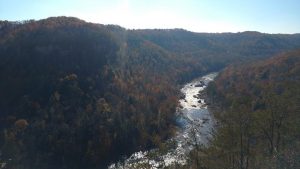 Big South Fork National River and Recreation Area
This national park preserves the Big South Fork of the Cumberland River and its many tributaries in northeast Tennessee and neighboring southeast Kentucky. The park encompasses some 125,000 acres of the Cumberland Plateau and is home to miles of gorges and sandstone bluffs. Over 600,000 people visit Big South Fork every year and enjoy activities like fishing, hiking, horseback riding, mountain biking, picnicking, swimming and rock climbing. Camping is also available at five different campgrounds—a few that are developed, two that are primitive and two equestrian campgrounds. The Ranger-led Night Sky Program is popular too. The free program includes constellation tours that take guests visually through the night sky. There's also telescope viewing of stars, clusters, planets, galaxies and the International Space Station! Now that's a breathtaking view!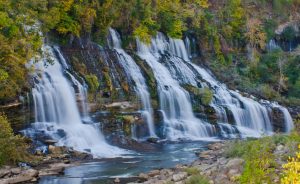 Rock Island State Park
Rock Island State Park, located in Warren and White Counties, was established in 1969 and encompasses 883 acres of beauty located on the headwaters of Center Hill Lake. Within the boundaries of Rock Island State Park, visitors can enjoy scenic vistas at Caney Fork Gorge—a breathtaking limestone gorge—and Great Falls Dam. Visitors enjoy views from overlooks in both areas. Great Falls is a 30-foot long horseshoe cascading waterfall. It's located just below the old cotton textile mill that it once powered—more than 100 years ago.
Visitors to Rock Island State Park can enjoy boating, whitewater kayaking, canoeing, swimming, and camping. There are both tent and RV sites. In addition to these activities, there are also nine hiking trails on which visitors can find beauty all around them. Birdwatching is also popular at the park. Various species of birds are found at Rock Island, including Osprey, Belted Kingfishers, Black-Crowned Night Herons, and Great Blue Herons.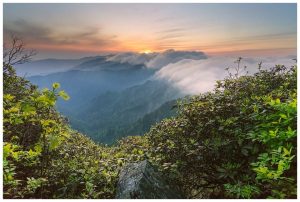 Great Smoky Mountains National Park
Great Smoky Mountains National Park was established in 1934 and is America's most visited national park, welcoming more than 11 million visitors annually. The Smokies are a mountain range along the Tennessee/North Carolina border—a subrange of the Appalachian Mountains. The name "smoky" comes from the natural fog that hangs over the mountains. The fog looks like huge smoke plumes from a distance and is caused by the organic compounds given off by the vegetation on the mountains and in the valleys. The chemicals in those compounds have a high vapor pressure and easily form vapors—hence the "smoky" fog.
This national park is often called "Wildflower National Park" because of its different flowering plants. There are over 1500 kinds in the Great Smoky Mountains National Park—more than any other national park in North America. Every spring, there is a Spring Wildflower Festival. But the flora isn't all that is spectacular in the park. The fauna is just as amazing—white-tailed deer and other animals offer visitors opportunities for wildlife viewing. Biking, hiking, and camping are also very popular at Great Smoky Mountains National Park. Who knew foggy mountains could be so breathtaking?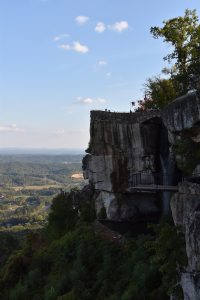 Lover's Leap at Lookout Mountain
Both Tennessee and Georgia claim Lookout Mountain, as the mountain straddles the border between the two. Lookout Mountain is located near the town of Rock City and might just offer the most breathtaking views of anything on this list. That's because, in addition to natural rock formations, waterfalls, and beautiful foliage, there is a spot on the mountain from which—on a clear day and with a little luck—visitors can see seven different states. Yes, seven! From the Lover's Leap vantage point on Lookout Mountain, visitors can see Tennessee, Georgia, the Carolinas and Alabama. The luckiest visitors can also see 120 miles away into Kentucky and Virginia. To get to Lover's Leap, visitors must first traverse a 200-foot long swing-along bridge, but for such a breathtaking view, most visitors dig deep and find their bravery. It is rewarded with one of the grandest vistas in these United States.