Colorado
You Have to See These Incredible Views in Colorado
5 Natural Wonders to See in Colorado in 2019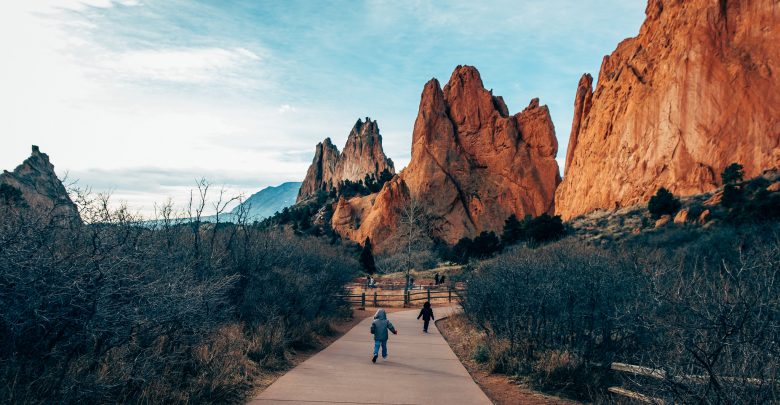 The state of Colorado encompasses most of the Southern Rocky Mountains. It's the eighth largest state in the country and home to more than 5.5 million people. It's also home to more beauty and more natural wonders than anyone could visit and experience in one year, but since 2019 is quickly approaching, we present five of Colorado's natural wonders that you've got to see in the new year. Think of it as a jumpstart to your Colorado bucket list.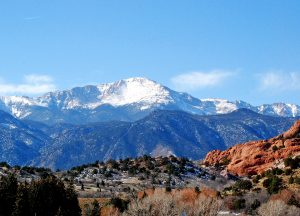 Pikes Peak
Pikes Peak is located about 12 miles west of Colorado Springs, Colorado, and is one of the state's 53 Fourteeners—mountains that stand at least 14,000 feet in elevation. Pikes Peak stands 14,115 feet above sea level, making it the highest summit of the Southern Front Range of the Rockies. What's the best thing about Pikes Peak? Hands down, we think the best thing is reaching the summit, and at Pikes Peak, there are a plethora of ways by which to do so. Driving to the summit takes around 3 to 4 hours with stops for photos and it's the best way to see the greatest views of the mountain. But if you're not seasoned in driving mountain roads, there are several other ways to the summit. Guided jeep tours, shuttle tours, and even limo tours are available for a fee per person.
There are also outfitters that take willing and able visitors down from the summit via bike tours. Outfitters take visitors to the summit via vans, and then provide the bikes and safety gear for the journey. Hiking to the summit is also an option. The hike is 13.5 miles with an elevation gain of 7,400 feet. Visit www.pikes-peak.com to learn more about this beautiful mountain and for links to outfitters in the area who take visitors to the summit.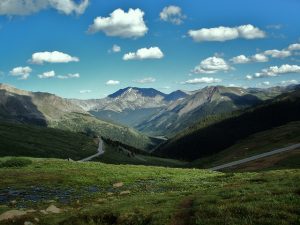 Continental Divide National Scenic Trail
The Continental Divide in the United States traverses the country from Alaska almost to Cape Horn. The Divide in the United States separates drainage of natural bodies of water to the Atlantic Ocean from drainage to the Pacific Ocean. The entire Continental Divide Scenic Trail stretches an impressive 3,100 miles. But before you wonder why we would suggest such a natural wonder, know that we are not suggesting you grab your backpack and begin a 3,100-mile journey. The better, more doable option in Colorado is a 30-mile section of the trail that runs through Rocky Mountain National Park. This section of the trail doesn't travel the actual Continental Divide entirely. But the views and scenery along this route are second to none. The very best views are seen from a vantage point above the treeline, from about 8,000 to 11,500 feet in elevation.
Within the boundaries of Rocky Mountain National Park, visitors can journey along the trail for a few hours or a few days—it's up to you. There are some considerations to keep in mind, however. The air is much thinner along the trail that exists between 10,500 and 13,000 feet in elevation. For this reason, travel must take place more slowly in this section of the trail. Note also that afternoon thunderstorms present the danger of lightning. Winter along the Great Divide lasts about nine months—from September to May each year—and during this time, arctic conditions are present, so travel above the treeline should be completed early in the day. If this experience tickles your fancy, be tickled further with even more information by visiting www.nps.gov/romo.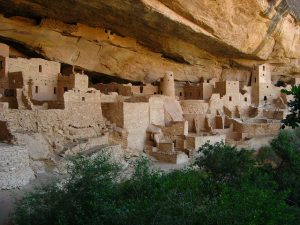 Mesa Verde National Park
Mesa Verde National Park is located in Montezuma County, Colorado and welcomes nearly 614,000 visitors each year. This park was established in 1906 to preserve and protect the archaeological value of the Ancient Puebloans and the fascinating cliff dwellings they built in the late 1190s. The Puebloans lived in this area from approximately the year 600 A.D. to the year 1300 A.D. Inside Mesa Verde National Park, there are almost 5,000 known archaeological sites, which include 600 cliff dwellings—some of the best preserved in the United States. And while we know that cliff dwellings aren't natural wonders, as they were built by man, they were built into the sides of the natural cliffs in the area and seeing them is very moving and very awe-inspiring. If you'd like to be inspired by the Ancient Puebloans, you're only too welcome to explore Mesa Verde National Park. Entrance fees are $15 to $20 per private vehicle, depending on the season in which you visit. An annual pass costs $40, and there are several tours and hikes available to visitors. To learn about all that is offered at Mesa Verde National Park, visit www.nps.gov/meve, and to purchase your advance tickets for a tour or a hike, visit www.recreation.gov.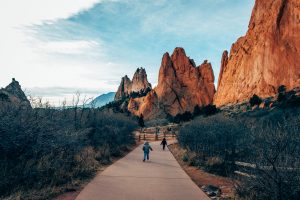 Garden of the Gods
Garden of the Gods is located in the city of Colorado Springs not too far from Denver. It is a registered National Natural Landmark and was designated as such in 1971. It was once called Red Rock Corral. In August of 1859, the term "garden of the gods" was coined by surveyors of the area. Garden of the Gods is an area of 1,367 acres of red rock formations—some very large. Some key formations in the area have creative names, such as Balanced Rock (which is an enormous red rock that looks precariously balanced on another rock), Kissing Camels, Gray Rock, and Sleeping Giant. The geological features at Garden of the Gods are the ancient sedimentary beds of red, pink and white sandstone and limestone. Wildlife is abundant around these huge red rocks as well. More than 130 different species of birds make their home in this part of Colorado Springs, as do mule deer, bighorn sheep, and fox. Park hours are 5:00 a.m. to 9:00 p.m. daily, and the Visitor and Nature Center is open in the winter from 9:00 a.m. to 5:00 p.m. and in the summer from 8:00 a.m. to 7:00 p.m. Admission to the park and Visitor and Nature Center is free, so there's no reason to miss this breathtaking natural wonder! Two million people visit Garden of the Gods each year. If you'd like to be one of them, visit www.gardenofgods.com to begin planning your trip.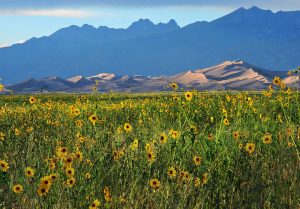 Great Sand Dunes National Park
Great Sand Dunes National Park boasts the tallest dunes in North America—one named Star Dune that reaches a height of 750 feet. Activities in the park include sandboarding, sand sledding, wildlife watching, hiking, and fishing. You'll find everything from grasslands and wetlands to conifer and aspen forests, lakes and tundra within the borders of this national park and preserve that encompass more than 149,000 acres or 233 square miles. The dunes have a rich history to them. They were very important to the Navajo people in the area. The dunes themselves cover 30 square miles and contain an estimated 5 billion cubic meters of sand. The park is also home to elk, snowshoe hare, cougar, mule deer, black bear, bighorn sheep and more. A 7-day pass costs just $25 per vehicle. Campsites are also available at Great Sand Dunes National Park. Campsites at Pinon Flats Campground sleep up to 8 people and the fee for use is $20 per night. Group campsites are also available. Sites for 15 to 30 people cost $65 per night and sites for 20 to 40 people cost $80 per night. Reservations must be made in advance by calling (877) 444-6777. For more information about this national park, visit www.nps.gov/grsa.