West Virginia
Crazy Rapids and Swift Streams — Whitewater in WV
West Virginia's best kayaking and rafting spots
West Virginia is an outdoor enthusiast's dream. Not only does it have gorgeous forests, scenic hiking trails, and serene lakes, it also has some amazing spots for kayakers. Grab your paddle and visit some of West Virginia's best kayaking spots today.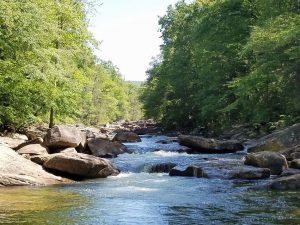 Cranberry River
Running through the Monongahela National Forest, the Cranberry River flows through some of the prettiest parts of West Virginia. Its waters run from mildly swift to moderately challenging, depending on where you put your kayak in the water.

One particularly popular stretch of the Cranberry River is the seven miles or so stretching from the Big Rock Camping Area to the Gauley River section of the Cranberry River. This section of river has rapids ranging from Class II-IV, so it can be a little challenging, especially in early spring if water levels are high from melting snow running down into the river from the surrounding mountains.
Be warned–this river is also hugely popular with fishermen, so you'll need to be on the lookout for the occasional angler sharing the water with you. If you're looking for an easily accessible put in, try the Nicholas County boat launch in the Woodbine Recreation area.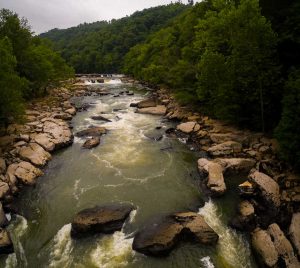 Valley Falls
If you're looking for something a little more challenging than smooth, straight water, you could try the Valley Falls in the Valley Falls State Park. This section of the Tygart River has a reputation of running strong even when everything else has dwindled down to a trickle. The Falls themselves are referred to as a beginner route, but be warned–they can become substantially more challenging when water levels fluctuate.
The water here is always flowing and can get a little rough when the levels are high. You'll probably see rafters here but no swimming is allowed, so you'll find it's a nice, quiet experience with stunning scenery all around you.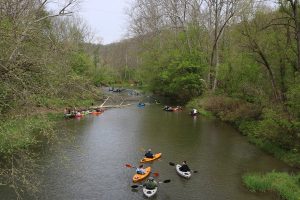 Wheeling Creek
The Wheeling Creek Water Trail is the perfect introduction to 'water trails.' It's mostly flat, pretty calm, and stretches through some beautiful scenery. It's so calm, it's even popular with tubing enthusiasts, so you may find a few of these as you paddle down the Creek. It's a great choice for beginners or those who don't want to brave the rapids.
There are numerous put-in points along Wheeling Creek, and the water runs through a pretty diverse stretch of the state, from urban landscapes to scenic fields and farmlands. Just watch for low water spots where drag might be an issue.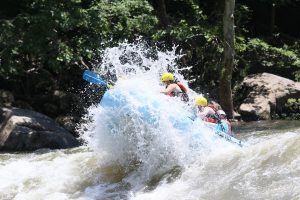 Sweet's Falls
On the upper part of the Gauley River, Sweet's Falls, named for John Sweet, the first person to paddle the falls in 1968, is definitely not for the faint of heart. With swift currents and numerous rock ledge outcroppings, you'll need to watch your step in this area, but the payoff is a 14-foot waterfall that will take your breath away.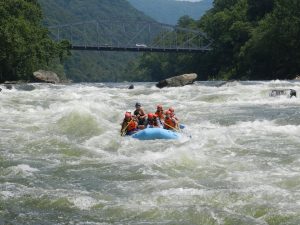 Sweet's Falls is the last of the 'Big 5' Class V rapids on the Upper Gauley. During peak season, it's a prime spot for spectators, who love to watch the rafts and kayaks battling the whitewater rapids. Be warned–the landing at the bottom of the falls can be tricky. You'll have to try to avoid getting slammed into one of the rocky ledges lining the river at the bottom of the falls. This isn't a spot for beginners, but if you're looking for a challenge, it might just be the place for you.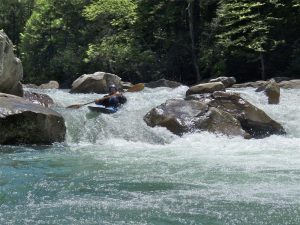 Middle Fork River/Tygart River
The Middle Fork is a great place for all skill levels. With whitewater rapids ranging from Class I to Class IV, it's great for anyone looking for a fun day out on the water. Put in at the Middle Fork, then work your way down to the rowdier Tygart if you want more of a challenge.
Start out on the Middle Fork (there's a great place to put your boat in at the right fork of the Middle Fork in Upshur County). The water here is calmer, more like a creek than section of rapids. After a few miles, you'll run into the much friskier, much larger Tygart River Gorge.
The Tygart River a Class IV to V run that is definitely more challenging than the Middle Fork. In general, the Tygart has plenty of great kayaking options, from Valley Falls (mentioned above) to the stretch of Tygart that runs through Arden, which is a pretty calm piece of water in a pocket or swimming hole near another one of WV's beautiful waterfalls.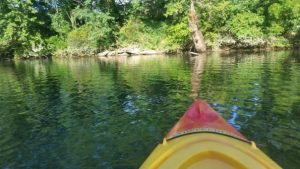 Buckhannon River
The Buckhannon River isn't wild and crazy like some of West Virginia's top kayaking spots, but it is a gorgeous stretch of calm to Class I water running through some of the prettiest forests in the state. There are numerous boat launches along the Buckhannon and you can choose from several pre-mapped boating routes or just put your kayak in and enjoy a leisurely paddle as far as you want to go.
Try the launch point in Boulder and follow the Buckhannon 4.7 miles to the covered bridge in Carrollton. It's one of the most popular routes and is great for a relaxing day out on the water.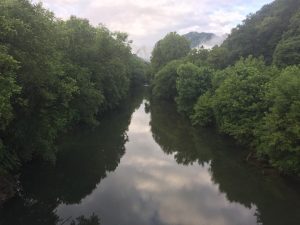 Big Coal River
The Big Coal is part of a larger section of river comprised of Big Coal, Little Coal, and the Coal River. All three are great flatwater streams running along the Walhonde Water Trail. The calm Class I waters are perfect for family kayaking trips or beginners who want to get a feel for the water in this area.
The river runs through several stretches of private land, so be sure to check your maps and don't get out of your boat unless you're sure about where you're docking. There are some great public spots along the way that are perfect for picnics, fishing, or just relaxing, so plan your trip accordingly.
Whether you're looking for a fun family day out or a challenging ride down some of the choppiest rapids, West Virginia is a great destination for kayakers. Grab your paddle and plan your trip today.