Virginia
This Retro Diner Is a Classic and Worth the Drive
Why Pink Cadillac Diner in Natural Bridge Is the Best in Virginia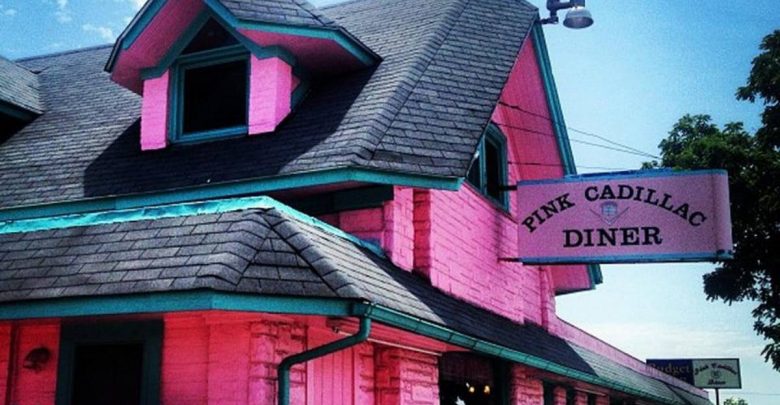 Natural Bridge, Virginia, is a beautiful place to visit. The 215-foot natural archway is considered one of the Seven Natural Wonders of the World. It was scaled by George Washington, who literally left his mark. Thomas Jefferson once owned the property. Natural Bridge is now a Natural Historic Landmark, as well as a popular destination for nature lovers. Visiting Natural Bridge and Cedar Creek Trail can make someone hungry! It is a good thing that Pink Cadillac Diner is just a few miles away. Here are some of the reasons why this eatery just might be the best retro diner in the Commonwealth of Virginia.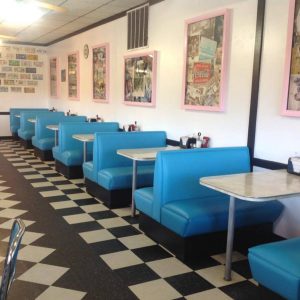 Atmosphere
The atmosphere alone is enough to make you want to stop by Pink Cadillac Diner. You can't miss the building, it is painted a beautiful shade of bright pink. The pink Cadillac that you are looking for is right outside as well, you know that you are going to want a picture. Inside will not disappoint either. You will love the retro diner feel, but what is nice is that it is quite a bit larger than the diners of yesteryear. There is plenty of seating. The place is filled with bright colors, and there is memorabilia on almost every inch of the walls. Of course, there is an old-fashioned jukebox as well. You'll have a smile on your face before you even see the menu. Speaking of the menu…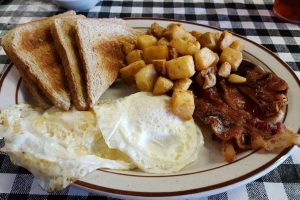 Breakfast
The breakfast menu is one of the most important aspects of making a diner a classic place to eat, and the choices at Pink Cadillac Diner will not disappoint. Although the restaurant opens early, breakfast is served all day long. The portions are large, and you will leave full and satisfied. You can order a "Cadillac Platter", which consists of one or two eggs, breakfast meats, and other possible additions. If you want a southern-style breakfast, try biscuits and gravy. There are traditional breakfast feasts such as steak and eggs, three-egg omelets made the way you want them, and breakfast sandwiches. Pancakes, waffles, and French toast are also among the offerings. The breakfast choices aren't overly fancy; which is exactly what you would expect from a retro diner.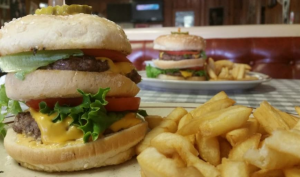 Burgers
Burgers are a staple of classic retro diners, and Pink Cadillac Diner is no exception. The choices range from traditional burgers to burgers with fun toppings. The names match the burgers. Six-Gun Burger is hot and spicy, while Matterhorn Burger is topped with mushrooms and Swiss cheese. There's a vegan burger, and some other choices as well. The signature burger is The Elvis Burger. (Pink Cadillac Diner often pays respect to the King.) It has two patties, cheese, lettuce, tomato, and the Pink Cadillac special sauce. Like any good diner, the burgers come with a side of fries. You can substitute onion rings, sweet potato fries, or a baked potato for an additional fee.
Hot Dogs
Continuing with the nods to Elvis, the lunch and dinner menu also offers Hound Dogs. You can order classic, chili cheese, chili slaw, or Chicago style. All Hound Dogs come with your choice of chips or fries.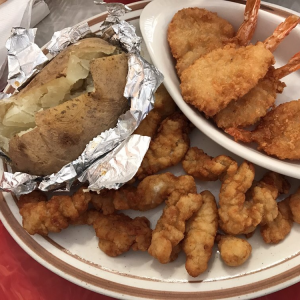 Platters
Of course, a retro diner needs to have more than just burgers and hot dogs. Platters are a classic diner food, and Pink Cadillac Diner has plenty to choose from. You can feast on pork chops and applesauce, or maybe you would prefer fish and chips. There's chopped sirloin steak, country fried steak, and fried shrimp. Any self-respecting diner needs to have meatloaf on the menu. At Pink Cadillac Diner, it's called "It's our recipe" Meatloaf. All platters come with rolls and two sides. If that's not enough to pick from, there are also specialties such as spaghetti with meat sauce and ribeye steak. Hot and cold deli sandwiches are available as well.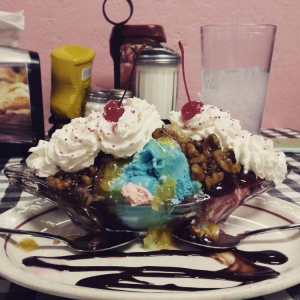 Ice Cream
Remember the days when a young couple who just started dating would share an ice cream sundae? At Pink Cadillac Diner, you can step back into the past and feel like you are living in that time once again. There is an ice cream parlor that features 24 flavors of delicious Hershey's ice cream. You can enjoy a classic sundae, or have a banana split instead. Those are just two of the possibilities. If you aren't in the mood for a full sundae (or you are too full from your lunch or dinner) you can order ice cream by the scoop instead. There are also floats, and for Elvis fans, "All Shook Up" Shakes. If you want to skip the ice cream there are other desserts such as monster cookies and fresh-baked pies.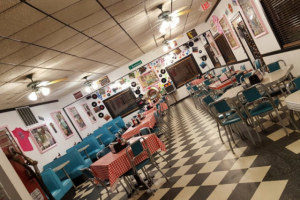 Service
While the food and the atmosphere are two of the pieces of a puzzle that make a diner a classic, there is a third element that you will also be happy with at Pink Cadillac Diner. The staff is friendly and professional. You will feel like you are part of the family. It's the type of place where the food is served with a smile. The atmosphere is family-friendly; in fact, the kids will love the trip back in time as much as you will. There is a Little Rascals Menu that features kid-approved items, so no one will go hungry.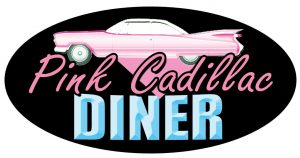 Pink Cadillac Diner is located at 4347 S Lee Hwy, Natural Bridge, VA 24578. It is open 7:00 am until 8:00 pm on Sundays, Mondays, Wednesdays, and Thursdays. The hours on Fridays and Saturdays are 7:00 am until 9:00 pm. Pink Cadillac Diner is closed on Tuesdays. Beer and wine are sold, as well as plenty of non-alcoholic beverages. There are specials each day after 5:00. If you are looking for delicious diner food, a fun atmosphere, large portions, affordable prices, and a trip back in time, you will want to stop by Pink Cadillac Diner. You will not be disappointed, especially if you are a fan of Elvis. It is the perfect place to fill up before checking out Natural Bridge and Cedar Creek Trail, or to dine after you have spent the day outside exploring.