Texas
Soak & Slide: The Best Water Parks in Texas
Cool off while sliding and lounging at these great spots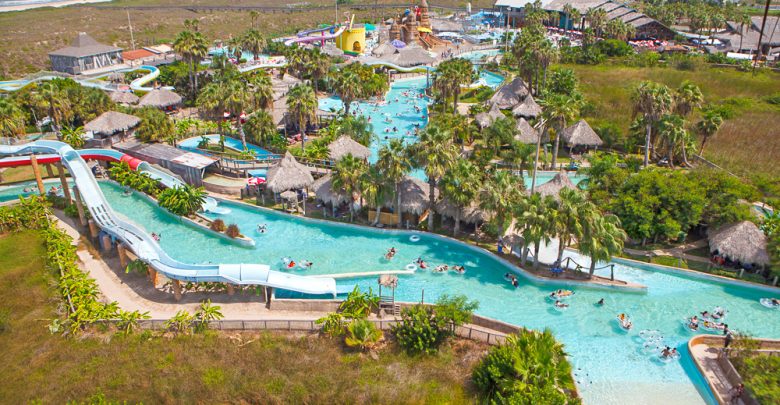 Water parks are a great way to cool off on a hot summer's day. In Texas, this can be especially refreshing, since the state's summers are known for their heat. Here are some of the best water parks that you will find by city in the Lone Star State.
Aquatica San Antonio
San Antonio, Texas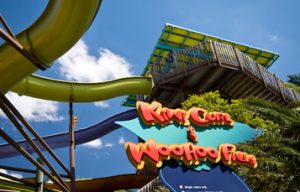 The Aquatica water parks are owned by SeaWorld, and the three locations are placed near SeaWorld Parks. While the SeaWorld theme parks are all about marine life, Aquatica is all about fun in the water. The critically acclaimed Aquatica San Antonio is for all ages. Stingray Falls is the park's signature attraction. It's a family raft ride that takes guests through an underground grotto. You'll glide past stingrays and plenty of tropical fish. Taumata Racer is a new body slide where you'll race others down to the bottom. There's a 55-foot drop at the end. Aquatica San Antonio features plenty of slides and areas for the kids. One unique feature is Roa's Aviary. It's the home of 40 different species of birds. The waterfall at the entrance prevents them from getting out.
Castaway Cove Waterpark
Wichita Falls, Texas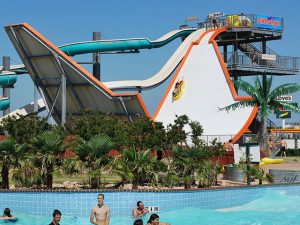 For those in Wichita Falls who are looking for a great way to cool off at an affordable price, Castaway Cove Waterpark could be the answer. Just because the park won't break the bank does not mean that it is lacking in thrills! The crown jewel of the park is The Pirate's Plunge. At first glance, it looks more like a roller coaster than a water slide because there seems to be a loop. You'll start 60 feet up in the air, and then walk "the plank". Other thrills include Cliffhanger and Annie's Quest. The Castaway Cove version of a lazy river is known as Nellie's Rolling River. There is plenty that the younger members of your party will enjoy as well. In fact, Castaway Cove charges by height, not by age, so you'll be paying for what the kids can experience.
Wet'n'Wild Splashtown
Spring, Texas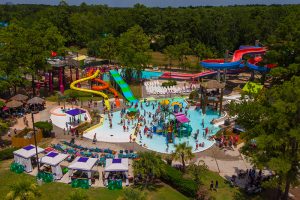 Spring, Texas is located about half an hour outside of Houston. The park has undergone a few name changes since it first opened back in 1984, as well as changes in ownership. The signature thrill slide is Texas Freefall. Guests slide seven stories almost straight down. The newest ride is Alien Chaser. It's 60 feet tall, and guests ride in two-person tubes. For a whitewater adventure try Big Kahuna, you'll get wetter than you thought possible. Kids will love the Tree House, which is three stories high. There is also Wet'n'Wild Jr., where kids can play and ride slides that are more their size.
NRH2O
North Richland Hills, Texas
North Richland Hills is located about 15 minutes outside of Fort Worth, and a little over half an hour outside of
Dallas, making NRH2O convenient to either city. It is owned by the city of North Richland Hills, and it's a fun destination for locals and visitors alike. Green Extreme is the park's signature water slide. It's the longest uphill water coaster in the world. Riggamaroll combines two different experiences in one slide, and Sidewinder will drop riders almost straight down 60 feet. There are "moderate thrill" rides for those who aren't ready for a free fall, and plenty for the kids. At Beachside Bay you can relax on the beach or play in the water. There is a charging station at Beachside Bay as well.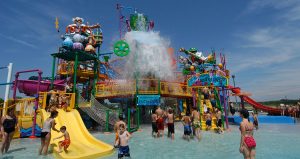 The WaterPark At The Villages
Flint, Texas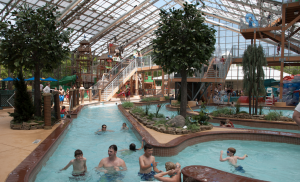 Located about 20 minutes outside of Tyler, Texas you'll find this water park with a difference; it's indoors. The WaterPark At The Villages is part of Holiday Inn Club Vacations Villages Resort, but you do not have to be staying there in order to enjoy the facilities. The area is climate controlled, making it a park that can be visited all year long. The roof is retractable, so you will want to still use the sunscreen. At The WaterPark At The Villages you might not find any huge thrills, but there are four slides, a lazy river, a wave pool, and a play area for the kids. If your family wants to play but you're not in the mood, an observer only pass is available.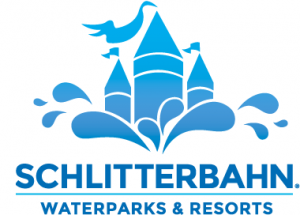 Schlitterbahn
Various Locations
Schlitterbahn is a name that is synonymous with water parks and fun in Texas. The state is home to four different versions, there is also one in Kansas. Here is a bit of information on each Texas version.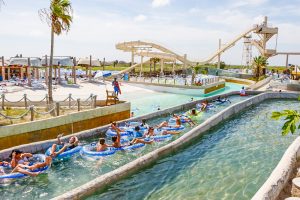 Schlitterbahn Riverpark & Resort
Corpus Christi, Texas
Open only since 2015, the Corpus Christi version of Schlitterbahn features rivers and beaches. One river is a continuous wave ride, another is a whitewater adventure, and there is also a more relaxing lazy river. Skyblaster is a tube ride that is 385 feet long. Boogie Bahn is a safe way to learn how to surf. Aqua Veyer carries guests up the conveyor belt, so that they will not have to carry their tubes. Bob's Cabana Bay features a heated pool and a swim-up bar.
Schlitterbahn Waterpark
Galveston, Texas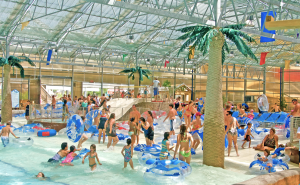 If you're looking for the tallest water coaster in the world, you will need to head to Galveston. Schlitterbahn Waterpark is home to MASSIV Monster Blaster. It stands 81 feet high, and you'll zoom down 926 feet to the bottom. The Galveston version of Schlitterbahn has the most thrill rides of the brand. You can also experience Bahnzai Pipeline, Faust and Furious, and the free falling Cliffhanger. There are slides and play areas for the little ones as well.
Schlitterbahn Waterpark
New Braunfels, Texas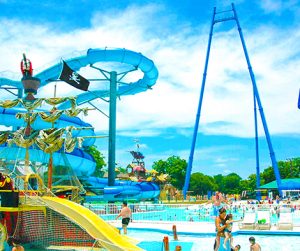 The first of the Schlitterbahn water parks was Schlitterbahn Waterpark New Braunfels. There are two different sections, and a tram transports guests between the two spots. In total there are 51 attractions. Thrills include the enclosed Black Knight, Master Blaster Uphill Water Coaster, and Downhill Racer. There is plenty for the kids to do as well.
Schlitterbahn
South Padre Island, Texas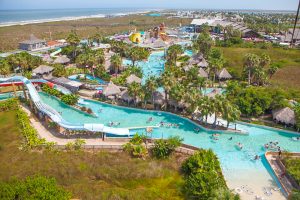 If you're looking for a combination of indoor and outdoor fun, try Schlitterbahn South Padre Island. You'll find both here. The indoor section is open year-round. Another unique feature is the transportation system, climb onto your tube and head to the next ride. If you like water roller coasters try Gale Force, Sea Blaster, AND Tempest. Sea Trek is a driving experience, and there's even a carousel. At Schlitterbahn South Padre Island, there's plenty of fun for all ages.