Florida
7 Fun Things to Do in Florida's Panhandle
Beaches, museums and family fun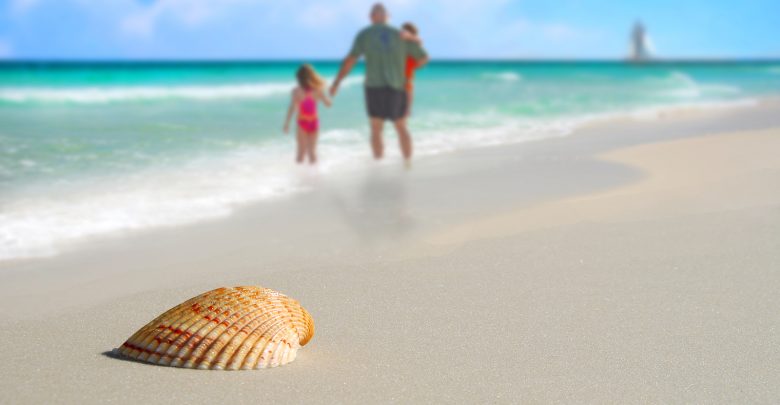 Visitors to the Sunshine State often race through the panhandle en route to tourist destinations deep within the central-most part of the state. But Florida's panhandle offers a myriad of opportunities for family fun in the sun and entertainment. Here are 7 things we think you should slow down and enjoy the next time you're in the panhandle of Florida.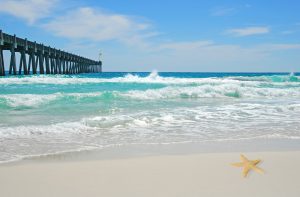 1. Pensacola Beach Gulf Pier – Pensacola Beach, FL
Located on beautiful Casino Beach, the Pensacola Beach Gulf Pier beckons visitors with its soft white sand and scenic vistas. The pier is almost 1,500 feet long and tourists can walk the pier for a nominal fee, spend the day observing the sea life, go deep-sea fishing and more. Visitors often see dolphins, barracuda, jellyfish, stingrays, sea turtles and sharks. Spend the day photographing the views, talking with local fishermen or just taking it easy with the sound of waves crashing beneath you. The choice is yours when you visit the pier. For more information, visit https://visitpensacolabeach.com/things-to-do-gulf-pier/.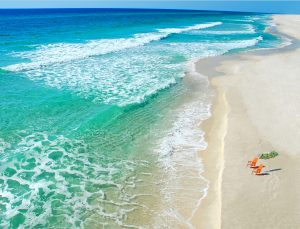 2. Pensacola Beach
Most everyone who lives in Florida or visits the Sunshine State is fond of the natural beauty of beach life. But Pensacola Beach on Florida's Gulf Coast offers so much more than just a place to lay out your beach towels and watch the crashing waves (although that's very nice as well!) With an average air temperature of 75 degrees and an average water temperature of 72 degrees, award-winning Pensacola Beach is the perfect vacation destination any time of year. From fishing and parasailing to stand-up paddle boarding and snorkeling, there's something for every member of the family to enjoy. But Pensacola Beach offers things that other beaches just don't have to offer. The beach's Bands on the Beach events bring locals and tourists to the beach on selected nights throughout the year. If you're a lover of the night sky, you'll want to take advantage of the Escambia Amateur Astronomer's Association's sponsored stargazing events that take place at Pensacola Beach from April through October. The beach's Footprints in the Sand Eco-Trail offers visitors the opportunity to see turtles, birds, ghost crabs, coquina clams, fish and other sea animals along an eco-friendly educational walking trail. And the U.S. Navy's mighty Blue Angels flight demonstration squadron heads up an annual air show at Pensacola Beach that you won't want to miss. There's enough to enjoy at Pensacola Beach that you can stay a whole week and never be bored.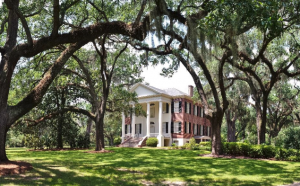 3. The Grove Museum – Tallahassee, FL
The Grove Museum was created to continue the preservation of the Call-Collins House, which was built in the mid-1850s by enslaved craftsmen. It is one of the most well-preserved antebellum residences in existence today, having undergone a rehabilitation that began in 2010. The museum opened to the public in 2017 and includes the house and the surrounding 10.5 acres. Hands-on science activities are offered on the first Saturday of every month as part of the museum's Backyard Discovery program. The museum also offers scheduled storytimes, as well as nature walks and more. Admission is free to the public. For more information about this beautiful estate and its rich history, visit www.TheGroveMuseum.com.
4. Carabelle Bottle House – Carabelle, FL
This interesting spectacle might not be on your Florida bucket list, but we've got to admit that a house made of glass bottles is something special! It's not the first of its kind, however—bottle houses exist elsewhere, but they are usually built out of necessity in areas that are largely devoid of wood. The house's builder and owner, Leon Wiesner simply woke up one day and decided to build one. It doesn't hurt that he's a retired art professor. The 500-square-foot pentagon-shaped house is worth stopping to see, as visitors usually marvel at the light that pours through the multi-colored walls. Mr. Wiesner and his wife have also built a 15-foot-tall lighthouse made entirely out of bottles. Wiesner says that his faithful dog Zach usually lives in the colorful glasshouse, but it sounds like Zach likes company because the Wiesners invite visitors to stop by anytime they're driving through the quaint little town of Carabelle, Florida.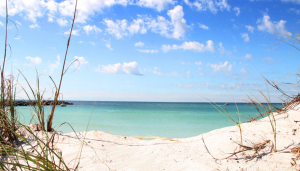 5. St. Andrews State Park – Panama City, FL
Florida's St. Andrews State Park lies on a peninsula on the far eastern edge of Panama City Beach and is one of the most visited state parks in the state—and for good reason! The park offers almost every imaginable outdoor and water activity visitors could hope for. From pier fishing and snorkeling to scuba diving and surfing, St. Andrews has something for every member of the family to enjoy. Bikes, kayaks, and canoes are available for rent, and campsites are available for tent and trailer (up to 40 feet in length) camping. Each of the 176 campsites has a picnic table, grill, and hook-ups for both electricity and water. It's even possible to see some of the native wildlife along the park's walking trails, such as birds, deer and even an alligator or two.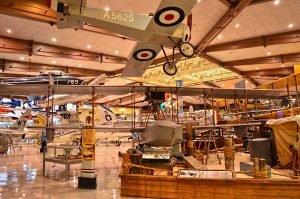 6. National Naval Aviation Museum – Pensacola, FL
The world's largest naval aviation museum is located in sunny Pensacola, Florida. It encompasses over 350,000 square feet and over 37 acres of land. The museum is home to over 150 restored pieces of aircraft—each one representative of navy, coast guard or marine aviation. There are also several themed exhibits such as the Women in Naval Aviation Exhibit and the Sunken Treasure Exhibit which showcases sunken training vessels that were recovered from the bottom of Lake Michigan. The museum is open from 9:00 a.m. to 5:00 p.m. Admission is free, and there's even a restaurant called the Cubi Bar Café, which doubles as a museum exhibit. The café's layout is identical to that of the famous Cubi Point Officers' Club in the Philippines.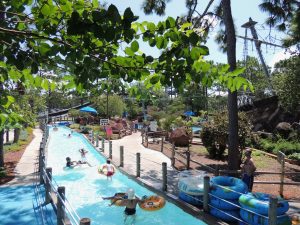 7. Shipwreck Island Water Park
What's more natural in Florida than a fun family water park? Florida's panhandle doesn't disappoint, and thousands of visitors come each year to visit Shipwreck Island—a water park with attractions, food vendors, a lazy river and more. The park opened to the public in 1983 and encompasses 20 acres. The 500,000-gallon Ocean Motion Wave Pool creates 3-foot waves every 10 minutes, while the White Knuckle River will have you, well, white-knuckled as you zoom along its 660-foot long winding innertube slides. If you're looking for a slower pace, the 2,000-foot long Lazy River is for you. Admission is $36 for visitors 50 inches tall or taller and $30 for visitors shorter than 50 inches. Visitors under 35 inches tall are free. The park is open on scheduled days from May to September each year. For more information and to see the park's operating schedule, visit www.shipwreckisland.com.