California
LA's Coolest Cream and Trendiest Froyo
5 ice cream / frozen yogurt shops in Los Angeles that are worth the drive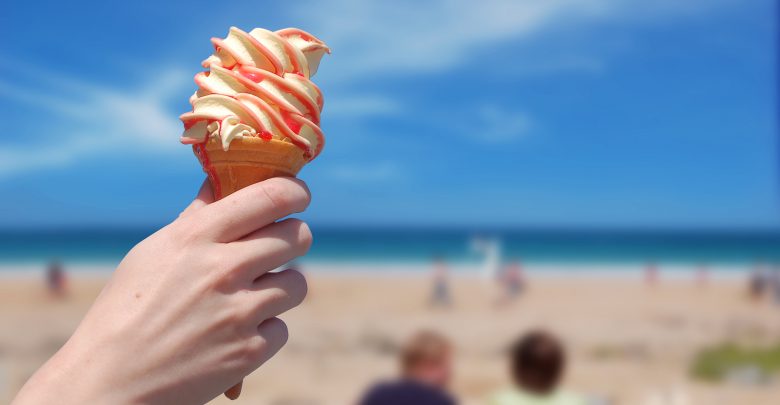 Los Angeles is an attractive city to visit for so many reasons, so people don't often consider it a city to visit specifically for its ice cream. The ocean, the celebrities, the beaches, the boutiques, the concert venues, the mountains – LA has it all. It's only fitting that the city that has so much of the "best" also has some of the best ice cream in the country. And truly, it does. These are the five ice cream shops in Los Angeles that are a must to visit.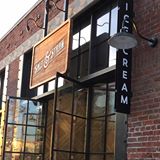 Salt and Straw
This ice cream shop started in Portland, Oregon but it has created a very secure home for itself in Los Angeles with five locations in the city. Despite the number of shops this company has built across the west coast, it has not sacrificed quality. In fact, it's quite possible that this might be some of the highest quality and certainly most unique ice cream in the country. What sets Salt and Straw apart? Well, for one, their standard flavors are combos that you won't find in the grocery store ice cream section. For them, Roasted Strawberry Coconut and Honey Lavender are normal flavors. On top of this, for every season of the year, a new menu premiers on top of the classic menu. In the fall, you can find turkey flavored ice cream in their shops. And it actually tastes good. Enough said.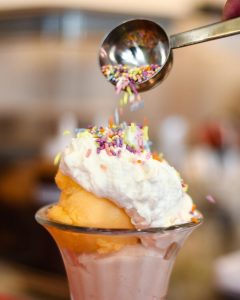 Sweet Rose Creamery
Founded in Santa Monica, this shop is very reminiscent of Salt and Straw but with more traditional flavors. Sweet Rose does not lack creativity in their concoctions, though, making flavors like Lemon Chiffon with Lemon Cake and Fresh Mint Chip, both clearly made with no artificial flavors. Because they are a homegrown Los Angeles shop, they make their ice cream homemade in small batches in their kitchen daily. Because their kitchen is a mile from the Santa Monica Farmers' Market, they use local, fresh ingredients straight from the area's farmers to make their flavors. Their proximity to fresh ingredients allows them to create new, seasonal flavors throughout the year such as Strawberry Rhubarb Crumble, Peaches and Cream, Spiced Pumpkin, and Kiwi Sorbet.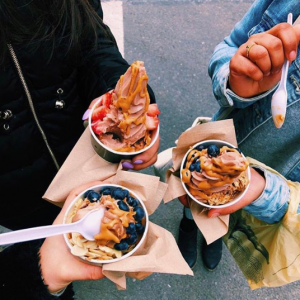 Pressed Juicery
Pressed is not unique to Los Angeles – they have locations all over the West Coast and a couple on the East Coast as well – but they started there, and the experience is different than most. Also, their frozen yogurt (which they call "freeze") is delicious. Three friends started Pressed in 2010 in Brentwood, a neighborhood in Los Angeles. The company is first and foremost a purveyor of juice, but their freeze is ridiculously good. What sets this place apart is that their freeze is made from vegetables, fruit, dates, almonds, cacao, coconut, the combo varying per flavor. Don't knock it till you try it. It may sound weird or unusual or impossible, but it's an ice cream experience you won't forget.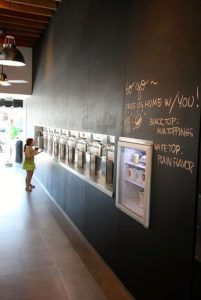 Toppings
This frozen yogurt shop is the frozen yogurt shop to beat all frozen yogurt shops. Why? Because they're called Toppings for a reason. And that reason is they have infinite options for topping combinations. This Pacific Palisades shop has never-before-used toppings options such as potato chips, donuts, brownies, and even apple pie. Not only do they have delicious toppings, but their flavors change daily and are consistently tasty. They have flavors like graham cracker, honey, salted caramel, red velvet, and the classics chocolate, vanilla, and tart.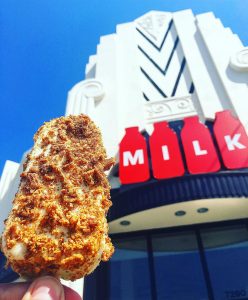 Milk
Milk has two locations in Los Angeles, one on Beverly and one in Silverlake. This shop is an LA favorite, and they don't just offer scoops of ice cream. They also offer ice cream sandwiches, shakes, and sundaes as well as cookies, brownies, blondies, cookie dough rolls, tres leches, pudding, and cake. Most often, though, people come to Milk for their ice cream sandwiches. Their sandwich flavors include fruity pebbles, red velvet, fruit loops, salted caramel, coconut, cookies and cream, grasshopper, Thai tea, and the list goes on. Oh, and you can make your own if you'd like, of course. Milk, like Salt and Straw, has mastered the art of combining two very different flavors to make something unexpectedly delicious.