Virginia
Get Behind the Wheel and Enjoy One of America's Most Scenic Routes
Why Skyline Drive is like nothing else.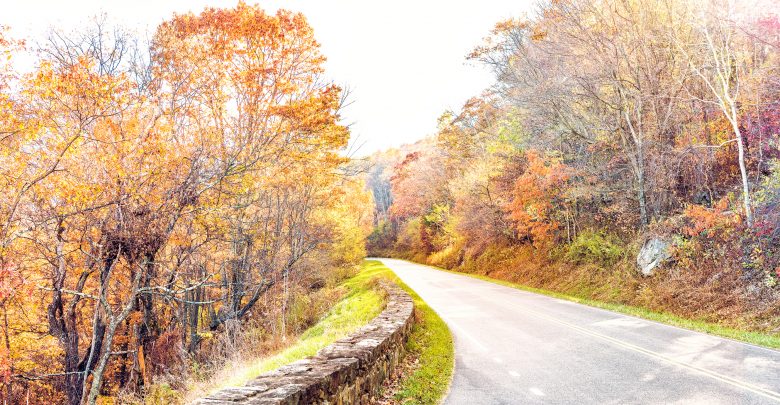 Skyline Drive is a stretch of 105 miles that runs through Shenandoah National Park and the Blue Ridge Mountains in Virginia. One end is near Front Royal, VA and the other is near Rockfish Gap. There are four different routes that you will travel on if you decide to drive the entire length. They are US 340, US 211, US 33, and US 250. That makes it easy to drive along just part of this spectacular thoroughfare if traveling the entire length will not fit into your schedule. Once you get a glimpse, though, you might change your mind and your plans. Here are some things that you will want to know about Skyline Drive, and some of the reasons why it is so beautiful.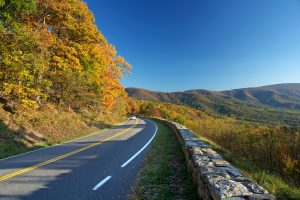 Autumn
There is no doubt that if you can pick a season to drive along Skyline Drive, you should do it in the fall. The entire way is alive with color! The trees will usually start to change near the end of September, and the colors will be present through the middle of November. Each year will be different, depending on the weather and other conditions. If you visit when the leaves are at their peak of color, expect to take it slow. That is the most popular time of year to visit the area. Even though it normally takes about three hours to drive the full 105 miles, give yourself a full day. You will want to stop and enjoy the view several times along the way.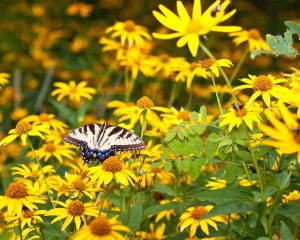 Other Seasons
While fall might be the most popular time to drive Skyline Drive, it is worth a visit during the other three seasons as well. During the spring everything is coming back to life. There will be plenty of wildflowers, as well as young buds on the trees. During the summer green will be the predominant color. You'll marvel at the beauty of the trees. If you visit during the winter it is a totally different story. Some years there is ice and snow, while during others things seem a bit more gray. Either way, the views are still spectacular. If you'd like to know the weather conditions during any of the four seasons, call 540-999-3500. You'll then be able to listen to a prerecorded message that will let you know about the current conditions, and if there are any closures.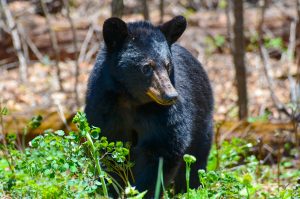 Wildlife
Part of the reason why you need to obey the 35 miles per hour speed limit is that of the amount of wildlife who call Shenandoah National Park home. On any given day you could see wild turkeys, other birds, deer, and even black bears. Some of these animals are used to having cars around and will cross without giving you a second look. Never try to take pictures while you are driving. If you want to watch for a while, pull your car all the way to the side of the road and stay in your vehicle. Never, under any circumstances, should you feed the wildlife. Not only is that unhealthy for the animals, but it is also illegal.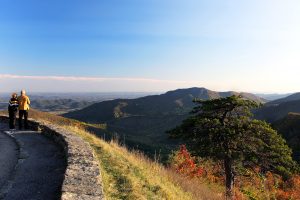 Overlooks
It's only natural that you will want to be able to stop and enjoy the beauty of nature while on your Skyline Drive journey. That's easy to do since there are around 70 overlooks. Since the entire drive is only 105 miles, you won't have to drive far before you see one. These offer a safe place to pull over and get out of your vehicle. One of the nice things about the overlooks is that they each offer different angles and views, so you will most likely want to stop several times.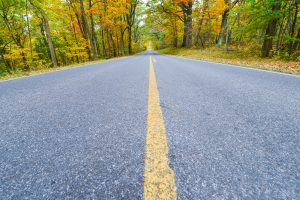 Mile Markers
If you would like to know how far you have driven, or you want an idea of how many more miles you have, you won't have to drive far. The entire length is marked with mileposts. Mile zero is found at the north, and the numbers go up as you drive south. If you are driving north to south they will be on the right side of the road, if driving south to north they will be on your left. Any official map that you might want to have will use these miles as reference points.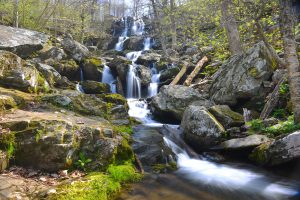 Hiking
You can do more than just drive the Skyline Drive. There are many fantastic places to hike. You'll see waterfalls, more views, wildlife, and plenty of spectacles. 101 miles of the Appalachian Trail goes through Shenandoah National Park. Parts of that run parallel to Skyline Drive. Camping along the way is also possible. Shenandoah has five campgrounds, and backcountry camping is popular as well.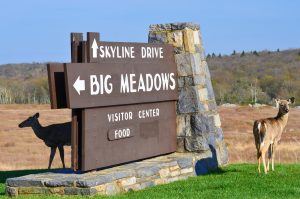 Entrances
You do not have to drive the entire 105 miles if you don't want to. There are four different entrances. You can enter or exit in Front Royal, Thornton Gap, Swift Run Gap, and Rockfish Gap. Take a look at a map ahead of time so that you will have a better idea of where each of these is located.
Fees
Shenandoah National Park is part of the U.S. Department of the Interior National Parks Service. There is an entrance fee. Currently, it will cost you $30 per vehicle. That price will cover you for seven consecutive days. There are also fees for motorcycles and those entering by other transportation such as a bus. If you love what you see and plan to return, a Shenandoah Annual Pass might be a good idea. That currently costs $55. There are Fee Free Days each year. Check with the National Parks Service to see what they are. Remember that the Fee Free Days will most likely see heavier than normal traffic.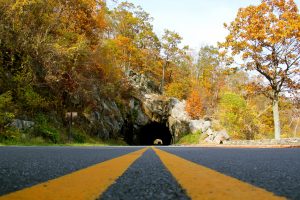 Other Information
Recreational vehicles, campers, and horse trailers are allowed on Skyline Drive, but they need to be able to clear Marys Rock Tunnel at 12 feet, eight inches. If you have a large vehicle it is advised that you be ready to use low gear. The highest point along Skyline Drive is 3,680 feet. That is located in Madison County. When visiting, remember to not leave anything behind. If you have pets clean up after them, and properly dispose of all trash.