New Mexico
Digging Into the Land of Enchantment
5 Great Spots Most People Overlook in New Mexico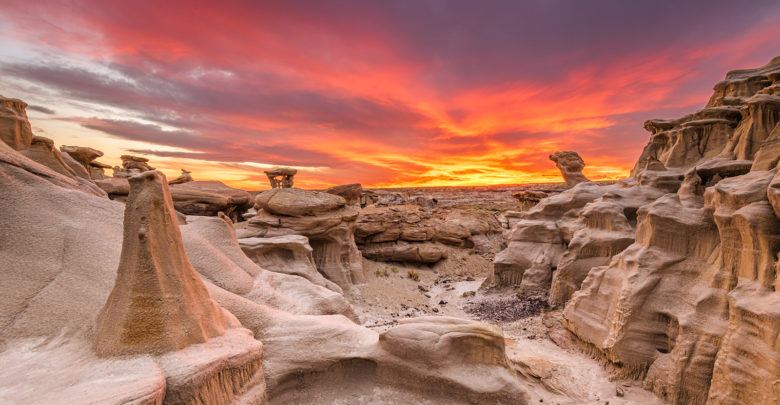 New Mexico was first dubbed the "Land of Enchantment" by the state's tourist bureau back in the 1930s as a means to attract tourists to the area.  As it turns out, people don't need much convincing to visit an area brimming with sunshine and beautiful vistas.  And you shouldn't need much convincing to visit these five often overlooked destinations.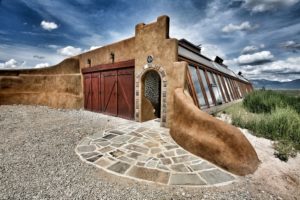 1. Earthships
On your journey through New Mexico, you could stay at a boring old hotel or motel, but why not take the opportunity to spend the night in one of these unique biotecture constructions instead?  Conceived in the 1970s by architect Michael Reynolds, these homes were designed to be largely self-sustainable while utilizing local, recyclable materials.  Each dwelling addresses the six basic needs of humans; food, shelter, clean water, energy, sewage treatment, and garbage management.  The constructions were intended to be easy enough to build that someone with little or no experience in such endeavors could complete the task.  And now you can stay in one of these uncommon abodes, which are available for nightly rentals or by the week.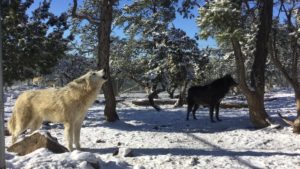 2. Wild Spirit Wolf Sanctuary
This haven for ill-advised exotic pet purchases opened its gates in 1991, and today cares for dozens of animals in the wolf family, including wolf-dogs and a wide variety of feral canine species.  As previously mentioned, many of the animals who call this sanctuary in Ramah, New Mexico home were either bred in captivity or bought and sold on the exotic pet market.  As such, they would be unable to survive in the wild.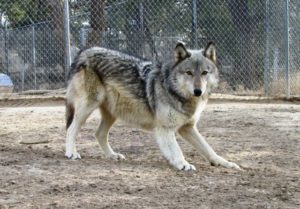 Wild Spirit offers an opportunity for these beautiful creatures to live their lives in a natural environment, while providing customized care for each and every animal it rescues.  Diets are specifically tailored to the needs of the breed, whether they are carnivorous or omnivorous.  Proper nutrition and the comfort of the animals is of paramount importance here, as the less sociable wolves are generally left to their own devices while the more uniquely tame inhabitants are utilized as ambassadors to teach visitors about the species and remove some of the stigma associated with these oft-vilified pack animals.  The sanctuary offers a variety of tours, from the basic standard tour to specialized encounters, such as the Wolf Walk and Canine Encounter – which invites participants inside one of the habitats to observe and mingle with some of the rescues.  In addition to wolves, other species who roam these habitats include coyotes, dingoes, and New Guinea singing dogs, who (as their name would suggest) do exhibit quite the melodious howl.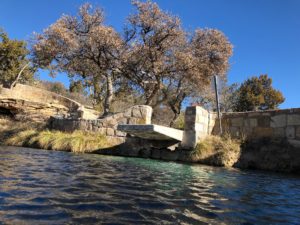 3. Santa Rosa Blue Hole
An artesian well that connects to a system of lakes via an underground aqueduct, this pool of bright blue water in the middle of the desert has become a popular destination among scuba divers thanks to its pristine conditions and a constant and cool temperature of 62 degrees.  The continuous filtration of water (3,000 gallons of inflow per minute) helps maintain an unheard of 100-foot visibility, creating ideal dive conditions to explore what lies beneath the surface of this one-time fish hatchery.  Topside, the pool features a diameter of 80 feet, but the floor expands to 130 feet, meaning the deeper one ventures the more area there is to explore.  However, since the passageways hidden in the depths can become difficult to navigate, guests are urged to exercise extreme caution when maneuvering their way through them.  The pool is open year-round to the public, though there is no lifeguard on duty.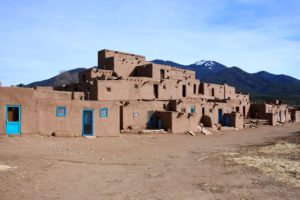 4. Taos Pueblo
Some estimates date the establishment of this community all the way back to 1,000 AD, making this Native American homestead the oldest continually-inhabited refuge of its kind.  That's right.  When you visit this community, you will find that Puebloan natives still reside on the land, which includes a 95,000-acre reservation in addition to the ancient city that stands in the shadow of the Sangre de Cristo mountain range.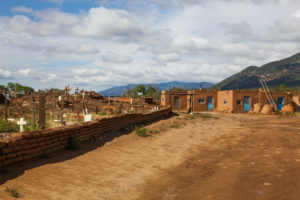 Admission allows visitors to appreciate the craftsmanship of these primitive dwellings, the most impressive of which being a multi-storied adobe constructed somewhere between 600 and 1,000 years ago.  Guided tours afford guests the opportunity to explore the community while learning more about the tribe's cultural and historical significance.  For instance, it is worth noting that while many of the Taos Indians still practice their indigenous religion, a majority are actually Roman Catholics.  There is even a chapel built on the site, named after San Geronimo (the patron saint of the pueblo).  Today, this pueblo houses roughly 150 full-time residents, though visiting tourists are expected to refrain from photographing these very private tribespeople without their permission.  The site has been designated a National Historic Landmark as well as a World Heritage Site, marking it as the only Native American community to have been bestowed both of these honors.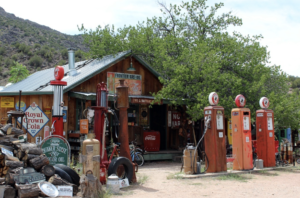 5. Classical Gas Museum
For anyone who values old school Americana, Johnnie Meier's museum of auto-themed oddities will surely appeal to you.  Located in Embudo, the brainchild of this former laser scientist was founded by happenstance some 30 years ago when Meier began collecting vintage gas station pumps and signage, an obsession that took root in his admiration for the artistry of the old designs.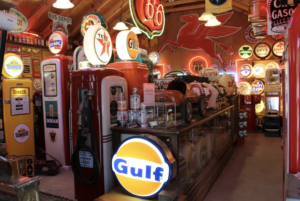 After years of pursuing his passion and adding to his ever-expanding collection, Meier decided to seek out a new storage space where he could also showcase his beloved items for fellow enthusiasts of symbols of the open road.  The result is a 1,000-square foot shack packed to the gills with neon signs, tin advertisements, and vintage gas pumps from defunct brands such as Texaco and Gulf.  Of course, this space isn't nearly enough to accommodate Meier's entire collection, which also occupies much of the exterior property as well.  Outside, guests will find everything from hubcaps and vending machines to bicycles and a Bob's Big Boy statue, though many of these items could benefit from a thorough restoration.  The Classical Gas Museum is open year-round with free general admission to the public.