Tennessee
These Tennessee Treasures Will Take Your Breath Away
The 7 Most Beautiful Natural Wonders in the Volunteer State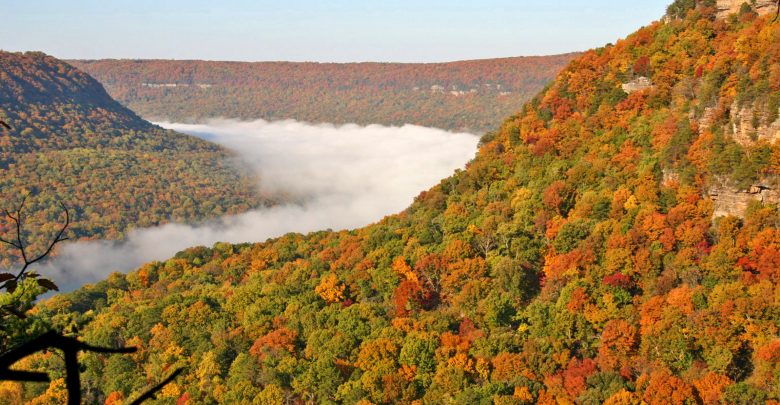 If you ask us, Tennessee is easily one of the most beautiful states in this great country of ours. From amazing mountains and enormous caverns to gorgeous waterfalls, the state is packed with incredible natural wonders that will take your breath away time and time again.
Whether you live in Tennessee or are planning on taking a trip there, you're probably wondering where to go to see all these amazing natural sights. Honestly, you never have to travel far to see some awesome nature in this state. However, some sights are definitely more spectacular than others.
For this reason, we've taken the time to gather a list of the seven best natural wonders to see during your time in Tennessee.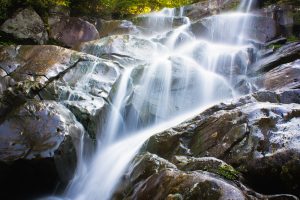 #1: Ramsey Cascades
Few things can beat the beauty of a natural waterfall. Luckily, Tennessee has no shortage of these awesome beauties. One of the best of Tennessee's waterfalls is Ramsey Cascades, which are located in the Smoky Mountains. This gorgeous fall ends in a clear pool that just happens to be home to hundreds of salamanders.
In order to get to Ramsey Cascades, a person must go on a fairly strenuous hike. It's well worth the extra work though, not only because it gives visitors a view of the falls, but also because the trail passes by some of the largest old trees in the park as well as several other gorgeous sights.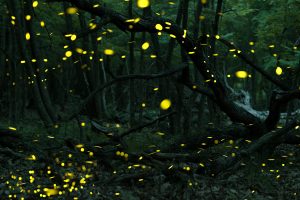 #2: Fireflies of the Great Smoky Mountains
Another awesome sight to see while in the Smoky Mountains are the fireflies. Yes, we are aware that you can see fireflies in several places in the US, but the sheer number of these little shiny creatures that gather in the mountains during certain times of the year is astounding.
In order to see the fireflies, you will have to visit during late May or early June. Not only will you see thousands upon thousands of these little critters lighting up the night, you'll be amazed to find that they all light up simultaneously. It's truly unbelievable and gorgeous beyond words.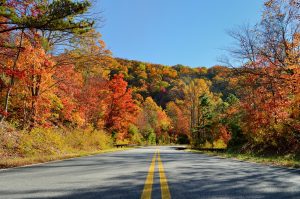 #3: Cherohala Skyway
Have you ever driven on a National Scenic Byway? If not, it's high time you did, and Cherohala Skyway is an excellent place to start. This gorgeous stretch is one of the most popular scenic byways in the United States, and although the road itself isn't exactly a natural wonder, the scenery surrounding it absolutely is.
Lovely trees stretch as far as the eye can see, and the high-up views offered by the road give drivers an amazing vantage point. This area is especially pretty in the fall when the thousands of trees begin to change colors and the forests come alive with reds, yellows, and oranges.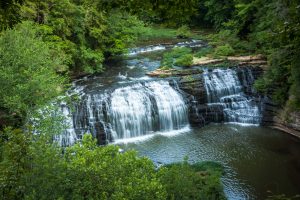 #4: Burgess Falls State Park
Remember those fantastic waterfalls we mentioned being scattered throughout Tennessee? A few more of those are located in Burgess Falls State Park, a park that is an absolute must-see for anyone who visits the Sparta area.
On a hike through Burgess Falls State Park, guests will witness four spectacular waterfalls, all of which cascade down from a super high 250 feet in elevation. The most spectacular of these is made even more magnificent by the extra 130-foot plunge into a deep gorge. This is an attraction you will definitely want to bring a camera to.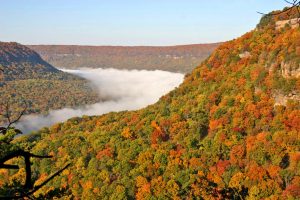 #5: Tennessee River Gorge
Speaking of gorges, the Tennessee River Gorge is yet another site you won't want to miss. This one, however, is located in the Chattanooga area. The incredible, water-made landmark is a full 26 miles long and is the fourth largest river gorge in the country. Finding a spot up high and looking down on the gorge is awe-inspiring, to say the least.
What makes this awesome natural wonder even more wonderful is the history behind it. Archeological evidence tells us that people have been living in the canyon for over 10,000 years. Keeping this fact in mind while visiting makes the whole experience feel even more incredible.
#6: The Lost Sea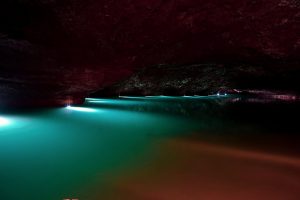 Underground lakes are a truly fascinating thing, and The Lost Sea is perhaps the most fascinating of all. The Lost Sea is part of an extensive cave system called Craighead Caverns. The lake is recorded as the largest underground lake by the Guinness Book of World Records, and once you see it, you'll definitely believe it.
To see this amazing body of water, adventurers will have to take a guided tour. However, this is actually a bonus, because it means all Lost Sea visitors have an opportunity to learn about the cave's history from a knowledgeable guide as they wander 140 feet underground.
Once at the bottom, guests have the opportunity to take a boat ride on The Lost Sea, a once-in-a-lifetime opportunity everyone should take advantage of.
#7: Virgin Falls
Heading back to Sparta and focusing once again on waterfalls, we simply must mention Virgin Falls. This incredible waterfall actually emerges from a cave before dropping 110 feet over the side of a cliff and into another cave. As you might imagine, this is quite an unusual thing for a waterfall to do, making this a unique and fun sight to see.
Of course, the park surrounding Virgin Falls has many other things to see and do, including several pretty waterfalls. Therefore, one could easily make a visit to Virgin Falls last a full day.
As you can see, Tennessee has some really awesome natural sights that should be explored by everyone who visits. Whether you're going to attempt to see all of these in one trip or prefer to spread them out over time, you should definitely make a point of seeing them all eventually.
These are sights you'll never forget and trips you'll never regret!