Hawaii
These Hawaiian Vistas Will take Your Breath Away
5 of the islands' most incredible natural wonders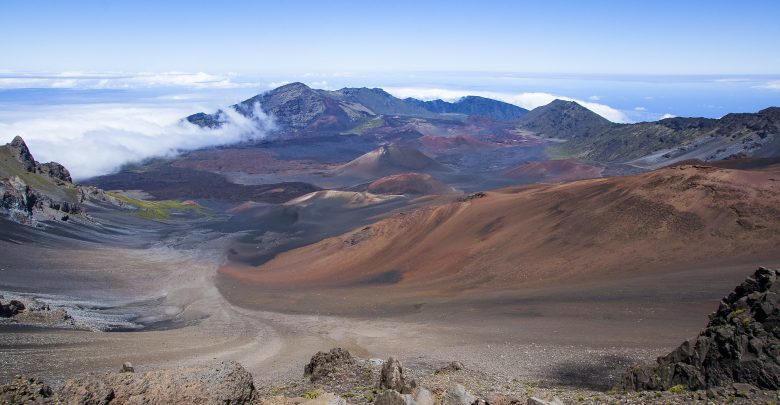 Each state across the country is home to some absolutely beautiful locations that celebrate the natural wonders of the area as well as the wildlife, environment, and landscape that is typical to that location. One state in particular that is brimming with natural wonder and beauty is Hawaii thanks to its unique Pacific location and island formation. Hawaii was the fiftieth state to join the United States of America in 1959 and it is comprised of eight main islands and hundreds of smaller ones strung together on one archipelago.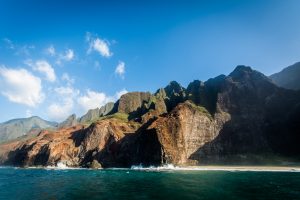 Depending on the island and the location, visitors to Hawaii can experience the natural beauty of white sand beaches, craggy volcanos and valleys, lush rainforests, and much more. Since Hawaii is home to such diverse natural environments, it is no surprise that the state has its fair share of absolutely beautiful locations that visitors should definitely check out. From National Parks to volcano peaks and everything in between, there is plenty to explore in the nature of Hawaii. Here are the five most beautiful natural wonders in Hawaii that must be experienced on every trip to the state.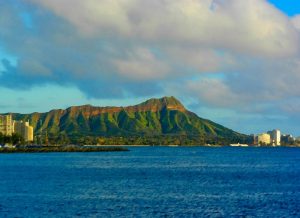 Diamond Head
One of the most recognizable natural wonders in Hawaii can be found dominating the landscape and topography of the island of O'ahu. Diamond Head is a volcanic cone referred to by Hawaiians as Le'ahi that is part of the Ko'olau Mountain Range and was declared a National Natural Landmark in 1968.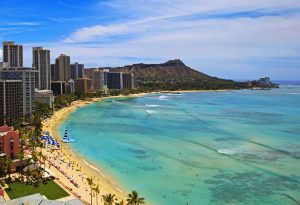 Travelers who find themselves on O'ahu can head to the Diamond Head State Monument and enjoy breathtaking hikes that bring them to the edge of the crater and offer panoramic views of the island and its coastline. While the hike is easy in terms of distance, it can be challenging due to the craggy surface of the volcanic rock that can create uneven footing and steep portions. For all of the effort to reach the edge of the top, visitors are sure to find each moment worth it when they can say that they hiked Diamond Head and they take in the absolutely spectacular volcanic environment around them perfectly contrasted with the beautiful lush greenery, beaches, and ocean below.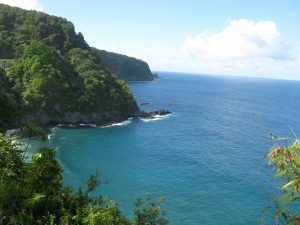 Hana Highway
The second-largest island in Hawaii is Maui which is home to a unique experience that visitors can drive and take in countless natural wonders from. The Hana Highway is roughly sixty-five miles long and features a scenic drive filled with narrow curves and winding bends, requiring drivers to slow down and take in each inch of beauty for both tourism and safety's sake. Over the sixty-five miles, the Hana Highway passes through lush rainforest environments, over nearly sixty bridges, and countless waterfalls. While slowly working their way through the route, drivers can stop and check out amazing natural wonders such as Twin Falls, the Garden of Eden Arboretum, Ho'okipa Lookout, Haawi Falls, Koki Beach, and Wailua Falls. While the Hana Highway can be considered by some to be treacherous thanks to its winding curves and narrow lanes, it is absolutely worth the drive thanks to its outstanding natural beauty and demonstration of the island's natural wonders.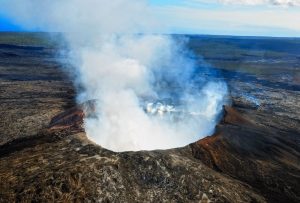 Hawaii Volcanoes National Park
Since Hawaii was formed by the natural formation, movement, and eruption of volcanoes, it is no surprise that the geographical formations are a large part of the landscape. The Big Island even is home to the Hawaii Volcanoes National Park which was founded in 1916 and is home to Kilauea and Mauna Loa, two active volcanoes. Spanning over three hundred thousand acres, the National Park is expansive considering its island location and is a popular destination for many travelers to visit while spending time on the Big Island. Those who visit the location and spend time exploring all that the park has to offer can enjoy hikes that range from easy to strenuous as well as enjoy a drive on the Crater Rim or Chain of Craters Road. For those looking to enjoy the most scenic view of the National Park, the Chain of Craters Road is the best options to enjoy as it offers views of both the coastal areas of the park as well as the volcanic rock formations and different topographies found in the inner acres of the park. Hawaii Volcanoes National Park is one of the most breathtaking natural wonders to enjoy while spending time in the state and visitors to the Big Island should absolutely plan on dedicating time to exploring all that the location has to offer.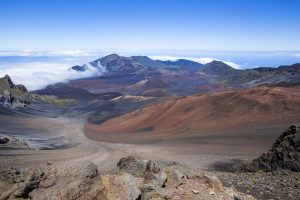 Haleakala National Park
The island of Maui, Hawaii is home to a large National Park that spans over thirty-three thousand acres and offers plenty of breathtaking and beautiful wonders for visitors to enjoy. Haleakala National Park roughly translates to "house of the sun" and was established as a National Park in 1961 after separating from Hawaii Volcanoes National Park. Named for the Haleakala Volcano, the park features to distinct areas that visitors can explore that each offers different types of natural beauty. The summit area of Haleakala is a popular tourist destination as it offers some of the most breathtaking sunrise views in all of Hawaii. However, since the experience is so popular, reservations are recommended for the experience and can be booked sixty days in advance. The other area of Haleakala National Park that visitors can explore is the Kipahulu District which offers beautiful coastal scenery, waterfalls, and rainforest-like environments. With such diversity and natural beauty found throughout Haleakala National Park, it is a must-visit for those on the island of Maui.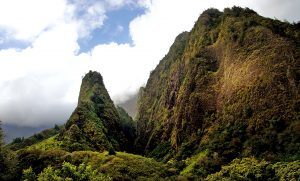 Iao Valley State Park
Also found on Maui is another park that showcases the absolutely amazing geography of Hawaii thanks to its volcanic history. Iao Valley State Park is situated on the west side of the island and features distinct, sharp hills that many refer to as needle-like that are covered in lush green vegetation. The park was originally designated as a National Natural Landscape in 1972 and offers several activities for visitors to enjoy. Those who spend time in Iao Valley State Park can take in the unique topography and tropical rainforest environment via a paved pedestrian path that leads to a lookout that provides beautiful and sweeping views of the valley below. There is also a family-friendly rainforest walk as well as the Hawaii Nature Center which is filled with interactive exhibits and educational opportunities. With a truly unique landscape and environments, Iao Valley State Park is an unforgettable experience to enjoy while on the island of Maui.