Hawaii
Looking for the Best Options for Your Next Trip to Paradise?
These 10 Hawaiian resorts are worth the money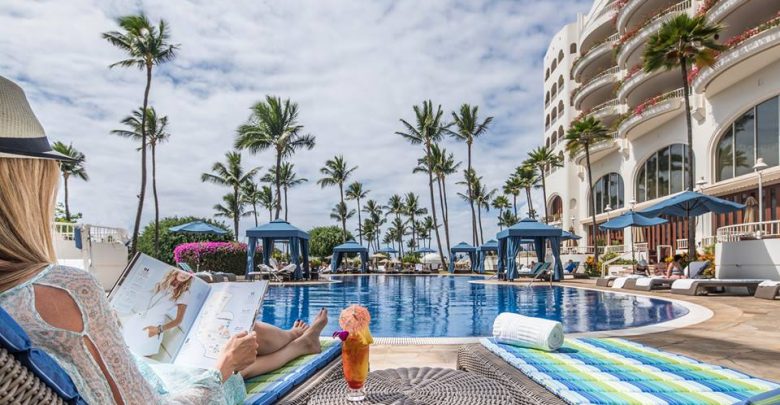 Hawaii is the most tropical place you can visit in the United States, and it's a trek to get there for anyone outside of the state. That said, when you do visit this beautiful collection of islands, you shouldn't be afraid to splurge a bit to make it worth your while. These resorts are all on the pricey side, but they offer an unforgettable experience. Hawaii might be your favorite state after you stay at one of these spots.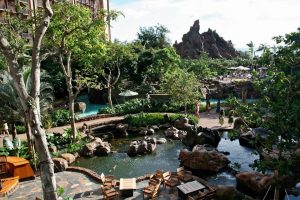 Aulani Disney Resort – Kapolei, Oahu
Go beachside Disney-style at this hotel. Perfect for the family, there's something for both the kids and the adults. Walt Disney Imagineers have worked closely with local artisans and cultural experts to create this resort. The hotel opened in 2011 and underwent an expansion in 2013. The hotel boasts 351 hotel rooms (16 suites), 481 villas (19 grand villas), 2 restaurants, 3 lounges, several "quick-service" dining spots, a spa, fitness center, kids club, pools, waterslides, and the beautiful beach it's built alongside. Aulani means "messenger of a chief," signifying the hotel's high priority on showcasing Hawaiian culture. In the hotel, you'll find contemporary Hawaiian art and design; world-class entertainment including fireside storytelling, movie nights, and visits from Disney characters; Hawaiian activities and crafts including hula and lei-making; and island excursions such as surf lessons and hiking.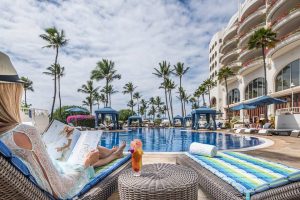 Fairmont Kea Lani – Wailea, Maui
The Fairmont Kea Lani perfectly encapsulates what it means to sit back and relax. Within the hotel, you'll find 3 pools – one set aside for adults only. The other two are for both kids and adults, complete with a waterslide connecting the top pool to the bottom one. In the top pool, you'll find a swim-up bar where you can order anything from a glass of wine to a milkshake. During your stay, you can also use the fitness center, kids club, spa, and shop in the boutiques they have inside the hotel. Dine in one (or all) of the 4 restaurants and be sure to order a Mahi-Mahi wrap for lunch while you're laying poolside. As is appropriately Hawaiian, the beach is just a few steps away and is absolutely beautiful.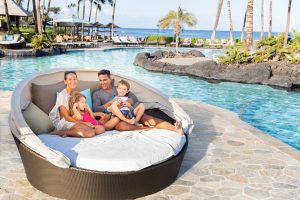 Fairmont Orchid – Waimea, Big Island
Located on the Kohala Coast, created by the Fairmont company just like the Kea Lani, this hotel is surrounded by 32 oceanfront acres of tropical gardens, waterfalls, and a white sand beach. While you're there, you can go canoeing, snorkeling, swimming, surfing, hiking, or you can just relax and laze away the day by the pool or ocean. Every sunset, there is a torch lighting ceremony. More activities include their famous "Spa Without Walls," the Hui Holokai Beach Club, 6 restaurants, golf, kids club, fitness center, and tennis. Nearby is the Hawaii Volcanoes National Park, ready to be explored!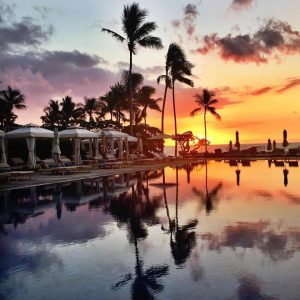 Four Seasons Resort Hualalai – Kailua, Big Island
Just like you will find at the Fairmont Orchid, this hotel is surrounded by white sand and black lava landscapes. This type of terrain is unique to the Big Island, a volcanic island. The hotel is home to the Ka'upulehu Cultural Center where you can learn more about what it means to be Hawaiian. They offer ukulele lessons, star navigation classes, Hawaiian games, crafts, and hula lessons. You can also go snorkeling with a marine biologist, ride a helicopter over volcanoes, swim at hidden beaches, and as always, you can relax by the ocean. The hotel has 4 sit-down restaurants, a casual beach bar, and a snack shack.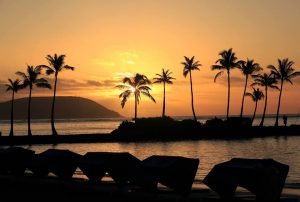 Kahala Hotel and Resort – Honolulu, Oahu
In 1964, the Kahala opened next to the Waialae Country Club private golf course. Two fun facts: it was the first major resort in Hawaii to have air conditioning in its rooms and every US president from Lyndon B Johnson to George W Bush has stayed here. Other guests have included Adam Sandler, Frank Sinatra, Julie Andrews, Queen Elizabeth II, the Rolling Stones, Elton John, and the Dalai Lama. While you're at the hotel, you can use the spa which has 9 private treatment suites with their own personal relaxation area, changing area, shower, and bath. You can also hang out with dolphins in their private lagoon, relax by the ocean, go surfing, go scuba diving, or take an exercise class while looking out over the ocean.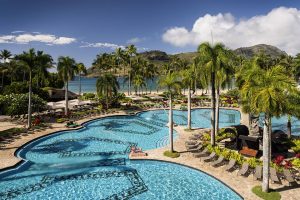 Kauai Marriott Resort – Lihue, Kauai
At the Kauai Marriott Resort, you can enjoy beachside and poolside fun during the day as well as beachside and poolside views from your room. They offer massages and beauty treatments at the spa, a 24-hour fitness center, a 24-hour business center, and a state of the art golf course – the longest course in Hawaii. If you get tired of the pool or beach, the centrally located hotel, as well as their free shuttle, offers you easy access to the nearby town. You can also plan an outdoor excursion through the hotel then end your day at the hotel's restaurant or with room service.

Montage Kapalua Bay – Lahaina, Big Island
Located along Namalu Bay, this resort is settled on 24 acres of oceanfront land. During your stay, the hotel aims to offer you complete relaxation so you can have "pono" – a true sense of balance and harmony. While at the hotel, you can enjoy three restaurants, a market, as well as private dining. The spa center offers fitness classes, massages, beauty treatments, hot tubs, whirlpools, an infinity pool, and a spa boutique. You can also go golfing, stand up paddle boarding, adventuring along the coastal roads, or take art classes.
Princeville at Hanalei – Hanalei, Kauai
Known as one of the premier Ocean View Resort Communities in the world, this hotel offers you beautiful views and plenty of relaxation. Sitting among the Sea Cliffs that tower over Hanalei Bay, you'll be minutes from the Napali and Waimea Canyon. The goal of this resort is to embrace and enhance the natural beauty of the island, allowing you to enjoy Hawaii in its purest form. While at the hotel, you can go ziplining, horseback riding, off-roading, hiking, and kayaking. Within the resort, you can choose from 6 different restaurants. The spa there is 11,000 square feet with 12 treatment rooms, a sauna, a steam room infused with tropical essences, dressing rooms, a couples room, VIP room, showers with signature waterfall features, and a relaxation room. There is also a fitness center. And, if none of that sounds exciting, there's always the beach.

Travaasa Hana – Hana, Maui
Hana is on the eastern tip of Maui, making the Travaasa Hana the first resort to greet the sun at the beginning of each day. Being quite a remote spot, you will find yourself immersed in the true Hawaii. During your time, you can go stand up paddle boarding, coconut husking, throw-net fishing, outdoor yoga-ing, and even learn to meditate through guided meditation. The hotel also offers trail rides on horseback, canoeing, cocktail-making and smoothie-making classes, lei making and ukulele classes, pole fishing, bike rentals, and massages. There is just one restaurant at this hotel, but it is open 7 days a week for breakfast, lunch, and dinner. Live Hawaiian music and hula are featured there at various times.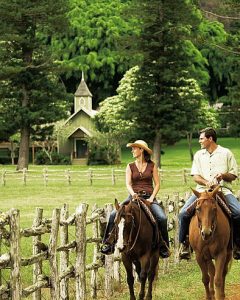 The Lodge at Koele – Lanai City, Maui
This beautiful resort has been included in the list because it will be worth the wait, but it's been listed last because it's currently undergoing renovations and will not be open for an undetermined amount of time. It is expected that this already immaculately beautiful hotel will be even better than it already was. The lodge is set inside a building that seems like a manor in the countryside. Activities within the hotel include golf, horseback riding, clay shooting, swimming (of course), and laying poolside to get a nice tan.